The 50 Best College Towns with the Best Music Scenes
If you love live music and you're trying to determine which college or university to apply to or attend, our list may help you make your decision. And whether you're college-aged or not, learn about some new music scenes to check out and see if you're town is on our list.
College life is all about hanging out at the student union, attending football games, studying all night, and attending live music events. 
Attending live music events?
Maybe that's not a traditional staple of the college experience, but it should be. 
Going to a concert, whether big or small, is a great way to blow off steam, recharge the batteries, and get-to-know your fellow students.
Unless it's specific to your degree, we understand that you're not going to pick a college or university based on the town's live music scene.  It could be a factor, however, if there's a tie. 
We've compiled a rundown of 50 college towns that have great live music scenes that you may not have known about.  These scenes take the form of nightclubs, dive bars, performing arts center, festivals, and just about everything in between.
The Criteria We Used to Choose
To have been considered for inclusion on our list, the college town needed both superior music venues and a municipal-wide atmosphere that supports live performance and its patronage. We also looked at the overall culture of each town and how conducive it is to student life.
We figured most people know big cities like Boston, New York, Los Angeles, or Chicago have excellent and vibrant music scenes, so we wanted to offer a list of the best smaller, lesser-known places for you.
Whether you're college-aged or not, you should definitely experience as many of the following live music scenes as you can. 
Asheville, North Carolina
Asheville is home to several music venues that cater to collegiate music fans.  Leading the list are the Asheville Music Hall, The Grey Eagle, and The Orange Peel.  Asheville also has a tradition of welcoming street performers and hosting music festivals.  Two of the most popular festivals are "Shindig on the Green" and the "Lexington Avenue Arts & Fun Festival."  You might be between quarters or semesters when those events are scheduled to go down, but both are good reasons to stay in Asheville.

Schools:
Shaw University
Lenoir-Rhyne University
University of North Carolina at Asheville
South College

Top Venues:
Grey Eagle
New Mountain AVL – Theatre
The Orange Peel
Thomas Wolfe Auditorium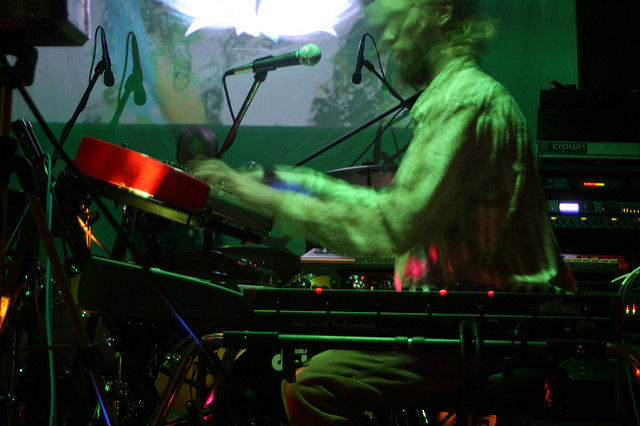 Will Little at the Emerald Lounge in Asheville, NC. Photo courtesy of Sara Little via Flickr.com
Athens, Georgia
If we were ranking cities, Athens might be number one.  After all, it's nickname is "Live Music Central," it's the hometown of R.E.M., and it's synonymous with "college music."  If that wasn't enough, Athens was instrumental in popularizing alternative music.  Every year, the city brings the best local and regional musicians to "AthFest."  The event is held in downtown Athens.  When not studying, students can experience live music at the legendary 40 Watt Club as well as The Foundry, the Georgia Theatre, and Live Wire Athens.

Schools:
University of Georgia
Athens Technical College
Augusta University
Piedmont College

Top Venues:
Classic Center Theatre
The Foundry
Georgia Theatre
40 Watt Club
Baton Rouge, Louisiana
The "Baton Rouge Blues Festival" is one of the oldest blues festivals in the United States.  The festival has welcomed a bevy of blues icons including Carlie Musselwhite, Bobby "Blue" Bland, and Marcia Ball.  The Raising Cane's River Center opened in 1977.  Since then, it has gone through numerous names and hosted hundreds of unforgettable concerts.  Other top venues in the "Red Stick" include Lava Cantina Baton Rouge, the Varsity Theatre, and the Texas Club.

Schools:
Louisiana State University
Southern University and A&M College
Our Lady of the Lake College

Top Venues:
L'Auberge Casino & Hotel Baton Rouge
Raising Cane's River Center Theatre
Texas Club
Varsity Theatre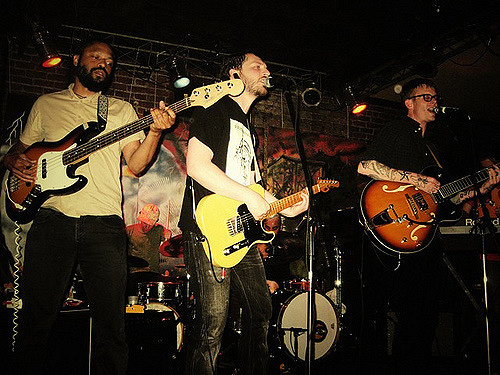 The Spanish Moon, Baton Rouge, LA. Photo courtesy of Tabatha Alcina via Flickr.com
Beaufort, South Carolina
Beaufort is widely regarded as one of America's best art towns.  It's also home to The Kazoo Museum.  When you and your friends want to enjoy some live tunes, mosey to Rosie O'Grady's The Spaghetti Club, or Bricks on Boundary.  Beaufort doesn't have a music festival dedicated to music, but it has several festivals where live music is a prominent component: "A Taste of Beaufort," "Beaufort Water Festival," and "The Beaufort Shrimp Festival."

Schools:
University of South Carolina Beaufort North Campus
Technical College of the Lowcountry Main Campus

Top Venues:
Old Town Dispensary
Rosie O'Grady's
The Spaghetti Club
Wined It Up
Bellingham, Washington
For a city of Bellingham's size, you might not expect a stout live music scene.  Bellingham, however, has an advantage that many cities of equal or larger size don't have and that advantage is location.  "The City of Subdued Excitement" is about half way between Seattle and Vancouver B.C.  Bellingham also has some local independent record labels and a local music scene magazine called What's Up! Magazine that both contribute to making it a cool music scene. Also attracting top tier talent are top tier venues like The Shakedown, the Wild Buffalo House of Music, and The Green Frog.  Prominent bands that originated in Bellingham include Death Cab for Cutie and The Posies.

Schools:
Western Washington University
Whatcom Community College

Top Venues:
Mount Baker Theatre
The Shakedown
Swillery Whiskeybar
Wild Buffalo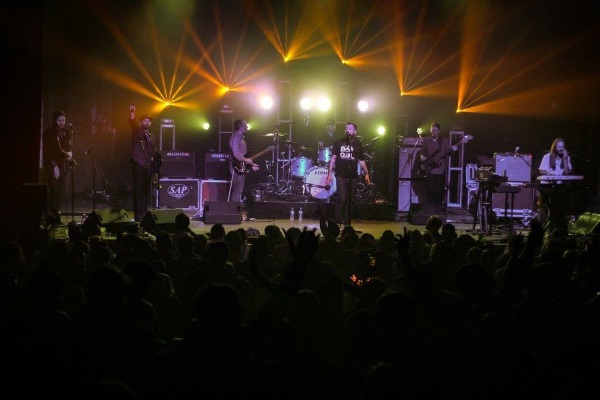 The Motet performing at the Wild Buffalo House of Music in Bellingham, Washington.  Image courtesy of the venue's Facebook page.
Bloomington, Illinois
When you need to unwind after a long week of paper chasing, visit one of Bloomington's top live music venues like the Six Strings Club, Daddios, and Jazz UpFront.  The Castle is a gorgeous music venue that accommodates up to 700 music fans.  Established acts from alternative country, Americana, blues, and rock have graced its proverbial marquee.  For larger music events, Bloomington's U.S. Cellular Coliseum can hold about 8,000.

Schools:
Illinois Wesleyan University

Top Venues:
Bloomington Center for The Performing Arts
The Castle Theatre
Six Strings Club
US Cellular Coliseum
Boulder, Colorado
If you're a classical music fan, you might want to consider Boulder.  The city is home to three classical orchestras: Boulder Philharmonic Orchestra, Boulder Chamber Orchestra, and Boulder Symphony.  "The Rock" also hosts one of the most famous classical music festivals in the world, the "Colorado Music Festival."  If classical music isn't your thing, there's always the Fox Theatre, Bohemian Biergarten, and the Second Story Garage. 

Schools:
University of Colorado Boulder
Naropa University

Top Venues:
Boulder Theater
Chautauqua Auditorium
Fox Theatre
Macky Auditorium Concert Hall
Bozeman, Montana
Bozeman's penchant for hosting enthralling live music performances is revealed in localities like the Haufbrau, the Zebra Cocktail Lounge, and the Crystal Bar.  Live From The Divide is an unique venue that focuses on American roots music.  Performances are recorded for an hour long public radio program.  Adding to the experience is the coziness of LFTD's performance space.  It seats just 50.  Recently renovated, The Rialto is another quality concert space in Bozeman.

Schools:

Top Venues:
Brick Breeden Fieldhouse
The Filling Station
Mixers Club
Zebra Cocktail Lounge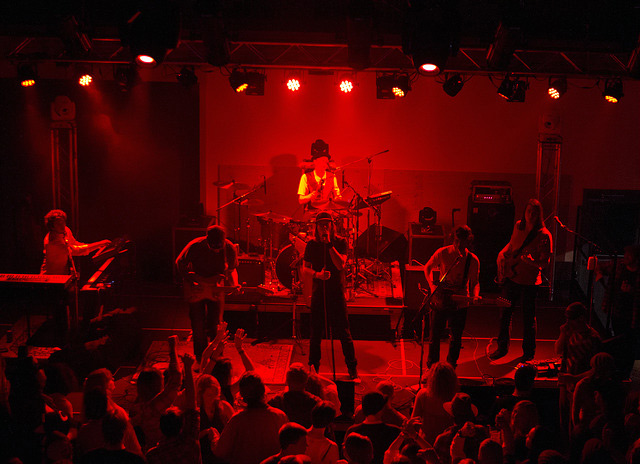 Cure For The Common at Faultline North, Bozeman Montana

Brunswick, Georgia
Brunswick is home to several respected art galleries.  The city's passion for art inspires its passion for music.  HBGB is a welcoming performance room for bands to play and interact with their fans.  Tipsy McSways and Gnat's Landing leads Brunswick's cutely-named live music venues.  In the category of traditionally-named live music venues, you have the Liquid Lounge, Murphy's Tavern, and Mulligan's Bar & Night Club.  Live music is occasionally held at the historic Ritz Theatre.

Schools:
College of Coastal Georgia

Top Venues:
HBGB
Mulligan's Bar & Night Club
Tipsy McSways
Ziggy Mahoney's
Burlington, Vermont
Once school is out, grab your buddies and head on over to Nectar's, Arts Riot, Club Metronome, Higher Ground or Radio Bean.  At any of those fine live music establishments you can relax, enjoy a cold brew, and nosh on some delicious grub.  There are many more memorable venues in Burlington.  That's quite impressive because the city has a population of just over 45,000.  Burlington's claim to fame is Phish.  Everyone's favorite jam band formed while attending the University of Vermont.

Schools:
University of Vermont
Champlain College

Top Venues:
Burlington Waterfront
Flynn Center for the Performing Arts
Higher Ground
Radio Bean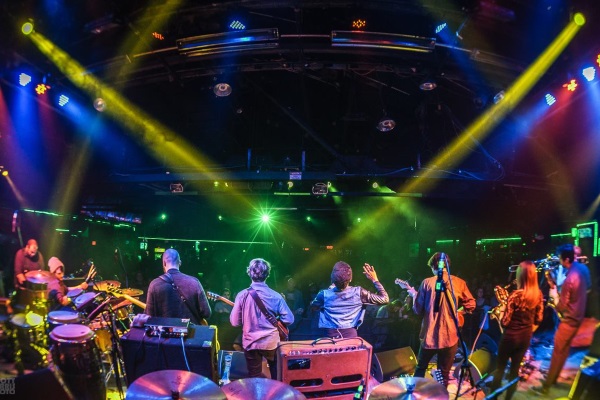 Performance at Nectar's in Burlington, Vermont.  Image courtesy of the venue's Facebook page.
Cedar Rapids, Iowa
The Paramount Theatre originally opened in 1928 as the Capitol Theatre.  It reopened in 2012 after suffering severe flood damage.  The art deco interior is breathtaking and it can seat nearly 1,700.   Theatre Cedar Rapids also goes back to the 1920s.  This venue hosts a lot of Broadway musicals.  McGrath Amphitheatre is a nice outdoor facility.  For live tunes in more of a bar/nightclub atmosphere, visit Tailgators, the Hazzard County American Saloon, or Cedar River Landing.

Schools:
Coe College
Mount Mercy University

Top Venues:
McGrath Amphitheatre
Paramount Theatre        
US Cellular Center
Wells Fargo Arena
Chico, California
Chico has a strong arts community anchored by numerous murals, art galleries, and theaters.  As for concerts, the city offers terrific places to musically loiter like Lost on Main, The Big Room At Sierra Nevada Brewing Company, and Duffy's Tavern.  The Chico Cabaret is known to put on a rousing musical or two. Chico Performances brings a variety of live musical entertainment to town.  The organization usually books acts at the Laxson Auditorium.

Schools:
California State University, Chico (Chico State)
Butte College
Cal Northern School of Law

Top Venues:
El Rey Theater
Laxson Auditorium
Lost on Main
Monstros Pizza
Columbia, Missouri
Columbia is touted for its progressive music scene.  The city is also attracting attention for its support of punk, hip hop, and psychedelic-heavy metal.  Indie darlings, White Rabbit, and country singer, Brett James, both hail from Columbia.  The city's "9th Street Summerfest" annually welcomes a horde of esteemed musicians.  The "Roots N Blues N BBQ Festival" books some of the world's finest blues men and women.  For jazz supporters, Columbia yearly hosts the impeccable "We Always Swing" Jazz Series.

Schools:
University of Missouri
Stephens College

Top Venues:
The Blue Note
Mizzou Arena
Rose Music Hall
9th Street Live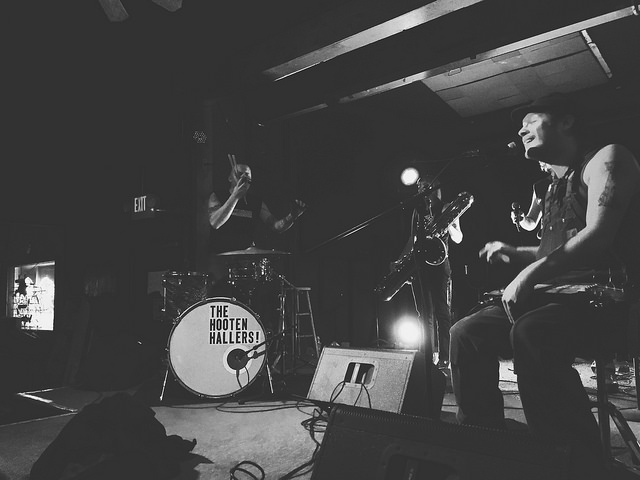 The Hooten Hallers Performance at Rose Music Hall, but taken while the venue was still called Mojo's. Courtesy of Flickr.com public domain image.
Denton, Texas
Thanks to the energy and creativity of its college students, Denton has cultivated an imposing independent music scene.  Residents not enrolled in college embraced the movement so much, that Denton has received positive press from the New York Times and the Huffington Post.  The jewels of Denton's live music scene are the festivals "35 Denton" and "Denton Arts and Jazz Festival."  Carrying the torch on a daily basis are venues like Dan's Silverleaf, Rockin Rodeo, and Andy's Bar & Grill.

Schools:
University of North Texas
Texas Woman's University

Top Venues:
The Abbey Underground
Dan's SilverLeaf
Gatsby's Mansion
Harvest House
Des Moines, Iowa
Wells Fargo Arena seats nearly 17,000 and schedules the world's top bands and singers.  Tom Petty and the Heartbreakers, along with The Black Crowes, performed the arena's first concert.  For more intimate shows, students should consider Vaudeville Mews, Wooly's, Noce, and The Gas Lamp.  Des Moines Performing Arts operates four performance spaces: Civic Center, Stoner Theater, Temple Theater, and Cowles Commons. 

Schools:
Drake University
Grand View University
Mercy College of Health Sciences

Top Venues:
Des Moines Civic Center
Hoyt Sherman Auditorium
Wells Fargo Arena
Wooly's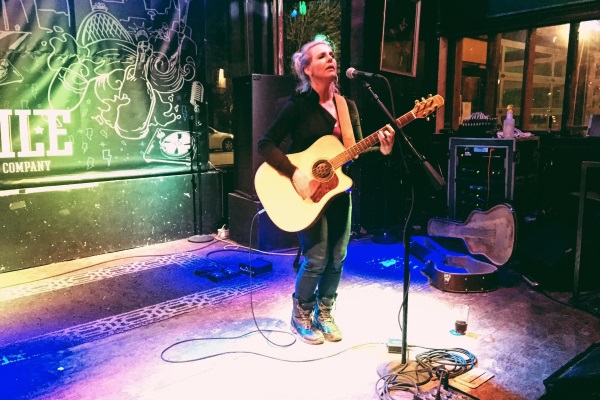 Jess DeWitt performing at The Gas Lamp in Des Moines, Iowa.  Image courtesy of the venue's Facebook page.
East Lansing, Michigan
Epitomizing the city's zeal for great live music is Mac's Bar.  The venue started in the 1940s, but turned into a nationally recognized concert spot in 1995.  If its walls could talk it would brag about sets from Mastodon, Macklemore, and Agent Orange.  Another prominent concert haunt is The Loft.  This convivial music setting brings nationally renowned touring artists to East Lansing.  It's independently owned and serves about 500.  Other establishments you should frequent are The Avenue Cafe, Reno's North, and The Green Door Bar & Grill.

Schools:
Michigan State University
Thomas M. Cooley Law School
Davenport University

Top Venues:
Cobb Great Hall
The Green Door Bar & Grill
The Loft
Pasant Theatre
Erie, Pennsylvania
The Warner Theatre is named after the Warner Brothers.  They commissioned the building in 1929.  Today, The Warner Theatre is a thriving live music and events venue.  It seats 2,250.  Basement Transmissions is dedicated to the underground music scene.  It's also an all-ages club.  Sherlock's is known as one of the best places in Erie to enjoy live music.  Its acoustics are fabulous.  Although that fact is "elementary."  Erie Insurance Arena has the size and stage to support hall of famers like Elton John, Rod Stewart, and Kiss.

Schools:
Mercyhurst University
Gannon University
Edinboro University of Pennsylvania

Top Venues:
Coconut Joes
Erie Insurance Arena
Forward Hall
Warner Theatre
Eugene, Oregon
Eugene has a vibrant music scene encompassing an assortment of genres.  This includes a community dedicated to the music of Zimbabwe.  Mason Williams hails from Eugene and is known for his local Christmas show.  Eugene has also produced Dick Hyman, a jazz pianist and musical director for several Woody Allen's films.  The backbone of Eugene's melodious tableau is the Hi-Fi Music Hall, the McDonald Theatre, and the W.O.W. Hall.  You can't discuss live music in Eugene without mentioning the Hult Center for the Performing Arts.

Schools:
University of Oregon
Northwest Christian University
New Hope Christian College
Gutenberg College

Top Venues:
Cuthbert Amphitheater
HiFi Music Hall
Hult Center for the Performing Arts
Jaqua Concert Hall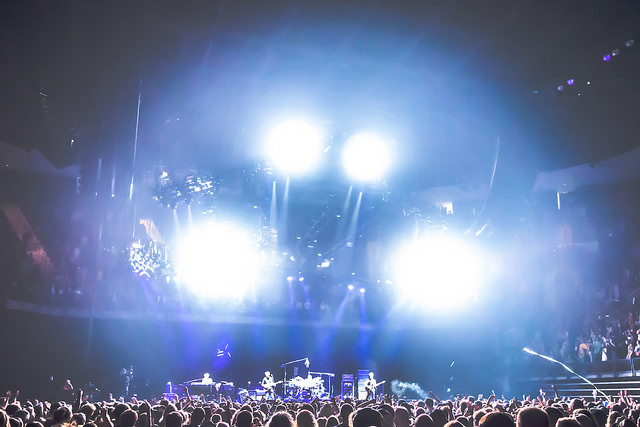 Phish - Eugene, Oregon 10/17/14. Image from Trevor Bexon via Flickr.com
Flagstaff, Arizona
Flagstaff is home to three prominent and successful music festivals.  "Flagstaff Hullabaloo" and the "Flagstaff Folk Festival" are held in June.  "Pickin in the Pines" is typically scheduled for September.  The Orpheum Theater opened in 1917 and routinely schedules regional and national artists.  The Museum Club, The Green Room, and Hops on Birch also bring entertaining music acts to the "City of Seven Wonders."

Schools:
Northern Arizona University
Coconino Community College

Top Venues:
The Hive
Museum Club
Orpheum Theatre
Pepsi Amphitheatre at Fort Tuthill
Fort Wayne, Indiana
Did mom and dad just send you a few bucks?  Do you feel like spending it on live tunes?  Then journey over to The Brass Rail at 1121 Broadway for rock, metal, and punk.  Don't forget Skeletunes Lounge on West Main.  The venue pairs live music with video games.  For nationally recognized acts, there's the Embassy Theatre on West Jefferson Boulevard.  The establishment is home to the Fort Wayne Philharmonic Orchestra.  If you're staying in Fort Wayne over the summer, be sure to catch an outdoor show at the Foellinger Theatre in Franke Park.

Schools:
Indiana University – Purdue University Fort Wayne
Concordia Theological Seminary
Indiana Institute of Technology
University of Saint Francis

Top Venues:
Allen County War Memorial Coliseum
Embassy Theatre
Foellinger Theatre
Headwaters Park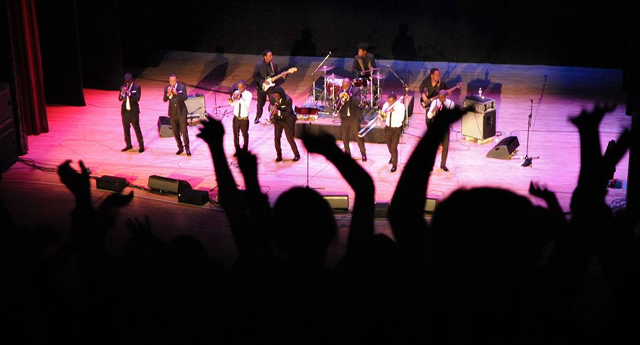 Performance at Embassy Theatre in Fort Wayne, Indiana.  Image courtesy of the venue's Facebook page.
Fresno, California
Take a break from studying to check out Fresno's "Rogue Festival."  Usually scheduled in early March, this event is one of the biggest fringe festivals in the world.  Until then, you can get your live music fix from Fresno haunts like Fulton 55, Strummer's, and Tokyo Garden.  On the campus of California State University, Fresno, you'll find the 16,000-seat Save Mart Center.  The center has witnessed performances by dignitaries like Paul McCartney, The Rolling Stones, The Who, and Billy Joel.

Schools:
Alliant International University
California Christian College
California State University, Fresno
Fresno Pacific University

Top Venues:
Saroyan Theatre
Save Mart Center
Tower Theatre
Warnors Theater
Greeley, Colorado
The Moxi Theater is an intimate concert venue situated on 9th Street.  Their shows are for all ages.  If they don't have an act that fits your tastes, swing on over to Joe's Place.  Besides live performances, Joe's Place hosts karaoke on Tuesday and Sunday nights.  Other live music venues in Greeley include the Key Largo Lounge, The Jager Bar & Pizzeria, and the Green Mill Tavern. 

Schools:
University of Northern Colorado

Top Venues:
The Jager Bar & Pizzeria
Joe's Place
Moxi Theater
Stampede Arena 
Jackson, Mississippi
You know you're a city with a thriving live music scene when you're mentioned in one of the greatest feel-good songs of all-time.  We are talking about Mark Ronson's "Uptown Funk (featuring Bruno Mars)."  The city's current slogan is "The City with Soul."  How many college towns can make that claim?  To get a dose of live music, visit Underground 119, Pop's Saloon, or The Hideaway.  South Street Live is relatively new to Jackson, but those behind the venue are clearly fervid about music.

Schools:
Belhaven University
Jackson State University
Millsaps College
Tougaloo College

Top Venues:
Duling Hall
Hal & Mal's
Mississippi Coliseum
Thalia Mara Hall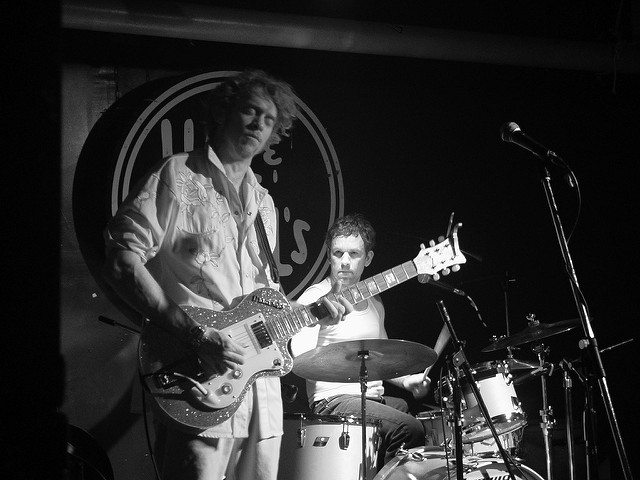 Jimbo Mathus Knockdown South at Hal and Mal's, Jackson, MS. Image courtesy of Flickr.com
Lawrence, Kansas
Lawrence has an impressive reputation for live tunes.  The city has been applauded by Rolling Stone magazine, Esquire, and the New York Times.  Live music can be enjoyed at several hot spots in-and-around Lawrence like the Jackpot Saloon, The Bottleneck, The Granada, and The Replay Lounge.  Numerous bands have coalesced in the city (or thereabouts) including The New Amsterdams, Minus Story, and The Get Up Kids. 

Schools:
University of Kansas
Haskell Indian Nations University

Top Venues:
The Bottleneck
Granada
Jackpot Saloon
Liberty Hall
Lawton, Oklahoma
Lawton's "Arts for All" festival is held in May at Shepler Park.  The event provides attendees with multiple stages of live entertainment.  If you can't wait until May, you can always plan an outing to The Railhead Saloon, the Fubar Saloon, and CW Scooters.  The Guitar Bar on 11th has charm that won't quit and a staff that books brilliant live music.  The Océano Salsa Club & Event Center hosts a Salsa night every Saturday.  Lawton is the birthplace of legendary musician Leon Russell.

Schools:
Cameron University
Comanche Nation College

Top Venues:
Apache Casino Hotel
CW Scooters
Océano Salsa Club & Event Center  
The Railhead Saloon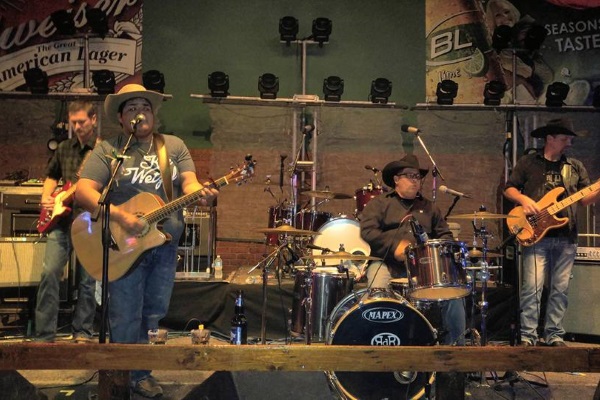 Performance at CW Scooters in Lawton, Oklahoma.  Image courtesy of the venue's Facebook page.
Lexington, Kentucky
In between classes, you'll want to partake in the "Festival of the Bluegrass" and "It's a Grand Night for Singing!"  The "Festival of the Bluegrass" began in 1974 and is held in June at the Kentucky Horse Park Campground.  The UK Opera Theatre has been presenting "It's a Grand Night for Singing!" for more than 25 years.  Leading live music joints in the city include the Manchester Music Hall, the Austin City Saloon, and Willie's Locally Known.

Schools:
University of Kentucky
Transylvania University
Sullivan University

Top Venues:
Cosmic Charlie's
Lexington Opera House
Manchester Music Hall
Singletary Center for the Arts
Lincoln, Nebraska
Live music is trending in Lincoln.  The city's affinity for the stuff has always been there, but they didn't really have a big venue to host established acts.  That changed in 2013 when the Pinnacle Bank Arena opened.  That arena has attracted the likes of Justin Bieber, Carrie Underwood, and Blake Shelton.  The PBA has raised the profile of other music venues in the city including Zoo Bar, the Bourbon Theater, and the Pinewood Bowl Theater.  The Lied Center hosts both concerts and touring Broadway musicals.

Schools:
University of Nebraska–Lincoln
Nebraska Wesleyan University
Union College
Bryan College of Health Sciences

Top Venues:
Bourbon Theatre
Lied Center for Performing Arts
Pinewood Bowl Theater
Pinnacle Bank Arena
Long Beach, California
Live music thrives in Long Beach.  Not just one genre, but all kinds of music.  There's the classy and sophisticated Sky Room, the hip Gaslamp Music + Bar + Kitchen, and the cool Seabird Jazz Lounge.  Even the artists originating in the LBC are eclectic: Sublime, Snoop Dogg, T.S.O.L., and The Nitty Gritty Dirt Band.  The city's love of live music is further manifested in the numerous festivals it hosts.  Two of the most prominent are "One Love Cali Reggae Fest" and "Long Beach Bayou & Blues Festival."

Schools:
California State University, Long Beach
Long Beach City College

Top Venues:
Center Theater
Gaslamp Music + Bar + Kitchen
Long Beach Arena
Terrace Theater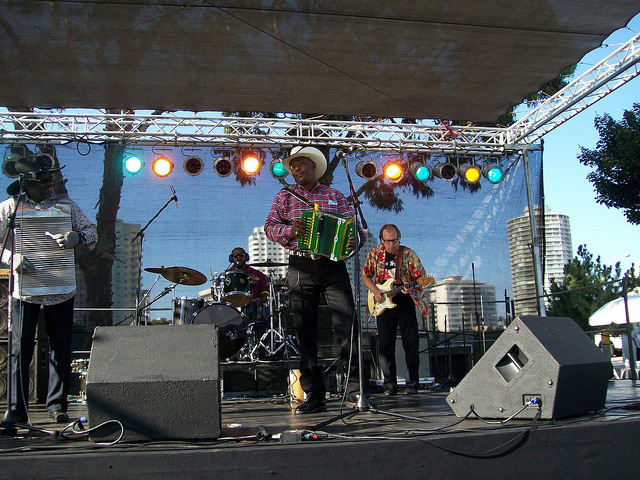 Leroy Thomas: The Jewel of the Bayou at the Long Beach Crawfish Festival courtesy of Flickr.com
Lubbock, Texas
Lubbock will forever be linked to rock and roll; it's the hometown of Buddy Holly.  A festival and walk of fame used to carry his appellation, but were renamed after his widow demanded additional compensation.  The Buddy Holly Center has not changed epithets.  Mac Davis and The Legendary Stardust Cowboy also hail from Lubbock.  To see the next Buddy Holly, visit Blue Light Live or the Cactus Theater.  The United Supermarkets Arena is a great medium-sized venue in which to relish a show. It has a 15,000-capacity and has been home to tons of rock concerts, country shows, contemporary Christian concerts, and comedy shows as well.

Schools:
Texas Tech University
Lubbock Christian University
South Plains College

Top Venues:
Blue Light Live
Cactus Theater
Jake's Sports Cafe and Backroom
Lonestar Amphitheatre
Madison, Wisconsin
Music fans attending any of Madison's higher learning institutions have at their disposal several quality venues: the Orpheum Theatre, the Majestic Theatre, the Barrymore Theatre, the Overture Center, and the UW Theatre, which is located on the campus of the University of Wisconsin.  For more of a nightclub or bar feel, there's the High Noon Saloon, The Brink Lounge, and The Frequency.  Madison is home to several independent record labels as well as the rock band Garbage.

Schools:
University of Wisconsin–Madison
Madison College
Edwood College
Madison Media Institute

Top Venues:
Barrymore Theatre
Capitol Theater
Majestic Theatre
Wisconsin Union Theater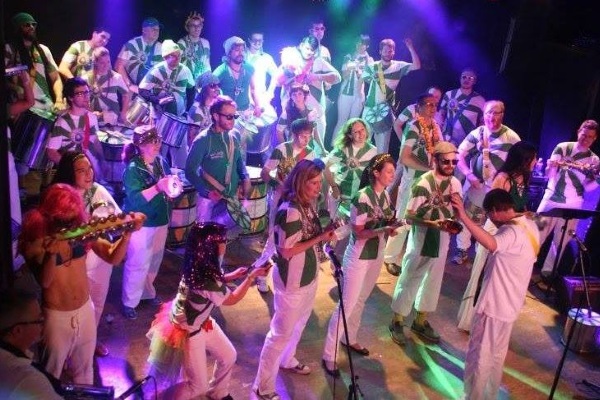 The Handphibians performing at CW Scooters in Madison, Wisconsin.  Image courtesy of the venue's Facebook page.
Manchester, New Hampshire
The Shaskeen Pub has live music almost every night.  A venue called Jewel hosts performances from just about every genre of music you can imagine, but their bookers do lean toward heavy metal.  The Midnight Rodeo Bar offers cowboys (no, not that kind of Cowboys!) and cowgirls live music and dance lessons.  The Palace Theatre frequently welcomes touring companies of popular Broadway musicals.  We'd be remised if we didn't mention the Riverwalk Cafe & Music Bar.  You probably won't hear a Top 40 hit there but you will enjoy an amazing cup of joe. 

Schools:
Franklin Pierce University at Manchester
Granite State College
Southern New Hampshire University
Saint Anselm College

Top Venues:
Jewel Music Venue
Palace Theatre
SNHU Arena
Tupelo Music Hall
Norfolk, Virginia
There's a lot to do in Norfolk like visiting art museums, touring naval ships, and visiting the animals at their globally acknowledged zoo.  Another activity to do in the heart of the Hampton Roads metropolitan area, is enjoy remarkable live music.  Venues like Hell's Kitchen, Mojo Bones, and FM Restaurant bring local, regional, and national talent to Norfolk.  The Norva Theatre originally opened in 1917.  It reopened in 2000 and now seats 1,450.

Schools:
Old Dominion University
Eastern Virginia Medical School
Norfolk State University
Virginia Wesleyan College

Top Venues:
Attucks Theatre
Chrysler Hall
Harrison Opera House
Wells Theatre
Olympia, WA
With a capacity of 758, The Capitol Theater is Olympia's main music venue.  Other places to enjoy live tunes include the Cryptatropa Bar, The Westside Tavern, Obsidian, and Rhythm and Rye.  It goes without saying that if you feel like consuming major touring acts, you can take the 30-minute drive north to the Tacoma Dome or the hour drive in the same direction to Seattle.  Olympia is the motherland of the underground feminist punk movement known as "riot grrrl."  Sleater-Kinney was part of that movement.  The band was initiated in Olympia and named after one of the city's streets.

Schools:
The Evergreen State College
Saint Martin's University

Top Venues:
Capitol Theater
Cryptatropa Bar
Obsidian
Rhythm and Rye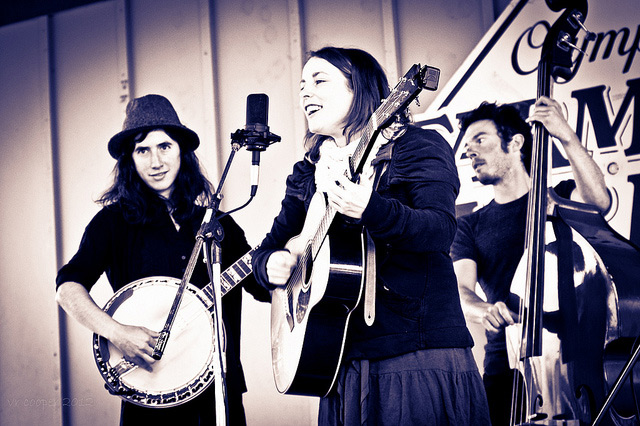 The Blackberry Bushes String Band Performing at the Olympia Farmers Market. Photo from Vaquero Cooper courtesy of Flickr.com
Omaha, Nebraska
Not far from Creighton University is the Slowdown.  This all-ages music venue focuses on indie rock.  Other venues serving this great university metropolis are Barley Street Tavern, The Waiting Room Lounge, and Ozone.  The Holland Performing Arts Center brings concerts, Broadway-style musicals, and other live events to "The Gateway to the West."  North Omaha used to be a huge jazz Mecca.  Duke Ellington, Louis Armstrong, and Count Basie all played at the now defunct Dreamland Ballroom.

Schools:
Creighton University
University of Nebraska Omaha
Clarkson College
College of Saint Mary

Top Venues:
Kiewit Hall
Orpheum Theatre
Ralston Arena
Sokol Auditorium
Panama City, Florida
Panama City is home to the largest nightclub in the United States.  Club La Vela can accommodate nearly 6,000 people and has 48 bar stations.  For more intimate music venues, there's Mosey's Downtown, The Ghetto Palace, and g. Foley's.  Marina Civic Center rolls out the red carpet for national touring acts and seats more than 2,500.  A&M Theatre is both a live music venue and art gallery.  You'll go there to see exciting up-and-coming bands.

School:

Top Venues:
A&M Theatre
Marina Civic Center
Mosey's Downtown
Spinnaker Beach Club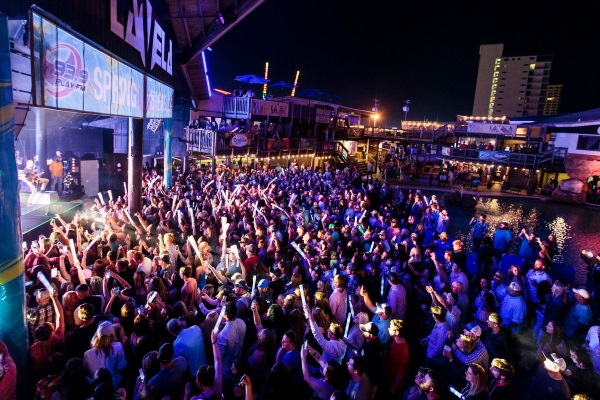 Performance at Club La Vela in Panama City, Florida.  Image, taken by Acevedo Photography, courtesy of the venue's Facebook page.
Providence, Rhode Island
With all the great live music Providence has to offer, it's must take a lot of willpower to keep studying in the library instead of rocking out at the Columbus Theatre, Lupo's Heartbreak Hotel, or Fete Music Hall.   "Waterfire" is frequently held during the summer and hosts performances by classical and world musicians.  The Rhode Island Philharmonic Orchestra's home venue is the Veterans Memorial Auditorium.  Providence is renowned for its underground music scene.

Schools:
Brown University
Johnson & Wales University
Providence College
Rhode Island College
Rhode Island School of Design

Top Venues:
Columbus Theatre
Dunkin Donuts Center
The Met
Providence Performing Arts Center
Redding, California
Redding, California is teeming with opportunities to enjoy live music.  Redding Civic Auditorium receives world class artists into Shasta County.  The venue can support 2,000 music aficionados.  Other illustrious venues include The Dip, Post Office Saloon & Grill, and Kelly's Pub and Wine Bar.  The town's affinity for live music is displayed in its many festivals.  "The Market Street Faire," "The Whole Earth and Watershed Festival," "Freedom Festival," and "Kool April Nites" all have a robust live music element.

Schools:
Simpson University
Shasta Bible College and Graduate School

Top Venues:
Cascade Theatre
The Dip
Redding Civic Auditorium
Shasta District Fairgrounds
Richmond, Virginia
"The Richmond Folk Festival" is annual free event that celebrates American culture through music.  The event is usually held in October and is one of the most popular festivals in the state.  It's fitting for Richmond to host a folk festival.  The city's rich musical tradition has a rustic DIY component.  Richmond is also the hometown of GWAR.  The over-the-top heavy metal band has successfully expanded its brand to include comic books, board games, signature beers, and barbeque sauces.

Schools:
Virginia Commonwealth University
University of Richmond
Virginia Union University
South University–Richmond

Top Venues:
Altria Theater
Classic Amphitheater at Richmond International Raceway
Carpenter Theatre at Richmond
Richmond Coliseum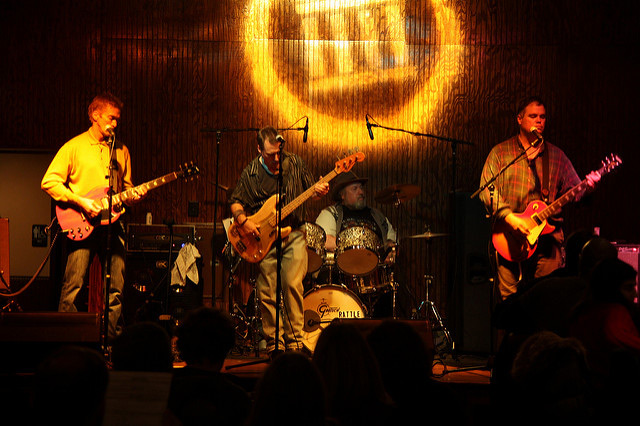 Gretsch playing at the Downtown Capital Ale House in Richmond, VA. Photo courtesy of Eli Christman via Flickr.com
Riverside, California
Venues like the Rockefellas Bar, Live from Memphis, and Raquel's Jazz Lounge serve Riverside's live music enthusiasts.  For globally popular acts, there's the Fox Performing Arts Center and Riverside Municipal Auditorium.  Both venues are on Mission Inn Avenue.  The Fox Performing Arts Center is home to the Riverside County Philharmonic.  Don't forget, you can enjoy some of the world's most famous musicians, in some of the world's most famous venues, just an hour away in Los Angeles.

Schools:
California Baptist University
La Sierra University
University of California, Riverside

Top Venues:
Fox Performing Arts Center
Raquel's Jazz Lounge
Riverside Municipal Auditorium
Rockefellas Bar
San Luis Obispo, California
Free is a very good price especially when you're a college student.  From June through September, the city hosts "Concerts in The Plaza."  The free weekly concert series is held at the Mission Plaza.  For those times when you have money burning a hole in your pocket, venture to SLO Brew, the Frog & Peach Pub, or Bang the Drum Brewery.  The Madonna Expo Center is another nice venue for music concerts.  It's a famous destination in the SLO.

Schools:
California Polytechnic State University
Cuesta College

Top Venues:
Alex Madonna Expo Center
Christopher Cohan Center
Fremont Theater
SLO Brew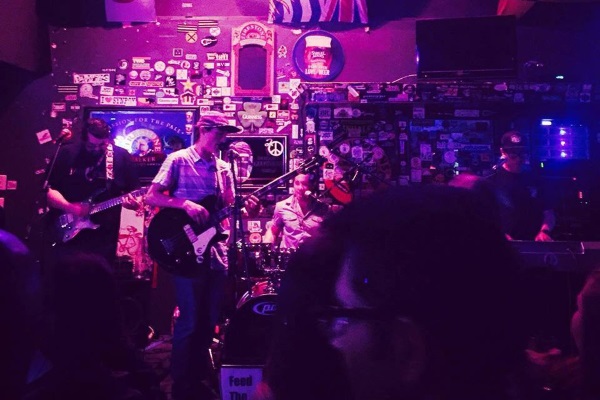 True Zion performing at the Frog & Peach Pub in San Luis Obispo, California.  Image courtesy of the venue's Facebook page.
Savannah, Georgia
The "Savannah Music Festival" is an annual event held at the end of March and stretches into April.  The event commenced in the late 1980s and is the biggest of its kind in the State of Georgia.  The festival is quite diverse, booking country music acts to jazz ensembles.  Lucas Theatre for the Arts is another quality music venue within city limits.  Meanwhile, Savannah Smiles Dueling Pianos, The Wormhole, and the Tree House Savannah offer a wide range of experiences for their patrons.

Schools:
Armstrong State University
Savannah College of Art and Design
Savannah State University

Top Venues:
Johnny Mercer Theatre
Lucas Theatre for the Arts
Savannah Children's Theatre
The Wormhole
Santa Fe, New Mexico
Performance Santa Fe is the oldest presenting organization in the city.  Since 1937, they have brought world class musicians to New Mexico's capital city.  Artists perform on a litany of stages, including those at the Lensic Performing Arts Center, the Scottish Rite Center, the United Church of Santa Fe, and the Santa Fe Sol Stage & Grill.  For more causal music settings there's the Skylight, the Box Car, and the GIG Performance Space.

Schools:
St. John's College
Santa Fe University of Art and Design
Southwestern College

Top Venues:
Meow Wolf
Santa Fe Brewing Company
Santa Fe Opera
Skylight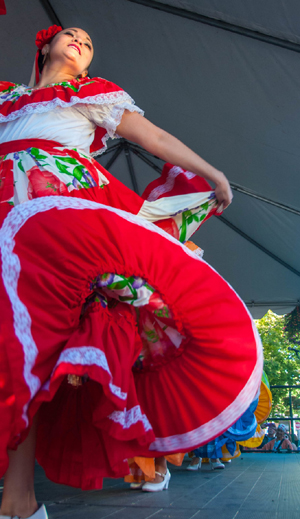 Folklorica Dancer, courtesy of Tourism Santa Fe
Spokane, Washington
Bing Crosby, one of the greatest crooners of the 20th century, was born in Tacoma but moved to Spokane when he was three.  His childhood home is now on the campus of Gonzaga University.  The Bing Crosby Theater was named in his honor; it was initially called the Metropolitan Performing Arts Center.  The Knitting Factory is not named after a famous singer but it does host national touring acts.  Like many municipalities, Spokane has a Fox Theatre.  It's home to the Spokane Symphony Orchestra.

Schools:
Gonzaga
Whitworth
Eastern Washington University (Cheney)

Top Venues:
INB Performing Arts Center
Martin Woldson Theatre at The Fox
Spokane Arena
Spokane Civic Theatre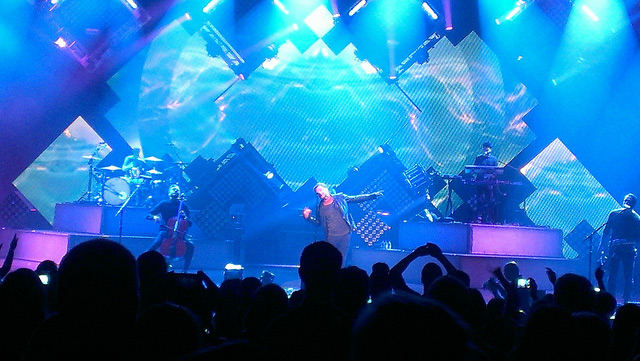 OneRepublic at INB Performing Arts Center Spokane, WA
Toledo, Ohio
John Denver recorded a song called "Saturday Night in Toledo, Ohio."  It was about being in Toledo and not finding anything to do after 10pm.  Toledoans objected to the song so vigorously that Denver had to cancel a concert he had planned within the city.  Nowadays, Toledo hangouts like Headliners, Frankies Inner-City, and Bar 145 provide students and non-students plenty of post-10pm options.  For nationally-known acts trek to the Stranahan Theater, the Valentine Theatre, or the Collingwood Arts Center.

Schools:
The University of Toledo
Davis College
Mercy College of Ohio

Top Venues:
Frankies
Huntington Center
Stranahan Theater
Toledo Zoo Amphitheatre
Vermillion, South Dakota
Vermillion is one of the smallest towns on our list, but they're home to one of the biggest (at least metaphorically) attractions, The National Music Museum.  Championed by the New York Times, the museum displays more than 1,200 musical instruments and is a bona fide cultural treasure.  The museum's love of music spills over to the city's performance venues, especially Maya Jane's and Carey's Bar.  Some of Vermillion's favorite daughters and sons are Shawn Colvin, Billy Yost, and the band Paradise Fears.

Schools:
University of South Dakota

Top Venues:
Carey's Bar
Maya Jane's
National Music Museum
Rounding 3rd Bar and Casino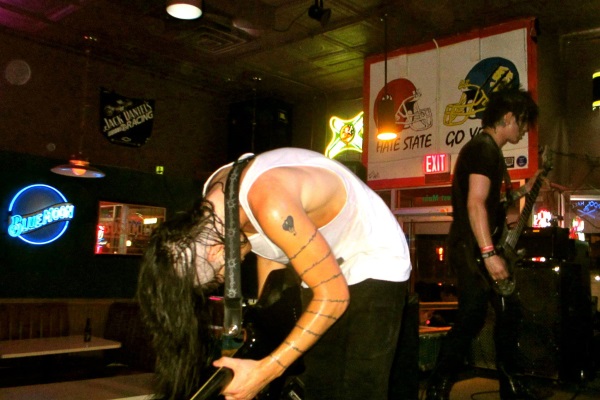 Stitched Up Heat performing at Maya Jane's in Vermillion, South Dakota.  Image courtesy of the venue's Facebook page.
Wellesley, Massachusetts
While Wellesley is a half-hour away from Beantown and its live music scene, it still has plenty to keep fans tapping their toes.  The Center for Arts Natick serves residents of Wellesley.  It's the place to go for live tunes.  The Wellesley Symphony Orchestra performs on the campus of Mass Bay Community College.  Wellesley's "Wonderful Weekend" brings a bouquet of exciting acts into town.  In fact, The Beach Boys were the star attraction in 2008.  Wellesley is also the hometown of guitarist Billy Squire

Schools:

Top Venues:
Amazing Things Arts Center
Bocado Tapas Wine Bar
Center for Arts in Natick
Walnut Hall
Williamsburg, Virginia
Nothing embodies Williamsburg's love for music like the Virginia Musical Museum.  The institution contains antique musical instruments, music machines, and personal items from icons like Ella Fitzgerald, Patsy Cline, and Bruce Hornsby.  The historic Kimball Theatre hosts a wide array concerts as well as other events.  The theatre opened its doors in 1933.  For laidback musical experiences, visit Oceans & Ale, Cogan's Deli & Sports Pub, or The Corner Pocket.

School:
The College of William & Mary

Top Venues:
The Corner Pocket
Kaplan Arena
Kimball Theatre
Triangle
Winston-Salem, North Carolina
One of Winston-Salem's top music venues is Reynolds Auditorium.  It seats 1,900 and is replete with a balcony and mezzanine.  The venerated Stevens Center is owned and operated by the University of North Carolina School of the Arts.  It's used about 300 days a year.  If you like country music, and riding mechanical bulls, amble on over to Johnny and Junes Ultra Saloon.  Other places to encounter live music are The Garage, Athena Greek Tavern, and Tate's. 

Schools:
Wake Forest University
Winston-Salem State University
University of North Carolina School of the Arts
Salem College

Top Venues:
Bailey Park
Lawrence Joel Veterans Memorial Coliseum
The Millennium Center
Winston Salem Fairgrounds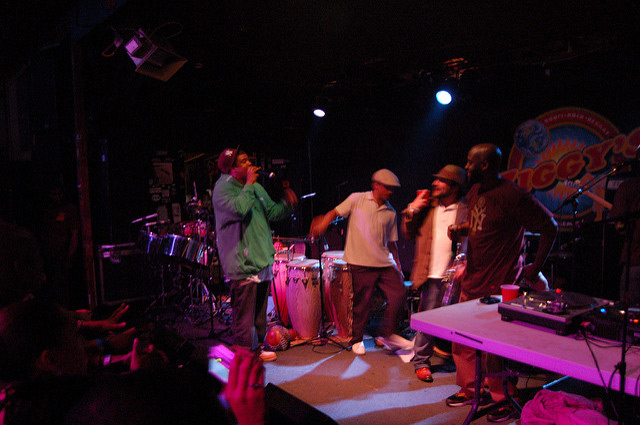 De La Soul at Ziggy's via Flickr.com
Yellow Springs, Ohio
To experience dynamic live music in Yellow Springs, you'll want to visit places like Peach's Grill.  Another venue you need to know about is the First Presbyterian Church.  Located on Xenia Avenue, the church is home to "Chamber Music in Yellow Springs."  This colorful college town begat Richie Furay, a Rock and Roll Hall of Famer and founding member of Buffalo Springfield and Poco. 

Schools:
Antioch College
Antioch University Midwest

Top Venues:
Clifton Opera House
Oddbody's
Peach's Grill
South Park Tavern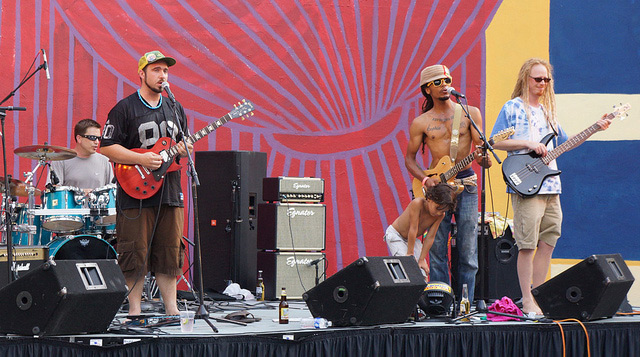 VIllage Fam Summer Jam, Yellow Springs, Ohio, via Flickr.com
Ypsilanti, Michigan
Ypsilanti might be the prefect college town.  After all, it's the birthplace of Domino's Pizza.  Nothing is more important to a college student than cheap pizza.  Similarly, nothing creates a great music scene like Elvis impersonators.  Every year, Ypsilanti hosts "Michigan Elvisfest."  It's routinely recognized as one of the state's best music festivals.  It's not a contest, but a tribute to The King.  Rounding out Ypsilanti's distinguished music scene are quality enterprises like The Ark, the Tap Room, the Maidstone Theatre, and the Crossroads Pub.

School:
Eastern Michigan University

Top Venues:
The Ark
Cultivate Coffee & TapHouse
EMU Convocation Center
Maidstone Theatre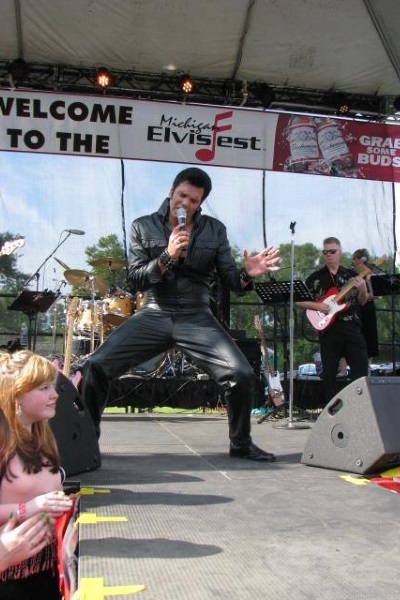 Performance at ElvisFest in Ypsilanti, Michigan.  Image courtesy of the venue's Facebook page.