The 40 Best Up & Coming Stand-Up Comedians Today
It can be tough being a stand-up comedian. For some, it can mean a few years of hard work. But for most, it means a lot of years of hard work. That's one reason we're recognizing who we feel are the best rising comedic stars out there now.
Below are 40 stand-up comedians who are "up and coming." Some of these up-and-comers have been performing for a while, others are relatively new to the scene.
Nonetheless, the 40 names below are all candidates to be the next Kevin Hart, Louis C.K., or Amy Schumer. In other words, the following comedians are ready to break out and become huge in comedy.
Even better, everybody on our list is of course funny, but also charismatic, fun, and best experienced live. Check them out at a nearby comedy club as soon as you can, it will be worth your while.

Sofiya Alexandra
Sofiya Alexandra is a stand-up comic and comedy writer.  She has performed at comedy clubs all over the country and is currently writing for an animated program on Amazon.  Alexandra was born in Odessa, Ukraine.  She moved to L.A. when she was 11.  She's a great storyteller, super cool, extremely likable, and very humorous.

"Ladies, let's not tear each other down.  We are a sisterhood.  We should build each other up.  Are you wearing shorts with Uggs?  Get the f**k out of here!"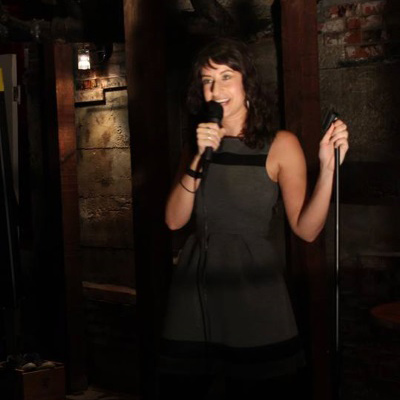 Sofiya Alexandra performing on stage.  Photo courtesy of comic's Facebook page.


Cy Amundson
Cy Amundson has cracked wise on Conan, Comedy Central, Family Guy, and American Dad.  Look for his first comedy album, Lovesick in Toledo, on iTunes.  If you didn't know by looking at him, he's a big fan of Teen Wolf.  Amundson's stand-up manages to challenge audiences while still tickling their funny bones.


"I've got a lot of free time on my hands right now.  So, recently I started cyberbullying my dad."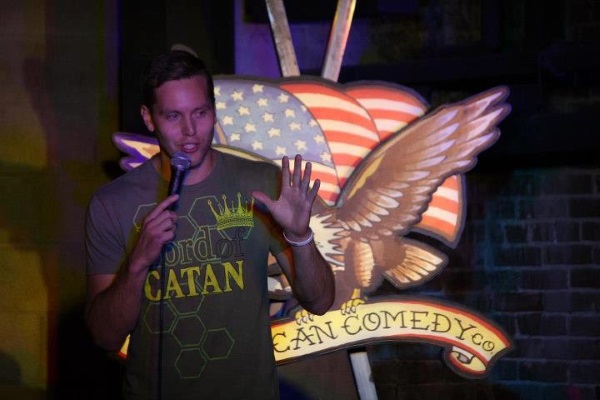 Cy Amundson performing on stage.  Photo courtesy of comic's Facebook page.


Marcella Arguello
Marcella Arguello is already a comedy giant.  Not only is she a hilarious stand-up comedian, but she stands over six-feet tall.  Arguello is a writer for James Corden's new show, Drop The Mic, and you can see her on Seeso's The UCB Show.  She does great Michael Jackson and Mariah Carey impersonations.

"I've been called a giraffe.  I'm glad you find it funny, because it offends me as a proud 'Gir-African American.'"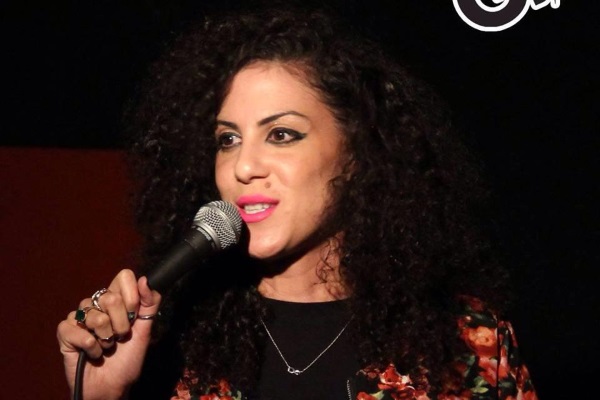 Marcella Arguello performing on stage.  Photo courtesy of comic's Facebook page.


Aaron Aryanpur
You know Aaron Aryanpur is funny.  He won "Funniest Comic in Texas 2012."  His comedy platter, In Spite Of, cracked the top ten of Billboard's comedy albums chart.  Aryanpur has appeared on Comedy Central—television and radio.  He's also a comedy writer and voice over artist.  When it comes to delivery, Aryanpur is unsurpassed.


"My wife is allowed to order what she wants to eat.  I have to order what she wants to try."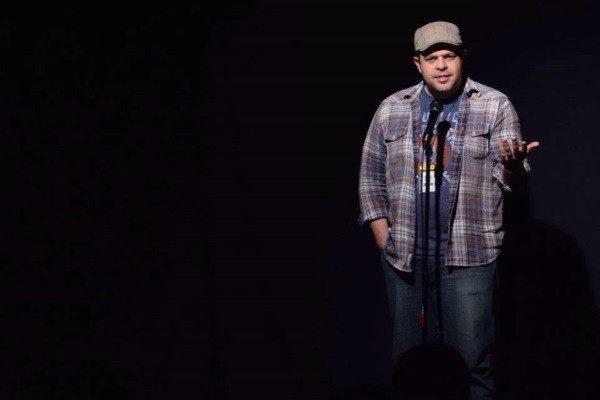 Aaron Aryanpur performing on stage in Dallas in 2016.  Photo courtesy of comic's Facebook page.
In Spite Of

Casey Balsham
Casey Balsham started in Los Angeles and then moved to New York.  Her comedy resume includes Lifetime, Gotham Comedy Live, and NuVo TV.  She has range.  She starred in HA! The Musical, an Off Broadway show about stand-up comedy.  Balsham's style is to grab the mic and have fun.  She's unabashed and says whatever pops into her head.

"Here's my thing about baseball though guys: I mean, does it freak anybody else out that there are human beings that can throw a ball a hundred miles per hour.  I have 97' Honda CRV.  That thing f***ing shakes at 73."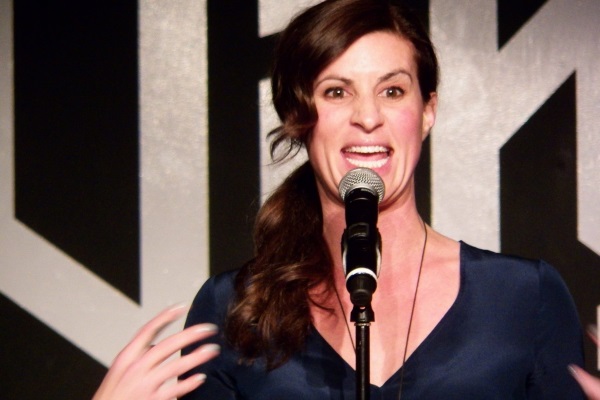 Casey Balsham performing on stage.  Photo courtesy of comic's Facebook page.


Andy Bening
Hard-working Andy Bening has been named "Best Comedian" by two Detroit publications.  In 2016, he picked up a nomination for Comedian of the Year from the AMG Heritage Awards.  Bening has performed all over North America and is known for his "every man" persona and working clean.

"My wife told me her celebrity crush, Harrison Ford… I got really jealous because I can't compete with that.  She wants Han Solo and she ended up with an Ewok."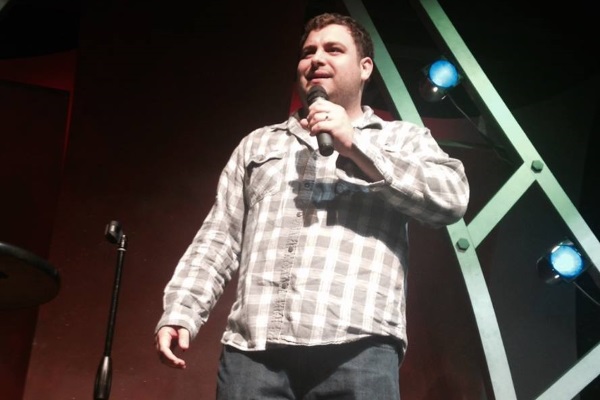 Andy Bening performing on stage at a comedy club in Hoover, Alabama.  Photo courtesy of comic's Facebook page.


Joel Kim Booster
Joel Kim Booster is a very funny stand-up.  For material, he taps his experiences as an adopted gay Asian growing up in Chicago.  Now based in Brooklyn, Booster has written for Comedy Central and Billy on the Street.  He has also appeared on Conan.  Booster, who has an affinity for cats, delivers his witty jokes with an amiable ease.

"The Midwest is just as racist as The South.  It just has none of the personality.  It's all the hatred and violence but no sweet tea."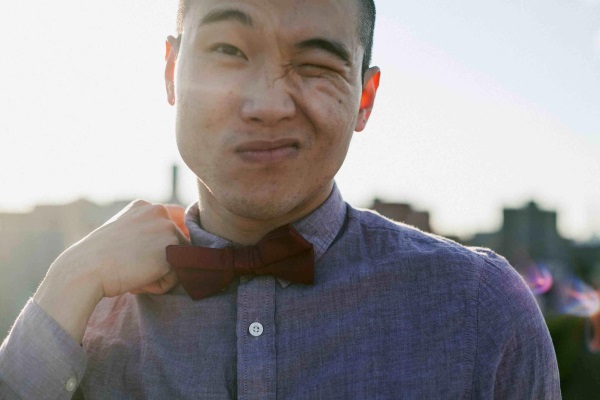 Photo of Joel Kim Booster courtesy of comic's Facebook page.


Gina Brillon
Gina Brillon brings a big personality to the stage.  Her demeanor, presence, and the way she effortlessly connects with her audience, means she's going to be a huge star.  A history making comic, Brillion is the first Latina winner of NBC's Stand up for Diversity Showcase.  She's also been on Comedy Central, E!'s Chelsea Lately, and The View.

"I'm Puerto Rican, by the way.  Thank you.  I know it's hard to tell because I'm not wearing a flag or a baby."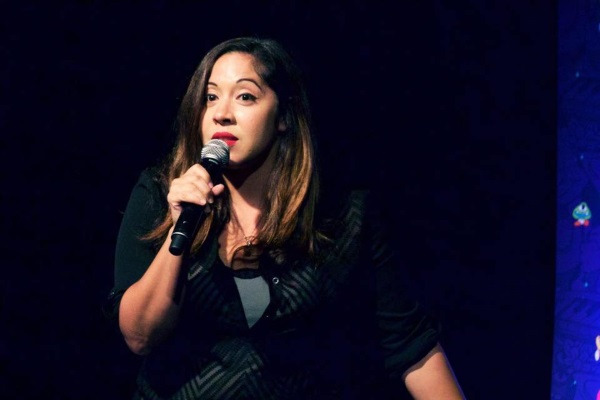 Gina Brillon performing on stage.  Photo courtesy of comic's Facebook page.
Gina Brillon: Pacifically Speaking

Vladimir Caamano
New York City's Vladimir Caamano has received praise from Variety, can been seen on Kevin Hart's new digital platform, and worked on developing a sitcom with Bill Lawrence and Adam Styzikiel.  When he's not doing stand-up, he works at the Psychological Trauma Center at Cedars-Sinai in Los Angeles.  Besides being able to administer the best medicine (laughter), Vladimir also oozes charm. 


"Anytime you say no to an immigrant parent, they hit you with the debt.  Right.  'Dad, I'm not going to go.' 'I GAVE YOU LIFE!'"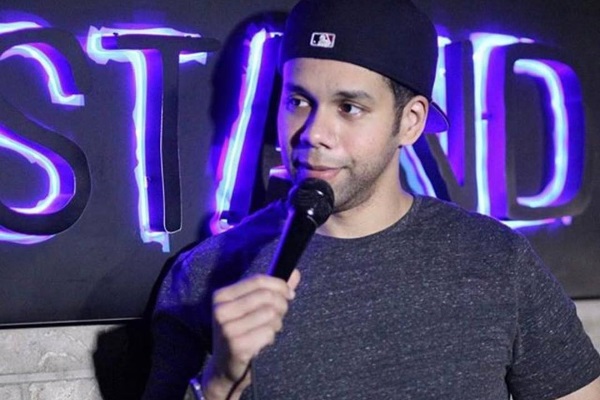 Vladimir Caamano performing at The Stand NYC.  Photo courtesy of comic's Facebook page.


Anica Cihla
Anica Cihla made a name for herself in Seattle, Washington.  Then, in 2016, she flipped coasts, and was a quarterfinalist in the She-Devil Comedy Festival in NYC.  Cihla's humor is observational, self-deprecating, and dark.  Her well-written materials goes places you don't expect but it's still very relatable.  


"I run long distance because I so badly want to be the person that gets done and pees their pants."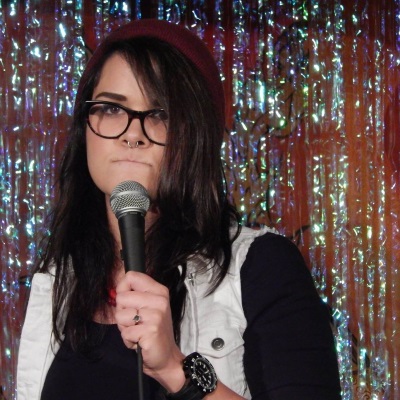 Photo of Anica Cihla courtesy of comic's Facebook page.


Kerry Coddett
Kerry Coddett's talents have earned her gigs on television, on the radio, and at comedy festivals.  She has also written pieces for a bunch of big-time publications.  She wrote and starred in The Coddett Project—her very own sketch comedy web series.  Coddett's high-energy stand-up act is punctuated by her jocular observations and edgy candor.


"It's so good to be here in Brooklyn.  Then again, I never left.  I was born here.  I was raised here.  I'm gonna die here.  I guess you can call me indigenous."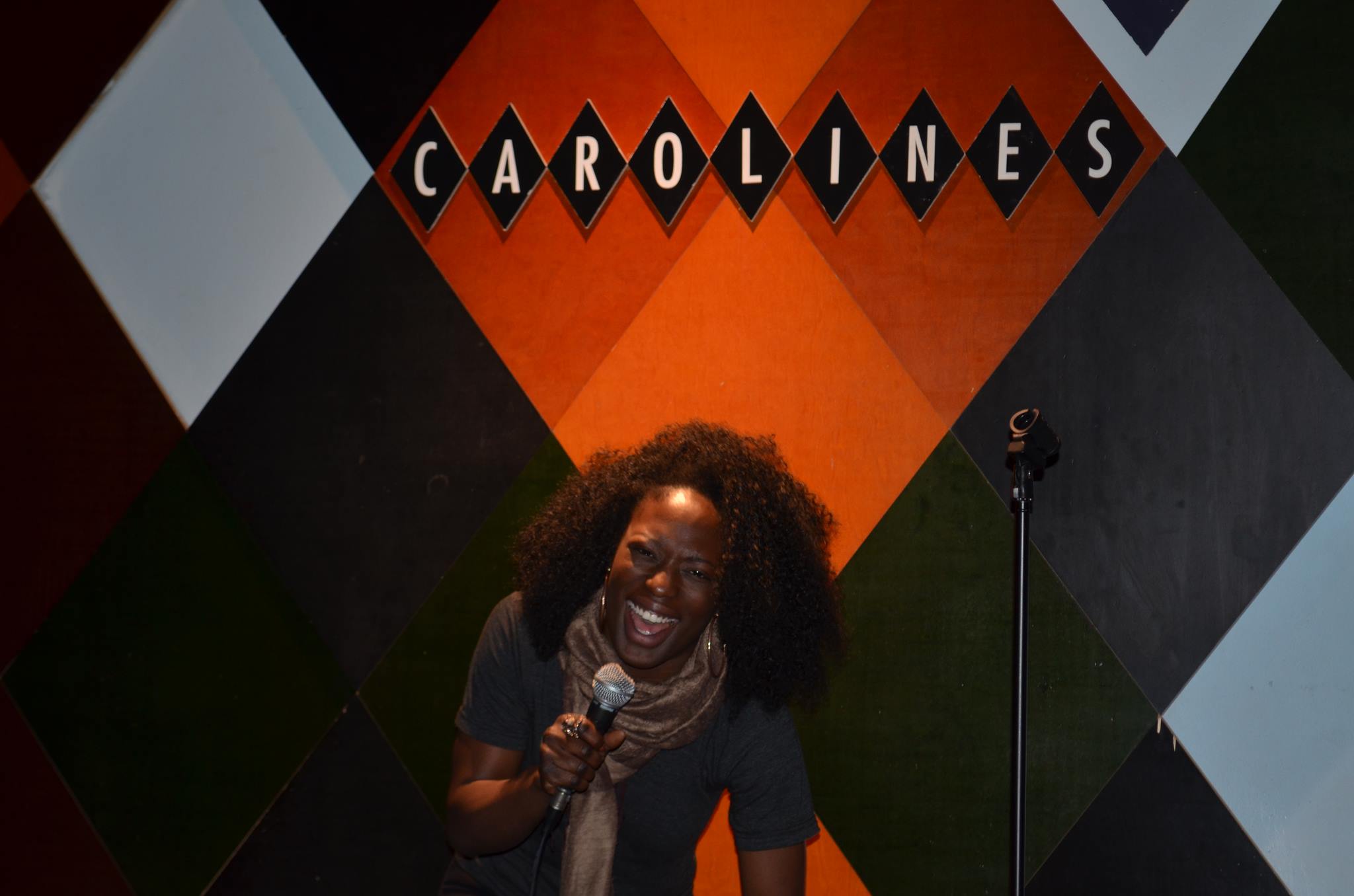 Kerry Coddett performing on stage.  Photo courtesy of comic's Facebook page.


Nore Davis
Much of Nore Davis' material is about growing up and living in Brooklyn.  His genius is how relatable he makes his unique experiences.  Davis has released two comedy albums, Home Game and College is a Scam.  Get them both.  Also, go to YouTube and check out the videos he made using audio of his live stand-up.  They are hysterical.


"I don't like that expression, 'born in the hood.'  It sounds like my mother never made it to the hospital."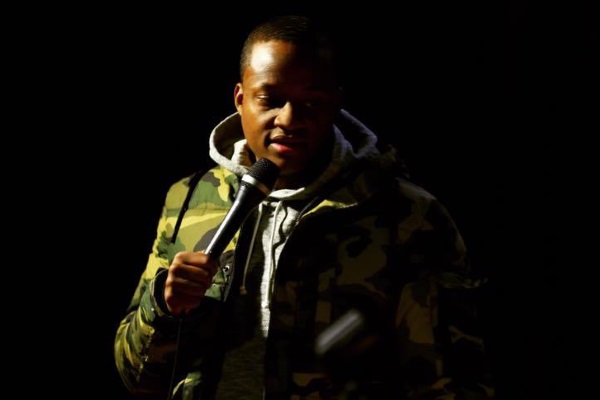 Nore Davis performing on stage.  Photo courtesy of comic's Facebook page.
Nore Davis: You Guys Are Dope

Joe Devito
Joe Devito tells jokes and he tells them very well.  He's intelligent, astute, and his act has the perfect amount of old school.  You probably saw Devito on The Late Late Show with Craig Ferguson, Fox News Channel's Red Eye w/ Greg Gutfeld, and NBC's Last Comic Standing. 
"You're supposed to be on your best behavior on a first date, right?  This girl had eleven drinks.  Eleven drinks on a first date.  I said,

"Excuse me, how many pills do you think I ground up?"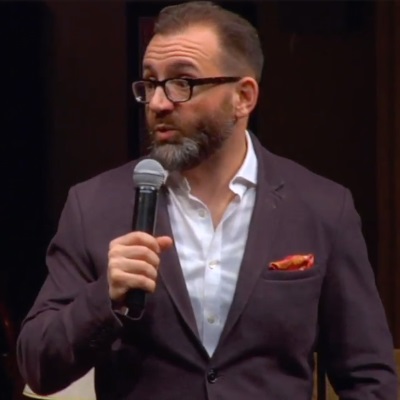 Joe Devito performing on stage.  Photo courtesy of comic's Facebook page.


Alex Edelman
Alex Edelman is an internationally acclaimed stand-up.  Raised in Boston, based in New York, Edelman won the 2014 Edinburgh Comedy Award for Best Newcomer.  He has written for several big-name publications including The Atlantic and The Guardian.  Edelman's comedy is sharp and he has a great delivery.  His material is innovative and daring.


"This Thanksgiving I came out to my family.  I'm not gay, I just thought it would be hilarious."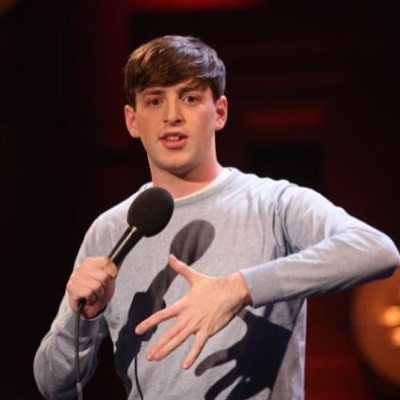 Alex Edelman performing on stage.  Photo courtesy of comic's Facebook page.


Naomi Ekperigin
When you see Naomi Ekperigin make sure you treat her with respect.  She was the 1993 Junior Girl Scout of the Year (Troop 3280).  Ekperigin has appeared on VH1, MTV, and FX and she's been heralded by Buzzfeed and Essence Magazine.  Ekperigin's stand-up act feels like one of your close friends is standing on the stage, holding a microphone, and making you laugh hysterically. 


"Most of my friends live in Brooklyn… Basically, what that means is in my single days I would have hasty sex to avoid a subway transfer."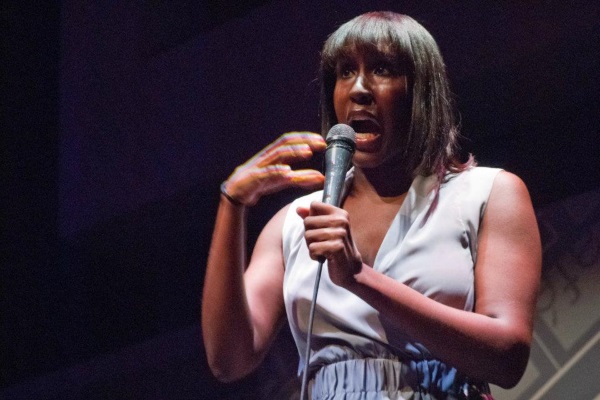 Naomi Ekperigin performing on stage at the Brooklyn Academy of Music.  Photo, by Jen Plaskowitz, courtesy of comic's Facebook page.


Paul Farahvar
Don't heckle Paul Farahvar.  He might sue you for slander.  Paul Farahvar is a litigating attorney.  Farahvar has been doing stand-up since 2011.  He started in Chicago and is now a regular performer at the Laugh Factory.  Farahvar works hard and it shows.  His humor is as self-deprecating as you can get for someone who's funny, handsome, and a lawyer.


"Yeah, I grew up in a subdivision called Ginger Creek.  Yeah.  You can't leave there without becoming a delicate pu**y."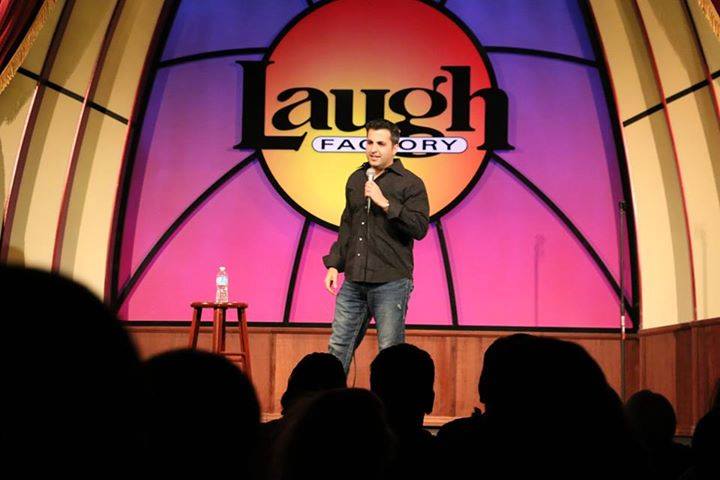 Paul Farahvar performing at The Laugh Factory in Chicago.  Photo courtesy of comic's Facebook page.


Jo Firestone
Jo Firestone is a comedian based in Brooklyn.  She has appeared on The Tonight Show Starring Jimmy Fallon and The Chris Gethard Show.  Firestone was named a "New Face" at the 2016 Just for Laughs Festival.  Don't let Firestone's docile approach and cute quirkiness fool you.  She's a comedic force.

"I'm going write to Liza Minnelli and I'm going to get her to do this comedy show."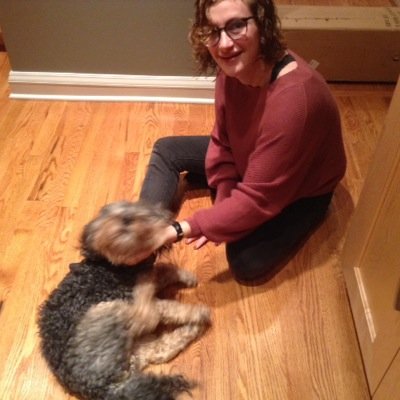 Photo of Jo Firestone courtesy of comic's Twitter account.


Caitlin Gill
Caitlin Gill has performed at numerous prestigious clubs and festivals, written for the New York Times, and can be heard on several popular podcasts.  Every week, at the Hollywood Improv Lab, she hosts Crabapples with Bobcat Goldthwait.  Gill's approach is left of center, but it really works.  She's amusing and astute.


"I'm living my dream.  I want to tell weird jokes to strangers in dark rooms."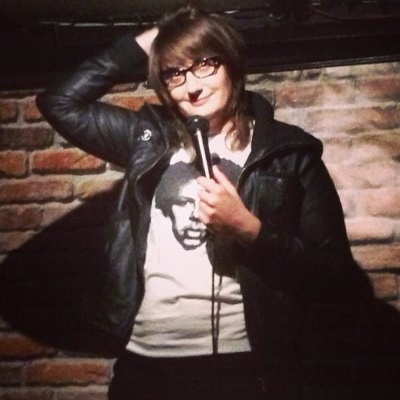 Caitlin Gill performing on stage.  Photo courtesy of comic's Facebook page.


Steve Gillespie
Steve Gillespie's first comedy album is called Stever Fever.  Check it out.  Gillespie has performed on Conan, FOX, and CMT.  He has opened for comic greats like Jim Breuer, Doug Benson, and Dave Attell.  Gillespie's act is a little Doug Stanhope-esque.  His rebellious comedy has a bite, but it will still leave you wanting more.


"We're all using like one of ten Netflix logins.  There's like ten of them.  If you have your own Netflix login, you're the Illuminati."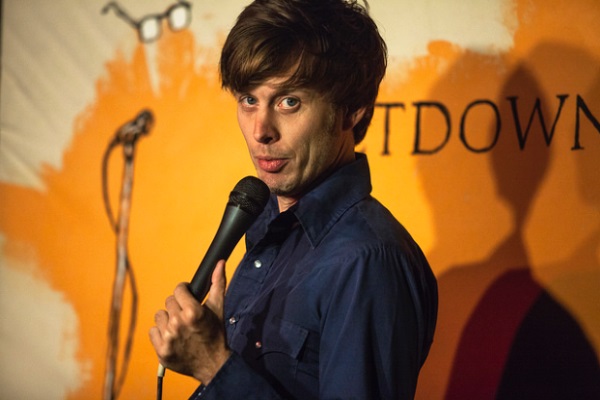 Steve Gillespie performing at the Nerdist Showroom at Meltdown.  Photo courtesy of comic's Facebook page.


Josh Gondelman
Josh Gondelman is a writer for Last Week Tonight with John Oliver.  He's appeared on Conan and his latest comedy album, Physical Whisper, dropped in March of 2016.  Gondelman is the co-creator and co-author of the Modern Seinfeld Twitter account.  On stage, Gondelman is a witty and cerebral storyteller.


"I'm in a wonderful, long term relationship, which is amazing, because in 2016, if you're not, if you're just dating casually, someone can break up with you by simply not texting back."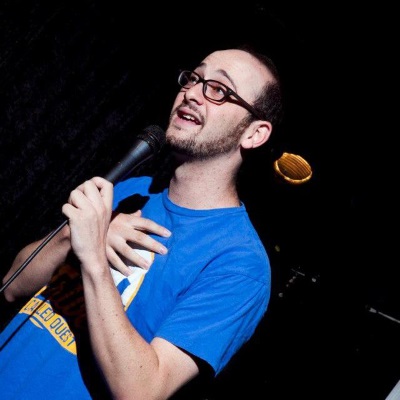 Josh Gondelman performing on stage.  Photo courtesy of comic's Facebook page.


Alex Hooper
Alex Hooper lives in Los Angeles but was born in Baltimore.  A roast battle champion, Hooper also hosts Crave—a 90-minute comedy show followed by an all-night dance party.  Hooper has a unique persona and brings a fresh energy to the stage.  One more thing, he loves pugs.


"What happens is, I got health insurance this year and I saw a new doctor.  She put me on a new medication and she said you can't drink for a year.  Upon hearing that, I immediately asked if I can still do drugs.  She said, 'I can't condone that.'  Which was not a no."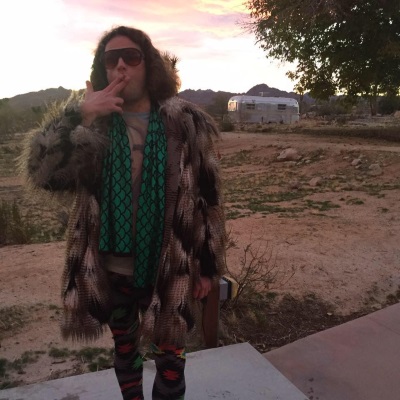 Photo of Alex Hooper courtesy of comic's Facebook page.


Kelsie Huff
Besides being an uproarious stand-up comedian, Chicago's Kelsie Huff teaches stand-up and storytelling.  She also does voice overs and hosts the comedy showcase known as "The Kates."  She has performed her act all over the country.  Her act is high energy, kinetic, and a lot of fun.  You'll leave her show happy.


"The reason I have Invisalign is because I like to do everything Tom Cruise does 15 years later."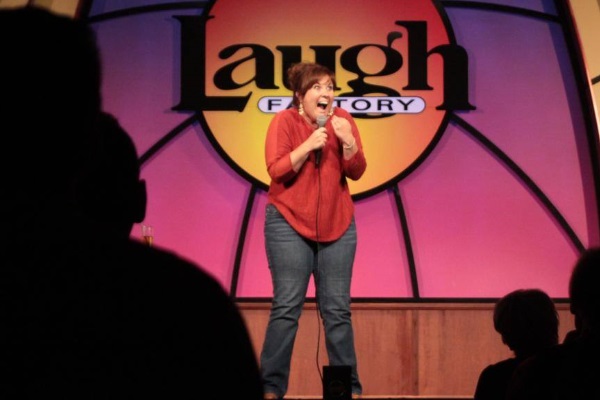 Kelsie Huff performing at The Laugh Factory in Chicago.  Photo courtesy of comic's Facebook page.


Cory Jarvis
Cory Jarvis is an Air Force veteran, a sci-fi fan, and a hilarious stand-up comic.  Apart from regular stand-up gigs, Jarvis is the creator of the web series, "Cory Makes Movies Right," and an accomplished writer.  Jarvis gives off an "aww shucks" vibe but his delivery is spot-on and his material is laugh-out-loud funny.


"I'm the guy you ask directions from.  Do you understand?  'I need to find the Empire State Building and you look like you have some Disney songs in your iPod.'"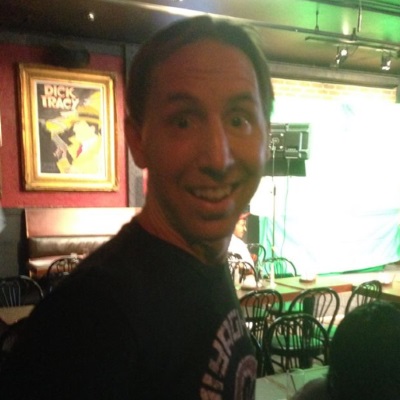 Photo of Cory Jarvis courtesy of comic's Facebook page.


Matt Jenkins
Matt Jenkins is a talented writer and a side-splitting stand-up.  Right now, he's well known around the New York/New Jersey area but that's likely to change.  If you can't make it to a comedy club to experience Matt Jenkins' humor and charisma, then buy his book, Now I'm Booked Everywhere.


"I went to this college prep high school.  From there I attended a community college.  So, if you really want to know how to disappoint your parents, have them pay more for your high school then your entire college education."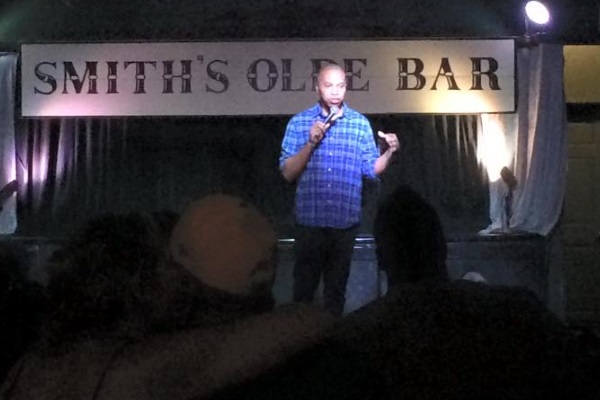 Matt Jenkins performing at Smith's Olde Bar in Atlanta.  Photo courtesy of comic's Facebook page.


Hari Kondabolu
If New Yorker Hari Kondabolu comes to your town, make sure you're in the audience.  Until then, check out his debut album, Waiting for 2042.  Kondabolu has appeared on Letterman and Jimmy Kimmel.  Kondabolu tackles serious subjects like race, politics, and social justice, but does so in an endearing way.


"Then he's like, 'no, I mean where are you really from?'  Which for those of you that don't know, that's code for 'No, why aren't you white?'"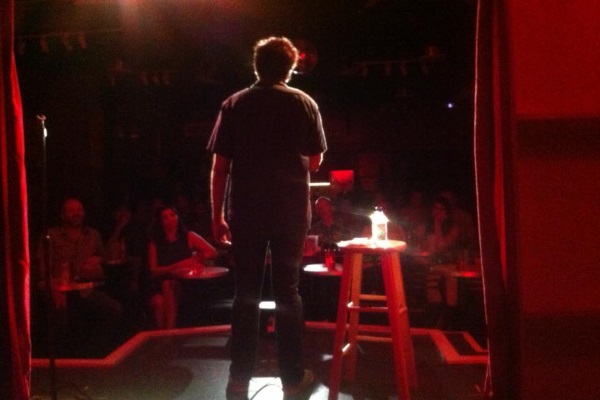 Hari Kondabolu performing on stage.  Photo courtesy of comic's Facebook page.


Athena Kugblenu
British funny lady Athena Kugblenu started doing stand-up in 2012 and was the BBC's 2015 new comedian of the year finalist.  Her material is based on observational humor that's intelligent and skillfully delivered.  Later in 2017, Kugblenu will perform at the Johannesburg Comedy Festival.


"Can James Bond be James Bond and be black and be in Russia?  He's supposed to be undercover."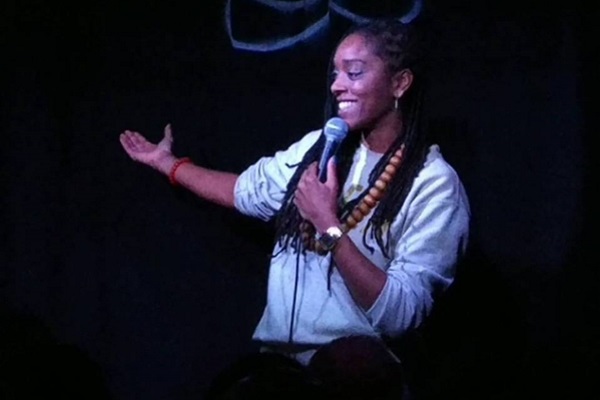 Athena Kugblenu performing on stage.  Photo courtesy of comic's Facebook page.


Nathan Macintosh
Nathan Macintosh impressed comedy fans with his debut album, I Wasn't Talking.  He also impressed during his performance on Conan, his multiple appearances at the Just for Laughs Comedy Festivals, and his many radio and podcasts gigs. Macintosh's act is frantic (in a good way).  It's like he has so much funny stuff inside of him that he can't wait to get it out.


"You know what I found that is very hard to avoid from McDonalds is McDonald's breakfast.  I don't know what they make it with.  It is so good.  I don't know if it's magic or if it's like shipped in from Narnia."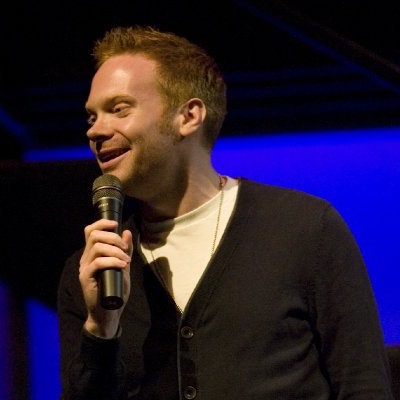 Nathan Macintosh performing on stage.  Photo courtesy of comic's Facebook page.


Maggie Maye
Based in Austin, Texas, Maggie Maye is not only into stand-up but sketch and improv comedy too.  Besides jokes, Maye loves cartoons, candy, and nice people.  She's also a great lip-sync singer.  Maye has a smile that can light up a room and jokes that can make an audience roll in the aisles.  Her act is "B-status."


"You can't wear wigs and glasses together.  Those are the makings of a Scooby-Doo villain."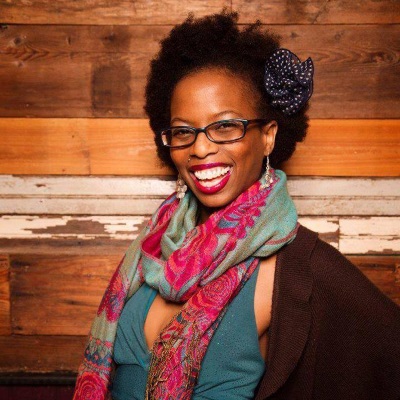 Maggie Maye performing on stage.  Photo courtesy of comic's Facebook page.


Liz Miele
Liz Miele is a New Jersey girl.  She started doing stand-up when she was 16.  Since then, she's been profiled by The New Yorker Magazine, toured with the "Nobody of Comedies," and produced two successful web series.  Her comedy album, Emotionally Exhausting, is on Amazon and iTunes.  Miele is a little low key on stage, but she's also clever, witty, and relatable.  You'll like her and you'll love her act.


"I've lived in New York City now for 11 years and I don't have a gay best friend?  That weird, right?"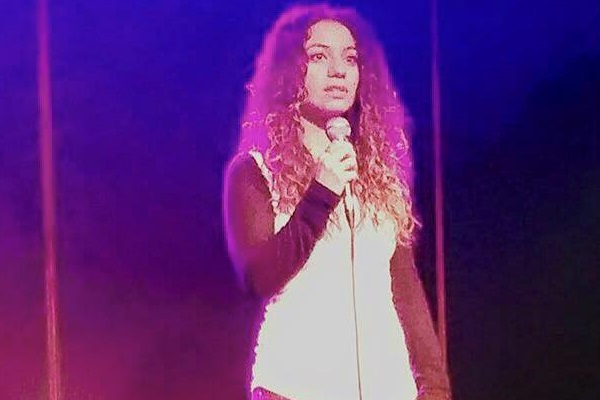 Liz Miele performing on stage.  Photo courtesy of comic's Facebook page.


Emotionally Exhausting [Explicit]

John Moses
John Moses is from Toronto.  He has some demons and has done some bad things in his past, but now, he's all about making people laugh.  To see what we mean, procure his latest album, Upper Middle Trash.  Moses is very honest on stage.  He has a terrific knack for taking his pain and making it funny.


"Drinking isn't for everybody, but so is not drinking."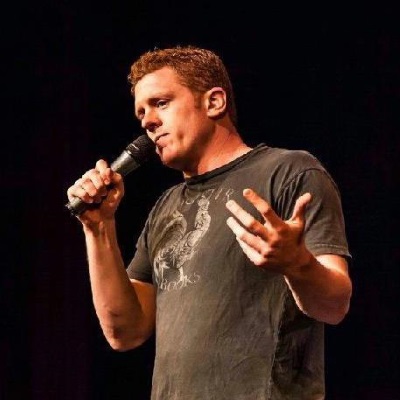 John Moses performing on stage.  Photo courtesy of comic's Facebook page.


Paul Myrehaug
Paul Myrehaug started his comedy career in Alberta, Canada.  He has since performed in the United Kingdom, Ireland, Netherlands, Afghanistan, Iraq, Kuwait, and the United States.  Myrehaug's comedy can be pretty dark and he can be pretty dry.  Nonetheless, he'll have you rolling on the floor laughing.


"I got pushed over last year in a port-a-potty, and I got to tell you, it's not as funny as I thought. Especially since I was throwing up at the time."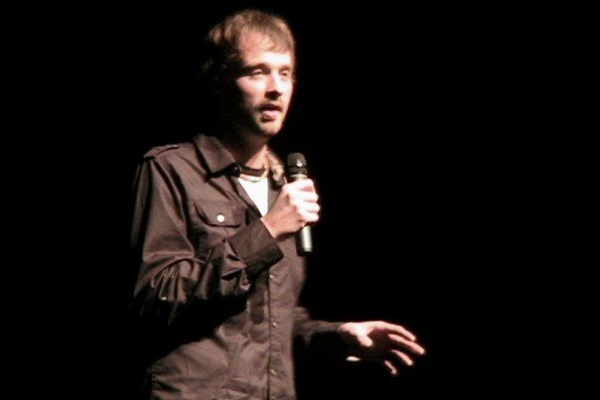 Paul Myrehaug performing on stage.  Photo courtesy of comic's Facebook page.


Aparna Nancherla
You may have laughed at Aparna Nancherla during her appearances on Inside Amy Schumer, Conan, Comedy Central, VH1, and TruTv.  Nancherla hosts the underground New York comedy show, Whiplash.  She has a solemn delivery and self-effacing material.  Her eccentric takes on the world will tickle your funny bone.


"If you don't have anxiety, the way I would describe it is like there's an edgy improv troupe in your brain, and it just needs like a one word suggestion to spin like countless scenarios that no one is comfortable with."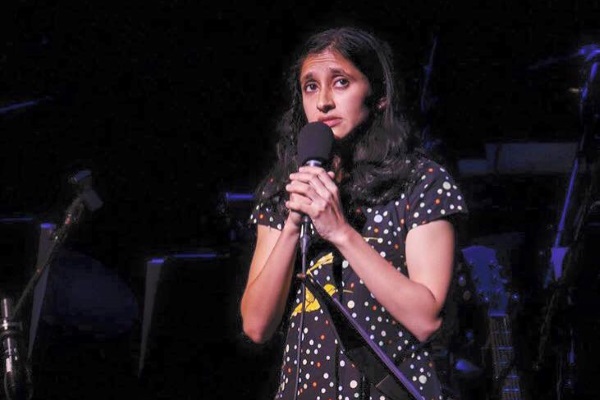 Aparna Nancherla performing on A Prairie Home Companion.  Photo courtesy of comic's Facebook page.


Jessimae Peluso
Jessimae Peluso is from Syracuse, New York.  She's appeared on NBC, TBS, Comedy Central, MTV, and Fox.  Her comedy has earned admiration from publications like GQ, Playboy, and Cosmopolitan.  Peluso's jokes are based on her diabolical observations, her outrageous family, and pop culture.  She's charismatic on stage and brings a lot of energy.


"The nicest building in my hometown is the bus station."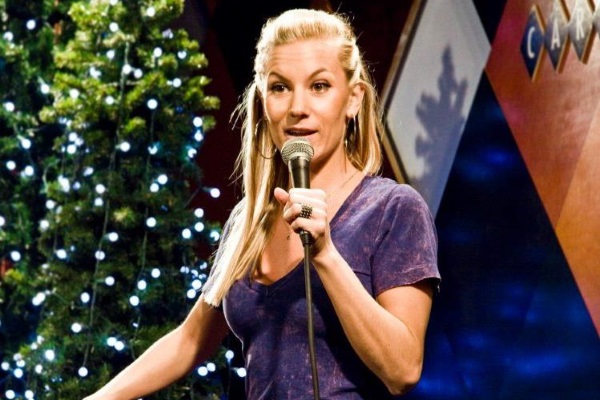 Jessimae Peluso performing on stage.  Photo courtesy of comic's Facebook page.


Amber Preston
Amber Preston hails from North Dakota but her comedy stylings have earned her praised from New York Magazine.  Preston has performed at numerous festivals and has done quite well in stand-up competitions.  She really connects with her audiences and does so with voices, physical comedy, and non-stop quips.


"If I don't hear you laughing, I will turn to dust.  Yeah, I'm not kidding.  I have some coke in the back and I'll do a line."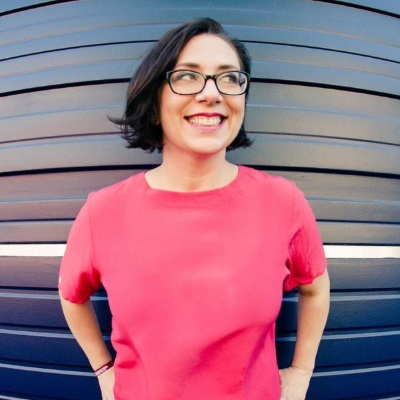 Photo of Amber Preston courtesy of comic's Facebook page.


Chris Redd
Although he was born in St. Louis, funny man Chris Redd considers himself a native of Chicago.  He moved there when he was eight.  Redd grabbed headlines for playing Hunter the Hungry in the movie "Popstar: Never Stop Never Stopping."  His delivery is super smooth and his material is smart, honest, and relevant.


"There's no manly way to ask for a blanket."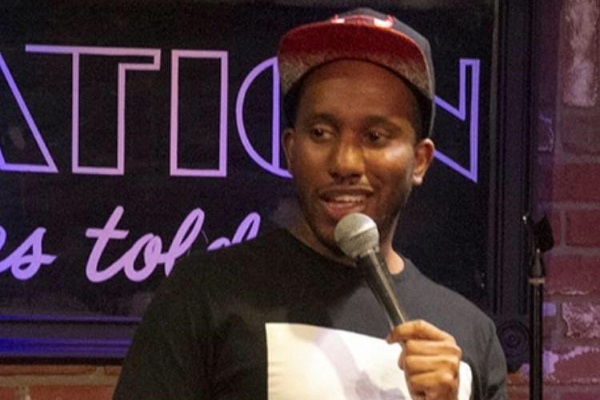 Chris Redd performing on stage.  Photo courtesy of comic's Facebook page.


Phoebe Robinson
Phoebe Robinson has performed on Late Night with Seth Meyers, Last Call with Carson Daly, and Conan.  She's so good on stage that she's earned praise from Vulture.com, Essence, and Esquire.  Robinson also hosts podcasts and is a prolific writer.  This comic owns the stage and has a silky-smooth delivery.  She often jokes about her own life and does so with aplomb.


"I had to meet his parents recently which is stressful because he's white, so his parents are white.  I hate when that happens."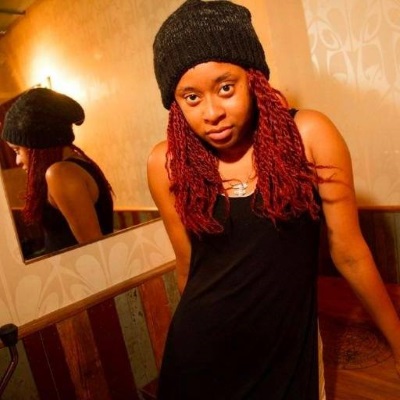 Photo of Phoebe Robinson courtesy of comic's Facebook page.


Ben Rosenfeld
Ben Rosenfeld "creates smarter comedy for smarter people."  Don't worry if you're stupid.  Rosenfeld will still make you laugh.  Rosenfeld has released two comedy albums, Neuro Comedy (2012) and The Russian Optimist (2016).  Much of his material is about his family and his experiences as a first-generation Russian Jewish immigrant.


"Instead of bedtime stories, my dad would just tell me terrible things about my mom in story form."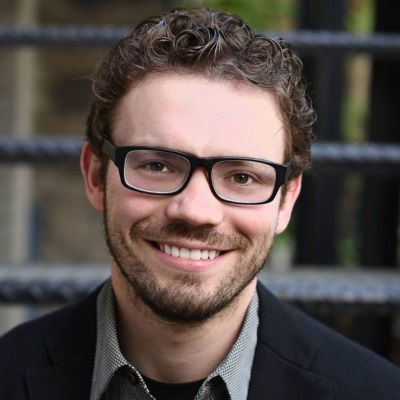 Photo of Ben Rosenfeld courtesy of comic's Facebook page.
Don't Shake Your Miracle [Explicit]

Dave Ross
Dave Ross is as busy as he is funny.  He has a sketch group called WOMEN, he hosts the podcast Terrified, he hosts the stand-up comedy show Good Heroin, and he told a story on Drunk History.  Ross has an affable, every man stage persona… if every man was a warped weirdo. 


"I'm not gay, but there's a whole high school that disagrees with that."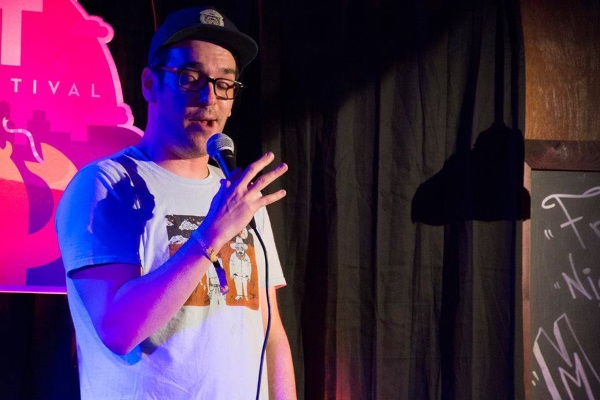 Dave Ross performing at the Riot L.A. Comedy Festival.  Photo, taken by Carmen Morales, courtesy of comic's Facebook page.


Beth Stelling
Beth Stelling studied improv at The Annoyance Theater in Chicago.  She was named "Best Stand-up Comedian in Chicago" by The Chicago Reader in 2010.  She has appeared on Conan, Jimmy Kimmel Live, and Chelsea Lately.  Stelling's material is focused on middle class living but her punchlines reveal a deliciously wicked sense of humor.


"A lot of people in Ohio don't realize that you can put all of your things into a bag and leave."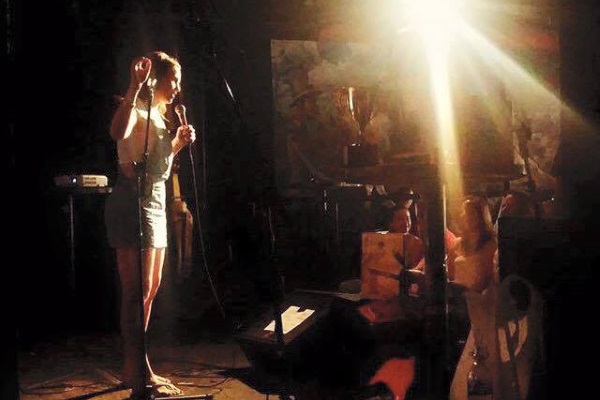 Beth Stelling performing on stage.  Photo courtesy of comic's Facebook page.


Jenny Zigrino
Jenny Zigrino has appeared on Conan, Oxygen, Fox, and IFC.  You can see her in the films 50 Shades of Black and Bad Santa 2.  Hopefully, her acting career doesn't take her away from the comedy clubs because Zigrino has the chops to become a legendary stand-up.  She's honest, charming, relatable, and hilarious.  She truly is a "bad ass bitch."


"He used to dirty talk to me in Yiddish.  I'd loved it.  I felt like that girl who just found out she likes to be choked, but it's by 5,000 years of Jewish culture."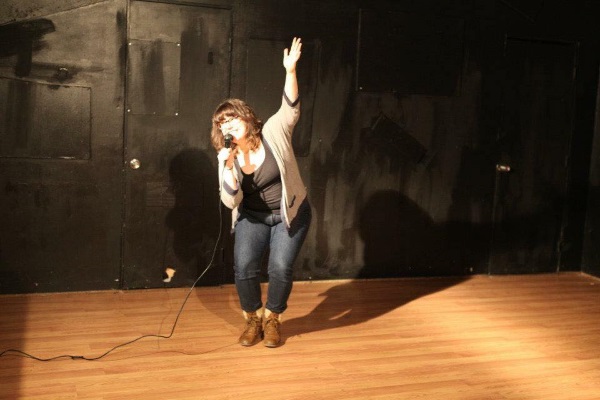 Jenny Zigrino performing on stage in Los Angeles.  Photo courtesy of comic's Facebook page.

Jenny Zigrino [Explicit]
Right now there are lots of comedy tours going on, and you can buy tickets ehre for any of them. For instance, buy Gabriel Igelsias tickets in any number of American cities, or you can see comedian Jeff Dunham on tour too. A few other top comedians include John Mulaney tickets and Jim Gaffigan tickets and many others.
^ top