Projecting The Top 2018-2019 NBA Rookie At Every Position
The 2018 NBA draft was exceptionally deep. Teams from pick 1-30 all came away feeling quite good about the player they drafted. Even the 2nd round provided value as players like Mitchell Robinson, DeAnthony Melton and Svi Mykhailiuk shined during summer league play.
Players who stand out during their rookie years must land in the right situation. There will be talented players who were drafted by winning teams who may not get the minutes they need to make an impact.
Rookies on bad and rebuilding teams are more likely to get immediate minutes and learn from the experience of playing right away.
Below, we are going to project the top 2018-19 NBA rookie at each position. Bear in mind that this is a projection for just this season, not for entire careers.
Players who are projected to get major minutes and be focal points of offenses will have an advantage over rookies that are blocked by veterans.
Top Point Guard Rookie: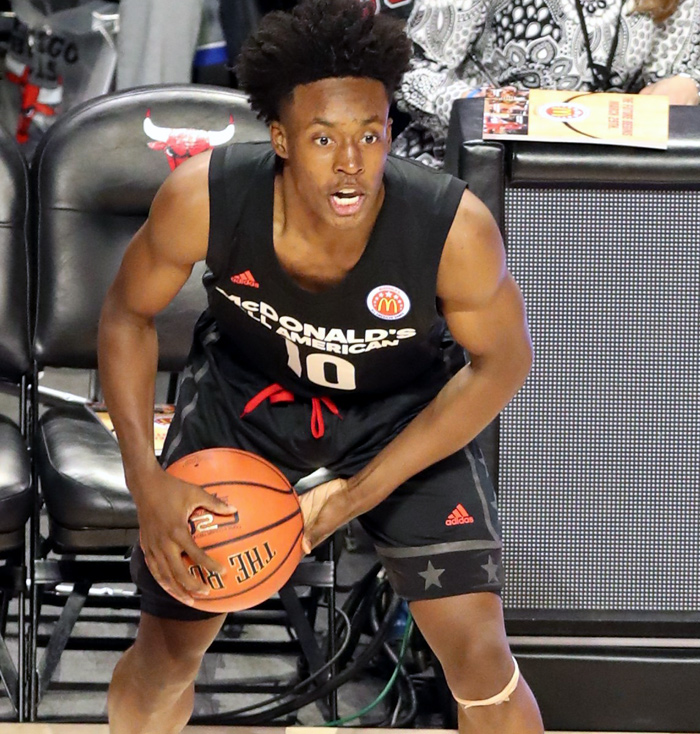 Point Guard – Collin Sexton – Cavaliers
When Sexton was selected with the pick the Cavaliers received in the Kyrie Irving trade, LeBron James was still potentially a part of the team.
After losing James to the Lakers, the Cavs look like a team that may be in the lottery next season.
This isn't an unusual situation for Sexton who played on an undermanned Alabama team last year.
Sexton continued his team carrying ways with this year's summer league performance that culminated in a dazzling 27-point performance in a double overtime loss in the league's semifinals.
Sexton will move from All-NBA Summer League First Team honors to running the show for an undermanned Cavs team. While Kevin Love is still on the roster, there will be plenty of opportunity for Sexton to make his mark.
With his high level of usage, Sexton is a strong contender for Rookie of the Year.
Point Guard Runner-Up - Shai Gilgeous-Alexander – Clippers
Like Sexton, Gilgeous-Alexander also had a dynamite summer league scoring 21 points against the Bulls and dropping 25 on the Rockets. Gilgeous-Alexander's biggest obstacle will be playing time as the Clippers have a crowded backcourt with Patrick Beverly and Miles Teodosic also in the mix.
Point Guard Runner-Up - Jevon Carter – Grizzlies
While Carter will have an uphill climb towards playing time, he is extremely polished and can defend at an NBA level. Unlike most other 2018 rookies, Carter played four years at West Virginia and offers more certainty than most rookies. Look for him to earn trust and minutes quickly.
Top Shooting Guard Rookie: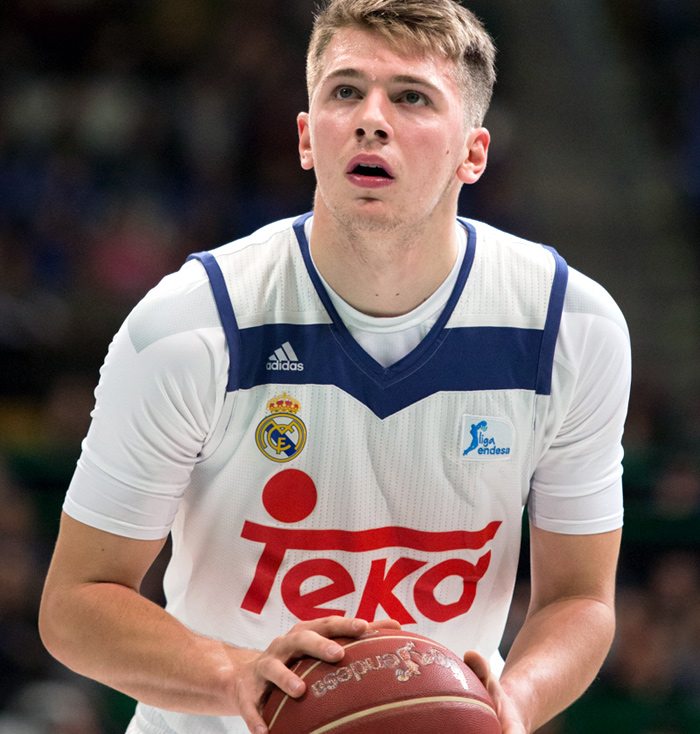 Shooting Guard – Luka Doncic – Mavericks
Luka Doncic has spent the last 3 seasons playing in the Spanish Liga ACB League. While superstars like Kristaps Porzingis struggled to play major minutes in this league, Doncic won the League MVP at only 19 years of age.
This is an especially polished player.
The Mavericks were aggressive in pursuing Doncic, trading next year's first round pick to move up two spots to draft him. The team chose not to have Doncic play in the summer league due in part to his experience in Spain's top league.
Doncic will play immediately and be the focal point of the Mavericks offense.
Vegas has the shooting guard as the odds-on favorite for Rookie of the Year and it would be bit of an upset if he did not win the award.
Shooting Guard Runner-Up – Trae Young – Hawks
Young was one of the NCAA's biggest stars last season leading Division 1 in both points and assists. The Hawks moved up to get him and will give him plenty of opportunities to shoot the basketball. Young's small frame may take a beating but count on him scoring a ton of points.
Shooting Guard Runner-Up – Grayson Allen – Jazz
Few players begin their NBA careers with more big game experience than Grayson Allen. Allen will bring his special level of confidence to an ascending Jazz team and its wouldn't be surprising for him to quickly become an impact player.
Top Small Forward Rookie: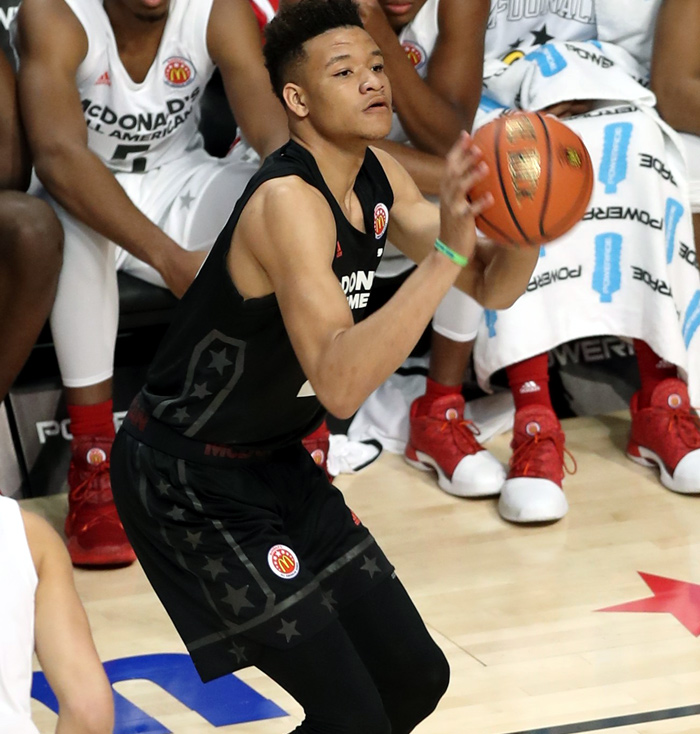 Small Forward – Kevin Knox – Knicks
Kevin Knox's Freshman season at Kentucky was solid, if not dynamic. About 5 minutes into the first summer league game, it was clear that Kentucky may not have been utilizing his skills properly.
Knox was an offensive machine for the summer Knicks combining long-range shooting with highlight reel dunks.
Knox finished the summer league circuit with an average of 21 points a game and a spot on the league's First Team.
The 2018-19 Knicks are going to be a pretty bad team. The teams figures to run the offense through the rookie, at least until Kristaps Porzingis returns.
Knox has a fair chance to lead all first-year players in scoring and produce the type of highlights that propel players to Rookie of the Year Award.
Small Forward Runner-Up – Mikal Bridges – Suns
Bridges brings more certainty to his team than pretty much any other player in this draft. He is going to be a good NBA player for a long time. The question is, what kind of upside does he have? Despite being an immediate rotation player, Bridges doesn't have the upside of other players on this list.
Small Forward Runner-Up – Miles Bridges – Hornets
Bridges was a star for Michigan St, but always left evaluators wanting to see a little bit more. He has a depth chart to climb in New Orleans, but they team traded up for him and clearly has plans to use him. He could really look good if he gets the right opportunity.
Top Power Forward Rookie: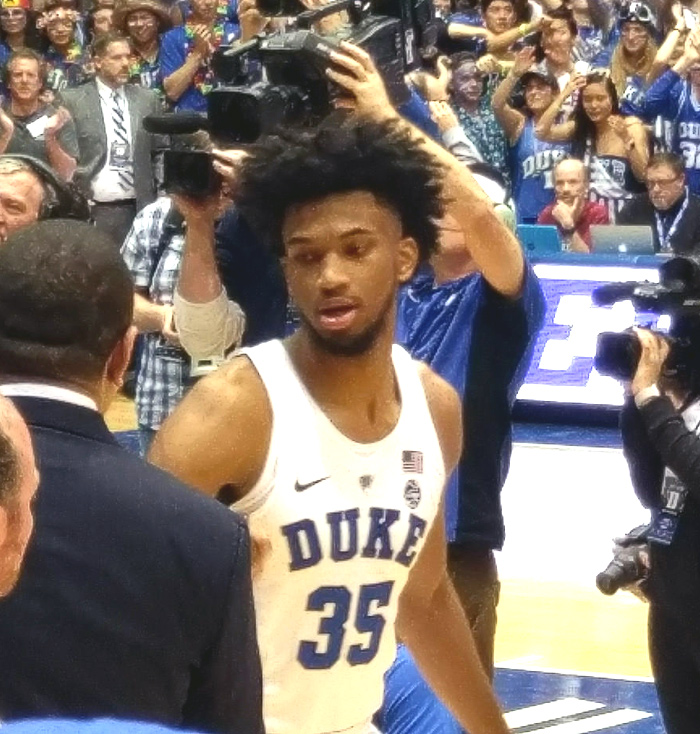 Power Forward – Marvin Bagley – Kings
While some pundits questioned Sacramento's decision to take Bagley over Doncic, the team felt pretty good about what he brings to the table.
On a Duke team featuring first round picks like Wendell Carter Jr. and Grayson Allen, Bagley was the team's best player in 2017-18.
Though he had an injury plagued summer league, Bagley displayed the tools that make it easy to imagine him being a 20-10 guy in the NBA.
The smooth rookie will have to work on his defense, but that is true of most players coming into the league at 19 years-old.
Like many of the other players on this list, Bagley is going to play for a terrible team. He will start immediately for the Kings and be an important part of their offense.
With an offensive game polished beyond it's years, Bagley should be a force to be reckoned with.
Power Forward Runner-Up – Wendell Carter Jr. – Bulls
I personally think that Carter Jr. is a better player than Bagley. He starred in the summer league and had many wondering how he lasted until the 7th pick. Carter Jr, however will start the year behind Robin Lopez and Lauri Markkanan and will have to fight his way into playing time.
Power Forward Runner-Up – Mo Wagner – Lakers
Wagner was an experienced college player for a Michigan team that made the 2018 NCAA Finals. He has an inside-outside game that will fit well in the modern NBA. Wagner will have the opportunity to play with LeBron and that can elevate the game of any talented player.
Top Center Rookie: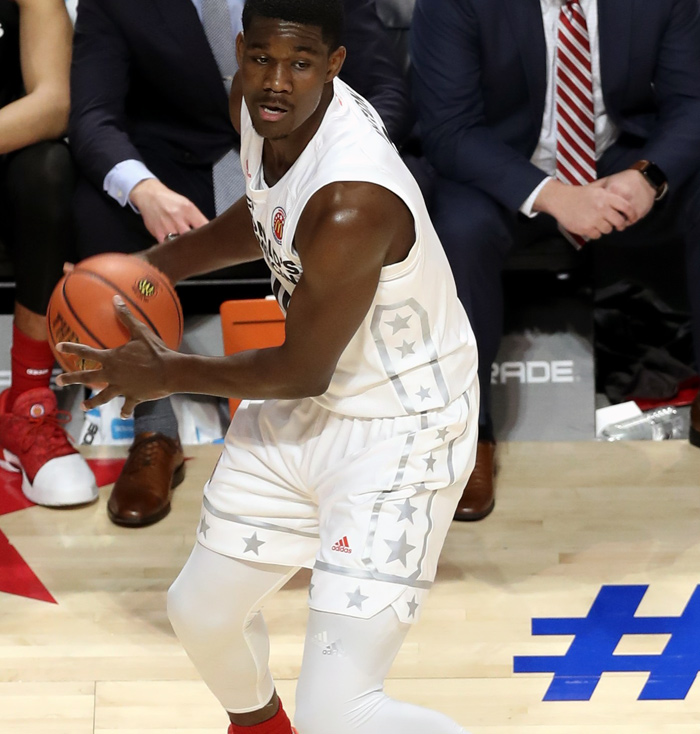 Center – Deandre Ayton – Suns
In a loaded draft class, Ayton went 1st overall and that didn't happen by accident. Ayton is a physical freak who was basically an unstoppable force at The University of Arizona.
The Suns drafted Ayton hoping to replicate the success they had with a similar player in Amar'e Stoudamire.
In the summer league, Ayton made the Suns look smart by displaying insanely athletic offensive prowess.
He can certainly utilize his athleticism more on the defensive side of the ball, but Ayton finished the circuit averaging 14 points, 10 rebounds and 1 block per game.
Ayton is going to play plenty for the Suns. While he may not be the total focal point of the offense, he should provide a dynamic compliment to Shooting Guard Devin Booker.
It would not be a surprise to see Ayton average a double-double and have a major impact right away.
Center Runner-Up – Mo Bamba – Magic
Mohamed Bamba landed on a Magic team that already had front court players like Jonathan Isaac, Aaron Gordon and Nikola Vucevic. Bamba, however, has more potential than any of them. If playing time opens up for him by injury or a trade, Bamba could quickly take advantage.
Center Runner-Up – Jaren Jackson Jr. – Grizzlies
If Jackson can reach his full potential as a stretch 5 who dominates on defense, he may be the most valuable player in this draft. The Grizzlies have said they will bring Jackson Jr. around slowly, but with not much ahead of him, his talent might prevent them from doing that.
A Very Crowded Field
This season's Rookie of the Year race should be fascinating. While most season's feature one or two favorites and maybe a dark horse, you could make an argument for 10 or so players who have a chance at winning the award. Injuries, trades and a multitude of other factors can affect which rookies get their chance to shine.
While I would personally put my money on Luca Doncic, this year's winner will be anyone's guess.