The Heights of the Tallest Players on Every NBA Team
Eighty-four.  That's how many inches are in seven feet. While they're the same size, one is definitely more impressive than the other. 
Being 84 inches sounds a bit underwhelming—like you're cutting a two-by-four. Being seven feet tall sounds cool—like you're a basketball player.
There are 43 players in the National Basketball Association that are at least seven feet tall. Fourteen of those players are seven-foot-one or taller.
Five teams don't possess a seven-footer, and one, the Boston Celtics, doesn't have a player 6'11" or taller. That doesn't seem to bother the C's. At the time of writing this article, they have the best record in the Eastern Conference.
Of the 25 teams with at least one seven-footer, 12 have two or more and 6 have three (Mavericks, Lakers, Suns, Trail Blazers, Kings, and Raptors).
Of the 43 players listed at seven feet tall, all but two are listed at center, either partially or fully (five are listed at forward-center and four are listed at center-forward).
The two seven-foot tall forwards are Dragan Bender of the Phoenix Suns and Lauri Markkanen of the Chicago Bulls.
The leagues 43 seven-footers represent 24 countries including Austria, Cameroon, Finland, and Tunisia. The countries with the most entrants after the United States is Spain and Croatia (each has two).
The heaviest seven-footer is Boban Marjanovic of the Detroit Pistons.  He's listed at 290 pounds. We find it hard to believe that not a single seven-footer is three bills. Remember, this isn't a list of height but listed heights. 
NBA players are usually an inch or two shorter, and 10 to 15 pounds heavier, than what's officially claimed.
Our first NBA player heights list documents each team's tallest player(s).  After that, we list the NBA's 43 seven-footers.
For that rundown, we've organized players by height, and within each height, we've listed the players alphabetically by team. For teams with more than one seven-footer, we listed them alphabetically.
To qualify for our list, a seven-footer needed to appear in at least one NBA game during the current season. 
The NBA Teams with the Tallest Players and Heights Are:
The Detroit Pistons have a 7'3" player named Kristaps Porzingis and the other team with a 7'3" player is the New York Knicks with Boban Marjanovic.
The team with the next tallest player is on the Dallas Mavericks named Salah Mejri at 7'2".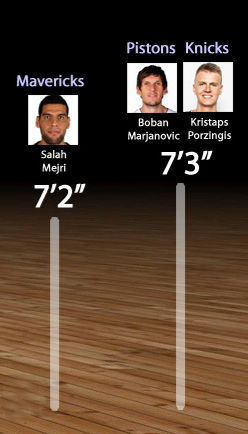 Tallest Players by NBA Team
Atlanta Hawks
Dewayne Dedmon – 7'0"
The former USC Trojan is currently averaging 11 points and 8 rebounds a game.
Boston Celtics
Aron Baynes – 6'10"
Al Horford – 6'10"
Baynes and Horford have more in common than just their height. Both were born in 1986.
Brooklyn Nets
Timofey Mozgov – 7'1"
The Russian is one of 11 players that are listed at seven-foot-one.
Charlotte Hornets
Cody Zeller – 7'0"
Frank Kaminsky – 7'0"
Combined, Zeller and Kaminsky are 14 feet tall and averaging 19 points a game.
Chicago Bulls
Robin Lopez – 7'0"
Lauri Markkanen – 7'0"
Lopez and Markkanen see eye-to-eye, but they are separated by nearly a decade of experience. Lopez entered the league in 2008 and Markkanen is a rookie.
Cleveland Cavaliers
Channing Frye – 6'11"
Ante Zizic – 6'11"
The Cavs don't have a seven-footer, but they do have two guys that are 6'11" and another that's 6'10" (Kevin Love).
Dallas Mavericks
Salah Mejri – 7'2"
Mejri is the only player in the NBA that's listed at 7'2". The only other height that is represented by just one player is 5'10" (Tyler Ulis). The 17 other heights are represented by at least two players.
Denver Nuggets
Mason Plumlee – 6'11"
Mason's brother Miles Plumlee is 6'11". His other brother, Marshall Plumlee, is 7'1" and plays in the NBA G League. Their poor mother.
Detroit Pistons
Boban Marjanovic – 7'3"
The Serbian center is tied with Kristaps Porzingis for the NBA's tallest player.
Golden State Warriors
JaVale McGee – 7'0"
Damian Jones – 7'0"
Jones barely makes our list.  He got into one game and played for less than two minutes.
Houston Rockets
Zhou Qi – 7'1"
Zhou Qi is not the tallest Chinese player to ever make the Rockets roster. The 7'6" Yao Ming played eight seasons for Houston and helped popularize the game in his homeland.
Indiana Pacers
Myles Turner – 6'11"
Domantas Sabonis – 6'11"
Domantas's father, Hall of Famer Arvydas Sabonis, played for the Portland Trail Blazers in the late 1990s and early 2000s. Pops is 7'3".
Los Angeles Clippers
DeAndre Jordan – 6'11"
The Clippers lack a seven-footer, but they have five players 6'10" or taller: Jordan, Brice Johnson, Danilo Gallinari, Blake Griffin, and Willie Reed.
Los Angeles Lakers
Ivica Zubac – 7'1"
The Lakers other two seven-footers are Andrew Bogut and Brook Lopez. 
Memphis Grizzlies
Marc Gasol – 7'1"
Marc towers over his older sibling, Pau. Big bro is the runt of the family standing at just seven feet.
Miami Heat
Hassan Whiteside – 7'0"
Kelly Olynyk – 7'0"
Both Whiteside and Olynyk are averaging double-figures in scoring. Whiteside is putting up 14 a contest while Olynyk adds 10.
Milwaukee Bucks
Thon Maker – 7'1"
Thon Maker hails from South Sudan.
Minnesota Timberwolves
Karl-Anthony Towns – 7'0"
Towns is the third leading scorer, and leading rebounder, for players standing at least seven feet tall.
New Orleans Pelicans
Omer Asik – 7'0"
Asik was born on the 4th of July.  Not a big deal for him since he's from Turkey.
New York Knicks
Kristaps Porzingis – 7'3"
The 22-year-old, who is tied for being the Association's tallest player, is averaging 23 points a game and pulling down seven boards. 
Oklahoma City Thunder
Steven Adams – 7'0"
Dakari Johnson – 7'0"
Adams was the 12th overall pick for the Thunder in 2013.
Orlando Magic
Nikola Vucevic – 7'0"
Playing 30 minutes a game, the Montenegrin center is contributing a solid 17 points and 9 rebounds.
Philadelphia 76ers
Joel Embiid – 7'0"
The former Kansas Jayhawk might be the best seven-footer in the NBA.  He's averaging 24 points, 11 boards, and 3 assists a game.
Phoenix Suns
Tyson Chandler – 7'1"
Alex Len – 7'1"
Dragan Bender – 7'1"
The Suns are the only NBA team with more than one player who's 7'1" or taller.
Portland Trail Blazers
Meyers Leonard – 7'1"
At practice, Leonard looks down at his teammates Jusuf Nurkic and Zach Collins. Both are only seven feet tall.
Sacramento Kings
Georgios Papagiannis – 7'1"
It's a good thing that Papagiannis has a seven-foot-one-inch frame. Otherwise, his last name might not fit on the back of his jersey.
San Antonio Spurs
Pau Gasol – 7'0"
Pau Gasol, 37, is not the tallest seven-footer in the NBA. That honor falls to Dirk Nowitzki, 39.
Toronto Raptors
Jakob Poeltl – 7'0"
Jonas Valanciunas – 7'0"
Lucas Nogueira – 7'0"
The Raptors three seven-footers all contribute although Nogueira doesn't get a ton of minutes.
Utah Jazz
Rudy Gobert – 7'1"
Jazz fans have seen taller.  Mark Eaton was 7'4" and played in Salt Lake City in the eighties and early nineties. Twice, he won Defensive Player of the Year honors.
Washington Wizards
Jason Smith – 7'0"
The Wizards are famous for height. The two tallest NBA players of all-time, Manute Bol and Gheorghe Muresan, both played for Washington. Each man was listed at 7'7".
The Seven-Foot+ Tall NBA Players Are:
7'3" – Boban Marjanovic, DET
7'3" – Kristaps Porzingis, NYK
7'2" – Salah Mejri, DAL                                 
7'1" – Timofey Mozgov, BKN       
7'1" – Zhou Qi, HOU                       
7'1" – Ivica Zubac, LAL                                  
7'1" – Marc Gasol, MEM                                             
7'1" – Thon Maker, MIL                 
7'1" – Dragan Bender, PHX
7'1" – Tyson Chandler, PHX                          
7'1" – Alex Len   PHX                       
7'1" – Meyers Leonard,  POR                      
7'1" – Georgios Papagiannis, SAC                              
7'1" – Rudy Gobert, UTA                                             
7'0" – Dewayne Dedmon, ATL
7'0" – Tyler Zeller, BKN                  
7'0" – Frank Kaminsky, CHA
7'0" – Cody Zeller, CHA
7'0" – Robin Lopez, CHI
7'0" – Lauri Markkanen, CHI
7'0" – Jeff Withey, DAL
7'0" – Dirk Nowitzki, DAL
7'0" – Damian Jones, GSW
7'0" – JaVale McGee, GSW
7'0" – Andrew Bogut, LAL
7'0" – Brook Lopez, LAL  
7'0" – Kelly Olynyk, MIA
7'0" – Hassan Whiteside, MIA
7'0" – Karl-Anthony Towns, MIN
7'0" – Omer Asik, NOP                   
7'0" – Steven Adams, OKC                                           
7'0" – Dakari Johnson, OKC                         
7'0" – Nikola Vucevic, ORL                           
7'0" – Joel Embiid, PHI                                  
7'0" – Zach Collins, POR                                
7'0" – Jusuf Nurkic, POR                               
7'0" – Willie Cauley-Stein, SAC     
7'0" – Kosta Koufos, SAC                                             
7'0" – Pau Gasol, SAS      
7'0" – Lucas Nogueira, TOR                                        
7'0" – Jakob Poeltl, TOR                               
7'0" – Jonas Valanciunas, TOR                                   
7'0" – Jason Smith, WAS

Data courtesy of the NBA.com and accurate on 1-6-2018. (Since this article was written during the 2017-2018 season, some players could now be on different teams or out of the league.)