The 45 Best Hip Hop Music Venues in America
The following 45 hip hop venues also book acts, and/or their deejays spin records, from other genres.  So being exclusive to rap or hip hop was not a prerequisite to make our list.
To be one of the best music venues listed here, you needed serious music knowledge, respect, and passion for music... although possessing a bangin' sound system and hiring a good staff didn't hurt either.
And it doesn't matter if you book hip hop artists seven nights a week or just sometimes.  What's important is whenever they take the stage your venue does everything it can to ensure that the performer connects with the audience.
Hip hop music is unique.  On one hand, it can be dance music played by a deejay in a night club.  On the other hand, it can contain poignant and profound lyrics that are best experienced live and in a relatively intimate setting.
Both sides are represented in this list.  Some of the following places are strictly live music venues, some are strictly nightclubs, and some are a little of both.
As you'll soon read, the 45 American venues listed below know, respect, and have a real passion for hip hop music.  If you're a fan of hip hop, then you owe it to yourself to check out as many of these as you can.
Atlanta, Georgia
Center Stage
Atlanta is synonymous with rap and hip hop music.  Center Stage is synonymous with Atlanta's performing arts scene.  The venue is actually three venues in one: Center Stage Theater (capacity 1,050), The Loft (capacity 650), and the award-winning Vinyl (capacity 300).  Center Stage is big enough to attract relevant artists yet small enough to allow audiences to connect with performers.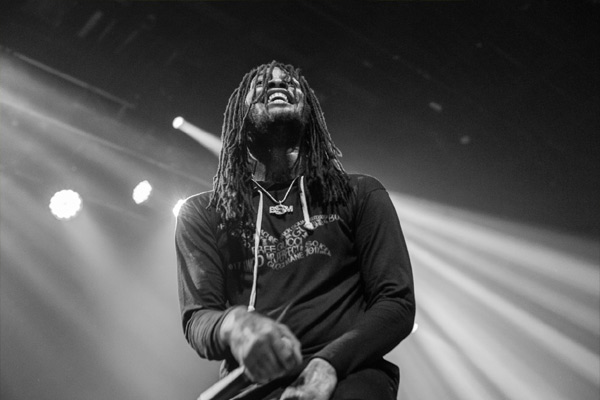 Waka Flocka Flame at Center Stage, photo courtesy of their Facebook page
The Masquerade
The Masquerade recently moved from the DuPree Excelsior Mill building to Kenny's Alley at Underground Atlanta.  While the setting has changed, The Masquerade's commitment to live music has not.  This is still the place to go in Fulton County to experience the best rap and hip hop concerts.  The Masquerades has three stages.  They are named "Heaven," "Hell," and "Purgatory." 
Tongue and Groove Nightclub
Originally, Tongue & Groove was in the former Buckhead Village.  Today, the 8,600-foot nightclub is in Lindbergh City Center off Piedmont Road.  It features a state-of-the-art sound system powered by tour grade amplification.  In other words, the music will melt your ears (in a good way).  You'll senses will also be bombarded by lasers, lights, and strobes. 
Baltimore, Maryland
Baltimore Soundstage
Situated in Inner Harbor, Baltimore Soundstage books a wide variety of acts, including rappers and hip hop artists.  It's a terrific place to catch a show.  They have an advanced sound system, astonishing light show, and crisp video displays.  Their stage is quite large for a venue of their size and they do have a kitchen (it prepares appetizing dishes).  While most shows are standing room only, Soundstage does present some acts in "fully seated table format."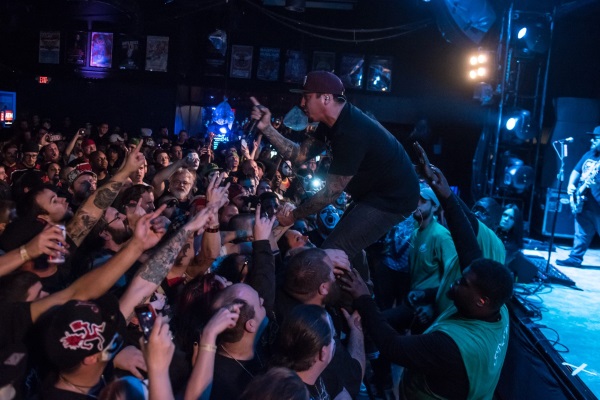 Dirt Nasty performing at Baltimore Soundstage.  Photo courtesy of venue's Facebook page.

Cambridge, Massachusetts
The Sinclair
Found west of Harvard Yard, The Sinclair is known to book the nation's top rap and hip hop artists.  Rap and hip hop fans flock to these concerts because The Sinclair is, without a doubt, an elite live music venue.  Despite being relatively new (the establishment opened in December of 2012), The Sinclair has already earned honors of being Boston's best live music venue.

Chicago, Illinois
Reggie's Live
Reggie's Live occupies what used to be an auto bumper repair shop.  Besides their intimate concert venue, Reggie's also sports a record shop, a laid-back bar and grill, and an awesome roof deck (you can shoot hoops and then take a shower).  Reggie's has a superb sound system, a courteous staff, and a welcoming vibe.
Cincinnati, Ohio
The 20th Century Theater
You've got to love what goes down at Cincinnati's 20th Century Theater.  Last night, a hip-hop artist like Aesop Rock tore the place down.  Tonight, there's a wedding or some other private event.  Tomorrow night, tribute band takes the stage.  The 20th Century Theater is a beautiful venue operated by affable professionals.  It can accommodate up to 400 rap and hip hop fans.  If you need a large venue to host your event, look no further than the 20th Century Theater.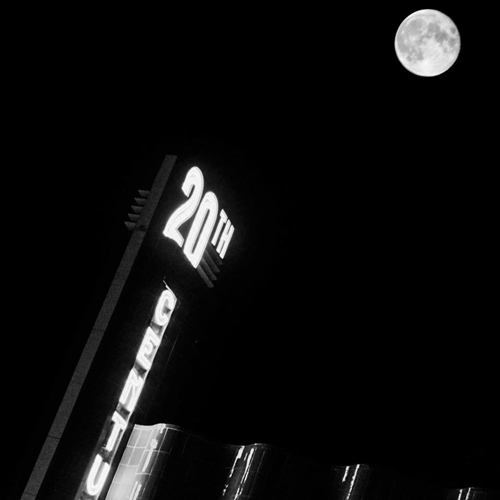 Dallas, Texas
Park Avenue
Park Avenue bills itself as an "ultra-venue."  The folks at Park Avenue pay attention to the details and their customers.  This is a sophisticated club that cares less about the age of their patrons and more about their level of enjoyment.  Regardless of who you are, you will experience their hospitality.  Come to Park Avenue for a cocktail, their happy hour buffet, and of course, great hip hop music.
The Bomb Factory
The Bomb Factory is blowing up historic Deep Ellum.  This handsome live music venue covers 50,000 square feet and can welcome 4,300 rap and hip hop aficionados.  Its state-of-the-art technology playfully clashes with the building's rich history.  During World War II, the building housed a real-life bomb factory.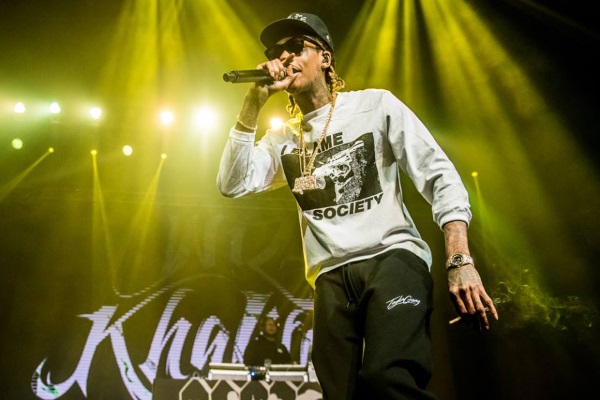 Denver, Colorado
Cervantes Masterpiece Ballroom
So, here's the deal with Cervantes Masterpiece Ballroom, it has two performance spaces.  One is called Cervantes' and the other is dubbed "The Other Side."  The former holds about 900 folks while the latter holds about 500.  Here's the cool thing for rap and hip hop fans, even though the stages are independent of another one, patrons can walk between the two.  If you don't like the flow of one rapper, just walk to the other performance space.
Cold Crush
Cold Crush is about three things: contemporary art, gastronomical delights, and hip hop music.  Locally owned, Cold Crush is an inviting and comfortable place to listen to rap and/or hip hop music.  There are a lot of nice music venues in Denver, but if rap and hip hop are your jams, Cold Crush is your destination.
Detroit, Michigan
Delux Lounge
Found in the Greektown Neighborhood, deejays at the Delux Lounge spin volumes of vinyl including those belonging to rappers and hip hop artists.  They have a wonderful cocktail menu as well as games like darts, dice, and shuffleboard.  One more thing: Delux Lounge's wait staff will bend over backwards to make you visit enjoyable. 
Houston, Texas
Club Riddims
Billed as the "one and only Caribbean nightclub in Houston," the deejays at Club Riddims play much more than reggae.  They play the best in rap, hip hop, R&B, and soul.  CEO Fadda Owen has created a club where patrons don't just come back again, they keep coming back for years and years.  Club Riddims is committed to the music and creating an appealing environment for its clientele. 
Warehouse Live
Warehouse Live opened in 2006 and since then it has hosted a plethora of important rap and hip hop artists.  Located behind the George R. Brown Convention Center, and near Minute Maid Park and BBVA Compass Stadium, Warehouse Live consistently creates a wonderful atmosphere to watch rap and/or hip hop concerts.  Warehouse Live has a reputation for being clean and having friendly bar service.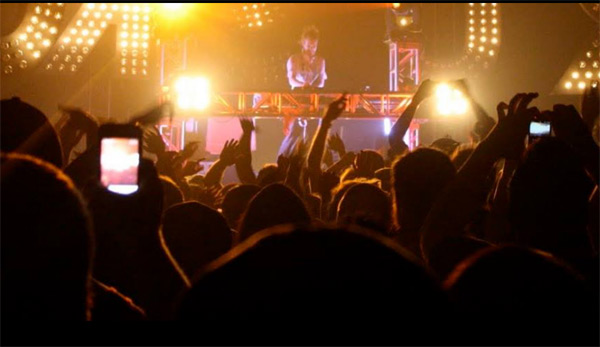 Indianapolis, Indiana
The Vogue Theatre
The Vogue Theatre has been winning awards long before most of its patrons were born.  That's not hyperbole.  The Vogue opened in 1977.  Over the years, The Vogue has hosted performances by a bunch of prominent rap and hip hop artists including Ice Cube, Rihanna, and Snoop Dogg.  Besides great music, The Vogue offers outstanding beverages and congenial customer service.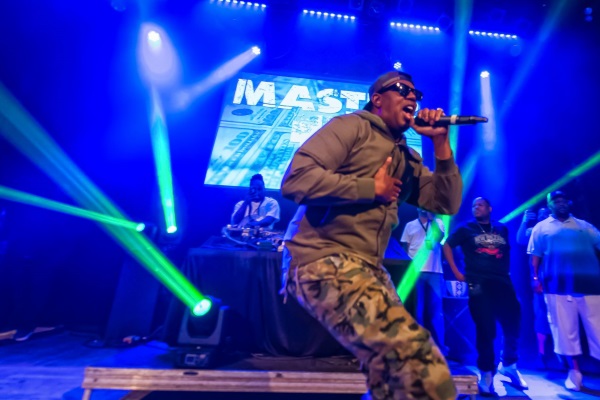 Jackson, Mississippi
Duling Hall
Duling Hall is Jackson, Mississippi's premiere live music venue.  The man behind this incredible facility is the legendary Arden Bennett.  He has put together a distinguished staff and created an awesome ambiance for music lovers of all ages and genres.  Finally, Duling Hall has extraordinary acoustics.  Every act sounds good here.
Kansas City, Missouri
The Riot Room
If your favorite rapper or hip hop artist announces a tour stop in Kansas City, Missouri, hope that they're booked at The Riot Room.  This live music spot excels in the areas of sound, customer service, and cold brews.  The Riot Room treats everyone correctly including the patrons that walk through their doors and the artists they booked to play their stage.
Los Angeles, California
The Echo & Echoplex
If you can only attend one club in L.A., it should be The Echo & Echoplex (the venues are around the corner from one another).  This is the destination in La La Land for major touring acts, local burgeoning bands, and dance nights.  It's basically one of the coolest clubs in the nation with superior sound and a world class staff.
Memphis, Tennessee
Minglewood Hall
Minglewood Hall is a Memphis institution.  Named after a blues song written in 1928, Minglewood Hall frequently hosts the nation's top rappers and hip hop artists.  This is an intimate space but you won't feel cramped or stifled.  The staff is kind and professional.  The atmosphere is relaxed and welcoming.   The building is fetching and inspiring.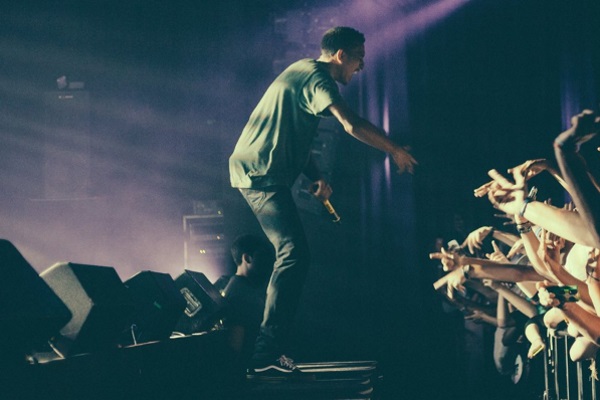 Milwaukee, Wisconsin
Hot Water Wherehouse
Milwaukee's Walker's Point Warehouse district is home to the Hot Water Wherehouse (that's how they spell it).  Hands down, it's the city's best dance club—a club that frequently plays rap and hip hop music.   The location contains two facilities.  One is called "Hot Water" and the other is dubbed "Wherehouse."  The latter is the larger of the two.
Minneapolis, Minnesota
Fifth Element
The Fifth Element is the most interesting destination on our list.  It's not really a performance venue, it's a record store.  It's included because it hosts a bunch of live events.  Many of these live events involve the nation's top touring rappers and hip hop artists.  These events are unique and not the kind you'll find at traditional venues.  This is also the place where hardcore rap fans buy their vinyl.
First Avenue and 7th St. Entry
We stay in Minneapolis, and go from its best non-traditional venue to its best traditional venue.  First Avenue and 7th St Entry are two iconic performance spaces in one legendary building.  The Mainroom has a capacity of 1,550.  The 7th St Entry holds about 250.  Together they host more than 550 concerts a year.  In 2015, this venerated venue celebrated its 45th anniversary.
New Orleans, Louisiana
Bourbon Heat
Bourbon Heat has a Bourbon Street address.  It's one of the best dance clubs in New Orleans (the restaurant is on the first floor while the club is on the second).  Besides the hottest rap and hip hop music, you'll also find high-tech laser shows and VIP bottle service.  Bourbon Heat has real old-world charm and is known for being the cleanest and safest venue on Bourbon Street.
Republic NOLA
Republic NOLA is a gorgeous facility with a 4,500-square foot main room and a 2,500-square foot mezzanine.  When you're not listening to great live rap or hip hop music, check out their breathtaking crystal chandeliers and their art deco murals.  Republic is stylish, elegant, and artistically credible.  They successfully cultivate and nurture eclectic crowds.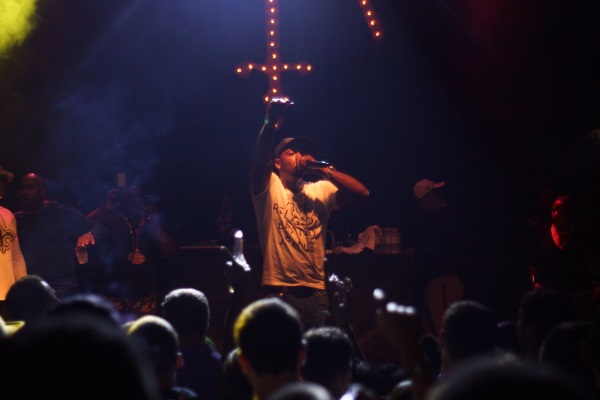 Mystikal performing at Republic NOLA.  Image courtesy of the venue's Facebook page.

New York City
Baby's All Right
Baby's All Right gets everything right when it comes to being one of New York City's best places to listen to live rap and hop hip music (or any other genre for that matter).  The venue gets food right too; they have an excellent menu.  Baby's All Right also features a competent staff and outstanding deejays.
Brooklyn Bowl
Leave it to New York City to combine a bowling alley with a live music venue.  Leave it to Brooklyn to make it work.  This place has "cool" bursting from its gutters.  For example, Questlove spins tunes at Brooklyn Bowl every Thursday night.  The food is quite good and you'll want to take home the overstuffed sofa you sit on between frames.  You'll want to, but of course, they must remain at the alley.
SOB's
SOB's stands for "Sounds of Brazil."  It began as a place to introduce music fans to the cultural contributions of the Afro-Latino Diaspora.  Even though its slogan is "Home of Universal Music", it currently serves as a launching pad for budding rappers and hip hop artists.  Current superstars that once benefited from performing at SOBs include Kanye West, Drake, and Common.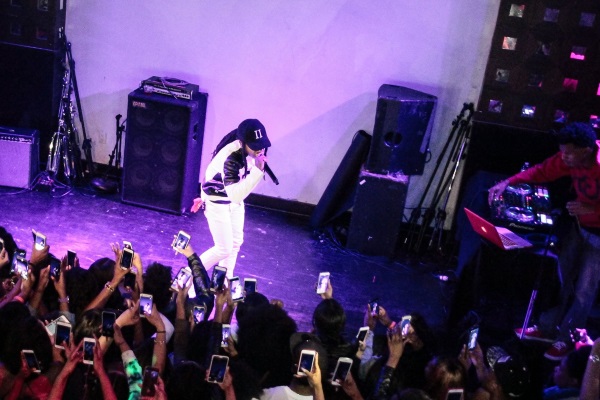 Oakland, California
The New Parish
The New Parish has a clear and power sound system as well as marvelous sight lines.  You'll enjoy the vibe and appreciate the type of crowds this establishment draws to its rap and hip hop shows.  You'll also love their patio.  When it comes around to picking the best venue in the East Bay, The New Parish is always in the running.
Philadelphia, Pennsylvania
Electric Factory
Philadelphia's Electric Factory is creeping toward its 50th anniversary.  Needless to say, it's the premiere indoor live music venue in the City of Brotherly Love and generally considered one of the best venues in America.  During its illustrious career, Electric Factory has welcomed many big-time acts to its stage including Beastie Boys, Public Enemy, Kanye West, Mos Def, and Lil Wayne.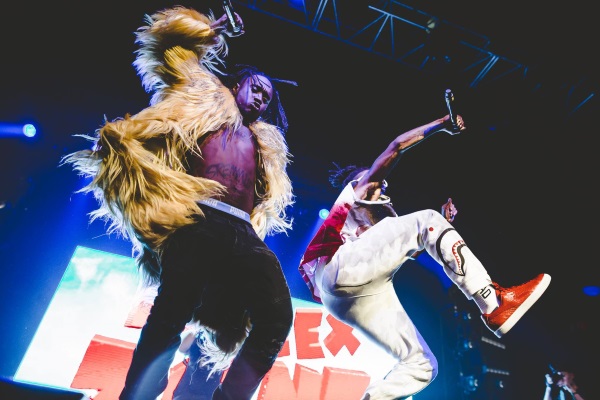 Union Transfer
Union Transfer is an eye-catching event hall.  Inside you'll find high ceilings, chandeliers, and stained glass.  You'll also find a killer audio system and an out-of-this-world light show.  There are four fully stocked bars scattered throughout the venue and the lobby is huge.  Union Transfer, which was once a luggage transfer station, can hosts 200 to 1200 humans.

Phoenix, Arizona
Cloud Nine
Cloud Nine is the Valley's topmost nightclub and hookah lounge.  Their sound system rocks and their lighting will dazzle.  Cloud Nine is a comfortable nightclub that insists you dress up (no shorts, plain Tees, cut-offs, or sweats and don't wear your baseball cap backwards).  Deejays spin tunes from a bundle of genres including rap and hip hop.
Pittsburgh, Pennsylvania
Mr. Smalls Theatre & Funhouse
Mr. Smalls Theatre & Funhouse not only has the best name on our list, it's also several destinations packed into one.  Besides offering an attractive concert venue, it's home to a recording studio, art galleries, and an underground beer bunker.  The performance space is a former Catholic church.  It has a capacity of 650 and a wicked sound system.
Portland, Oregon
Jones Bar
Are you a fan of 80s and 90s rap and hip hop?  If you are, then head to Portland and visit Jones Bar on Couch Street.  Here, deejays spin nothing but 80s and 90s dance music.  General manager Mike Reed has put together a delicious dinner menu, refreshing hand-crafted cocktails, and loads of period specific memorabilia.  Jones Bar possesses the largest Light Brite on the west coast.
Richmond, Virginia
The Broadberry
The Broadberry features a 60-foot, full service bar; state-of-the-art sound, lighting, and video systems; a large outdoor patio; and a kitchen that's open if the venue is open.  The Broadberry accommodates up to 500 rap and hip hop fans.  Owners Lucas Fritz and Matt McDonald are the perfect stewards for this Richmond icon.  There's a lot of history in The Broadberry.  Remember, it once hosted a set by The Ramones.
San Diego, California
Onyx Room
There are lots of reasons to go to the Onyx Room, recently voted San Diego's number one night club.  There's world class deejays spinning the latest in rap and hip hop (among other genres), the professional staff, and the Broadway quality stage effects.  The main reason to come to this night club, found in the city's Gaslamp District, is the people.  Onyx room attracts a friendly, up-for-anything, energetic crowd.
San Francisco, California
Brick and Mortar Music Hall
The first of our four music venues from San Francisco is in the Mission District.  The Brick and Mortar Music Hall is a cozy venue with pristine audio, good-mannered bartenders, and cheap beer (at least for the Bay area).  If your favorite hip hop artist is booked here, you'll definitely want to procure concert tickets.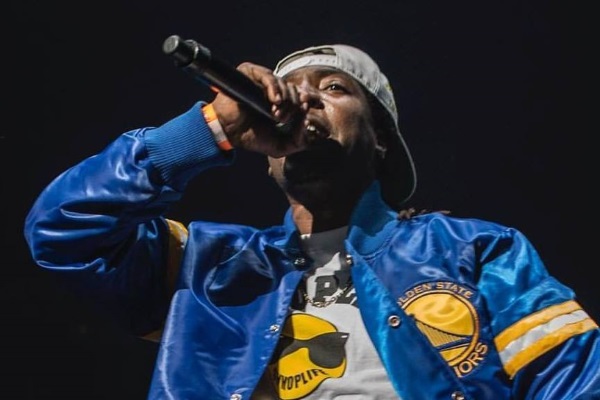 Raven Bar and Lounge
We move to the Soma neighborhood for our second San Francisco addition, Raven Bar and Lounge.  This fine establishment bills itself as part speakeasy, part lounge, and part dance club.  The latter is where you hear the latest in rap, hip hop, and other genres.  This friendly destination lays claim to three bars and two dance floors.
Temple Night Club
General Manager Benjamin Tom is marshalling the Temple Night Club in a positive and responsible direction.  The club is looking to bring quality and integrity back to the local music scene.  They are also the most environmentally friendly night club on our list.  The other cool thing about Temple, they have a light system with 50,000 programmable LED bulbs!
The Chapel
We started in the Mission and we end in the Mission.  The Chapel is an award-winning live music venue, restaurant, and neighborhood bar (the neighborhood being the Mission).  No, it wasn't originally built to be a chapel; it began life as a mortuary.  The Chapel has a 40-foot high arched ceiling and frequently books the nation's top touring rappers and hip hop artists.

Seattle, Washington
The Crocodile
Beastie Boys, Talib Kweli, Cam'Ron, Hoodie Allen, and Macklemore (of course) have all graced the stage at the historic The Crocodile.  The venue opened in 1991, closed in December of 2007, and then opened again in 2009.  When there's no live music, there's a deejay spinning platters, or karaoke, or an open mic night, or something fun like that.  Arrive early and get yourself a beverage and a slice of their scrumptious hot pizza.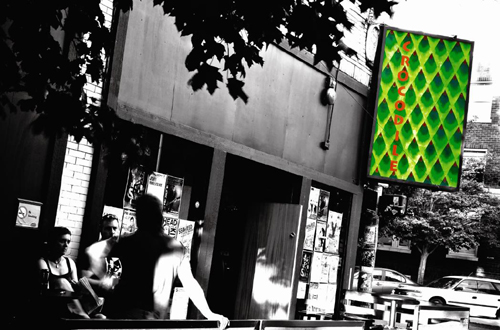 St. Louis, Missouri
Blueberry Hill
For a time, Chuck Berry played Blueberry Hill once a month.  He's not a rapper or hip hop artist, but it does show the importance and significance of St. Louis' landmark restaurant and music club.  Artists perform in the Duck Room, which seats about 340.  Before or after the show, check out Joe Edwards', the iconic owner of Blueberry Hill, pop-culture and music memorabilia collections (they're epic).  By the way, Grandmaster Flash once played the Blueberry.
Tampa, Florida
Skye Tampa
Skye Tampa is a bona fide hip hop club.  Situated in the historical Ybor City entertainment district, Skye is spread over two levels.  It has a VIP balcony area, a private champagne room, and two massive dance floors.  Needless to say, their sound system, light show, and special effects are staggeringly good.  When deejays aren't at their turntables, Skye is hosting the nation's top rappers and hip hop artists.

Washington D.C.
9:30 Club
The 9:30 Club is one of the most famous music venues, regardless of genre, in America.  In its first incarnation, it was known for being hot and "aromatic."  Those days are gone.  Now, the 9:30 Club, with its open floor and balcony plan offers every rap and hip hop fan clear sightlines to the stage.  Their sound system is no slouch either.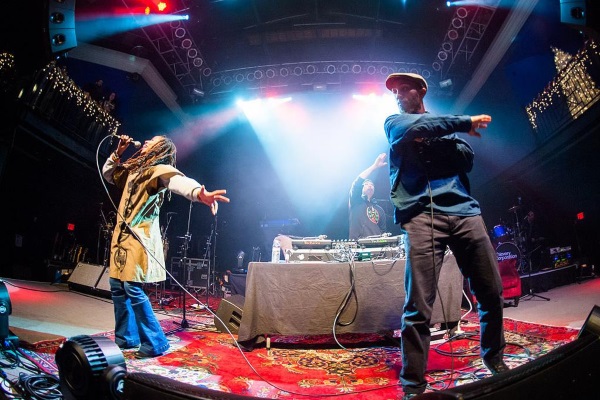 The Reminders performing at the 9:30 Club.  Image courtesy of venue's Facebook page.

Cloak & Dagger
Found smack dab in the middle of the U Street Corridor, Cloak & Dagger pays homage to spies and espionage.  They are also the place to go to hear great rap and hip hop music. Cloak is a labor of love for Sonny "Ghost" Tran, Jon "Gunjak" Liu, and Salim Khouri.  They've worked hard to make Cloak and Dagger a club were everyone feels like family and everyone feels like they're at a party.

The Park at Fourteenth
The Park at Fourteenth is the place you might visit for drinks after work.  Then, you call your significant other to meet you there for dinner.  Next, you call your friends and have them come to The Park to dance to rap and hip hop music into the wee hours of the morning.  The establishment is that versatile.  It also has a lot of character and a lot of style.