The 40 Best Latin Music Clubs in America
One of the great things about Latin music clubs is they are interactive, combining the love of music with the love of dance.  Much of Latin music isn't necessarily meant to be listening music.  It's meant to be dancing music.
That's why so many of the following venues offer dance classes.  This means Latin music is your conduit to fun, meeting new people, and exercise.  Three things we probably all need to do more often.
Of course, to make our list, and be one of the best 40 Latin music clubs in America, you don't have to teach anyone how to dance.
To make our list, your venue must exhibit a love of Latin music and a zeal to serve the artists who play it and fans who appreciate it.
Latin music is a way of life, a philosophy.  Some of the 40 clubs listed below differ greatly, but the one thing they all have in common is they embrace Latin music's indelible spirit.
ATLANTA

La Rumba II
La Rumba II is the current powerhouse of Latin nightlife in the A-T-L.  They book the city's hottest Latin DJs.  Patrons have access to Rumba's well-stocked, two-tier bar; their top-notch menu; and their laid-back atmosphere.  Every night, La Rumba II draws a diverse and beautiful crowd of revelers.

One more thing…
On Fridays, two things are free: Ladies getting into La Rumba II and bachata lessons.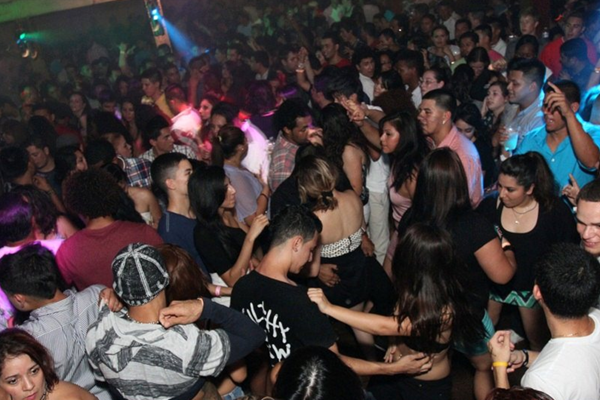 Loca Luna
Located in midtown, Loca Luna allows visitors to enjoy delicious tapas and cocktails while listening to award-winning live musicians.  Free salsa lessons are offered every Wednesday.  Friday night is Latin Sol with Ruth & The Knights.  On Saturdays, the Orquesta MaCuba Salsa Band takes the stage. Find them at 550-C Amsterdam Ave NE Atlanta, GA 30306.

One more thing…
On Fridays and Saturdays, after the live music is over, late night DJs spin Latin and international rhythms.

The Sanctuary Nightclub
The Sanctuary Nightclub is the place to be on Friday nights.  Top DJs spin the best in salsa, merengue, bachata and reggaeton.  Beginner's dance classes start every Friday at 9:15pm.  Immediate classes are offered on the second Friday of every month.  Sanctuary is open until 3am and they have a full bar. 

One more thing…
The Sanctuary is the only smoke-free Latin club in Buckhead.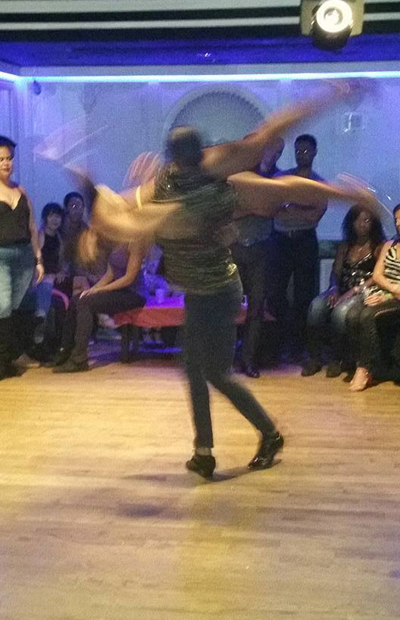 Image courtesy of club's Facebook page.
BOSTON AREA

Guilt
If you want to spend your Saturday nights dancing to great Latin music, then you need to rush on over to 275 Tremont Street.  There you'll find Guilt and Sabados Latinos.  Guilt books elite DJs and nationally renowned recording artists.  If you need to take a break from dancing, grab a cocktail from one of their many bars.

One more thing…
Guilt takes up more than 5,000 square feet and lays claim to a state of the art sound system.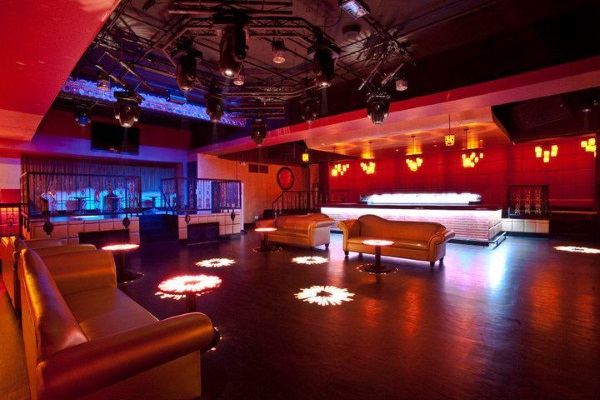 Havana Club
Havana Club is a dance club and nightclub located between Harvard and MIT.  They throw the coolest, classiest parties.  Remember, Mondays and Tuesdays are 18 and older with no alcohol.  Fridays and Saturdays are 21 and over with a full bar.  If you like to dance, you'll love the Havana Club.

One more thing…
Havana Club teaches classes in salsa and bachata.  Visit their website for details.

Ryles Jazz Club
The legendary Ryles Jazz Club is situated in a two-story venue in Cambridge.  Not only does Ryles hosts world class jazz artists, the club also host sets from hot salsa and merengue acts.  Owned by the Mitchell/Wheeler family, Ryles Jazz Club is home to the Ryles Jazz Orchestra directed by Frank Vardaros.

One more thing…
Ryles Jazz Club serves 40 domestic and imported beers.  They also have a late-night menu for night owls.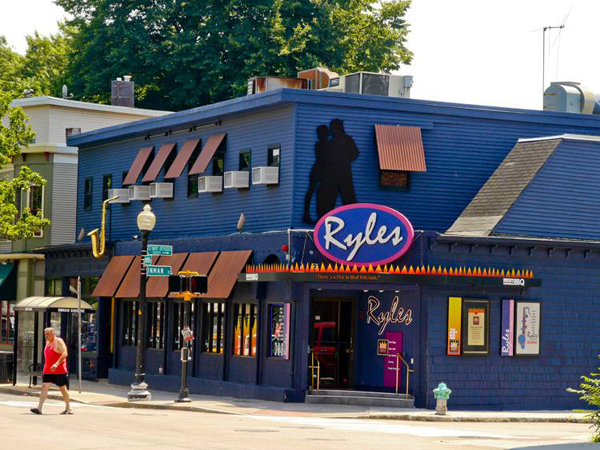 Image courtesy of club's Facebook page.
CHICAGO

Carnivale
Carnivale hosts a variety of live music throughout the week, but Fridays are dedicated to the samba.  The festivities begin at 6pm and star the Samba 1 Brazilian Dance Group.  Executive Chef Rodolfo Cuadros has assembled an incredible menu that incorporates flavors from all over the world.

One more thing…
We've told you about "Samba Fridays" and their menu, but while you're there you also need to check out their mouth-watering cocktails and scrumptious desserts.

Latin Street Music & Dancing
Latin Street Music & Dancing is actually a successful entertainment company.  Each week they offer over 80 dance classes.  These classes are taught by some of the city's best dancers and are offered to students of all ages.  The styles they teach include salsa, bachata, kizomba, mambo, and Zumba.

One more thing…
The dancers from Latin Street Music perform at nightclubs in the Chicago-area.  Visit their website for more details.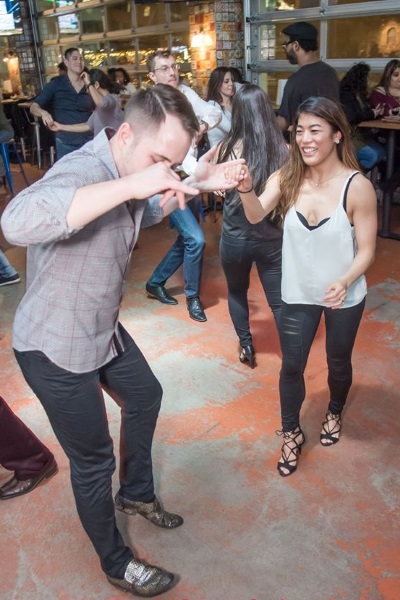 A couple learning to dance at Latin Street Music & Dancing.  Image courtesy of club's Facebook page.


Patron's Hacienda
Patron's Hacienda hosts "Salsa Monday" with DJ Double O—salsa classes begin at 8pm.  Three days later, it's "Bachata Thursday" with the Chicago Bachata Allstars.  Friday is all about the rumba and Saturday is "Viva la Vida." Otherwise known as Chicago's hottest Latin dance party.

One more thing…
Come to Patron's for the big game.  They have eighteen 55″ plasma TV's and four projection screens.
TEXAS – DALLAS

Café Salsera
Café Salsera is sort of the Swiss Army knife of Latin music venues.  In the morning, it's a coffee shop.  During the noon rush, it turns into a lunch counter.  Next, a dinner place, and finally a nightclub.  Regardless of what it is, their menu is teeming with tasty Mexican dishes.  You'll find Salsera in Deep Ellum.

One more thing…
Every Friday, DJ Turo spins salsa and bachata tunes.  That's followed by "Sonidero Saturdays with Erick Jaimez."  Salsa lessons are every Tuesday.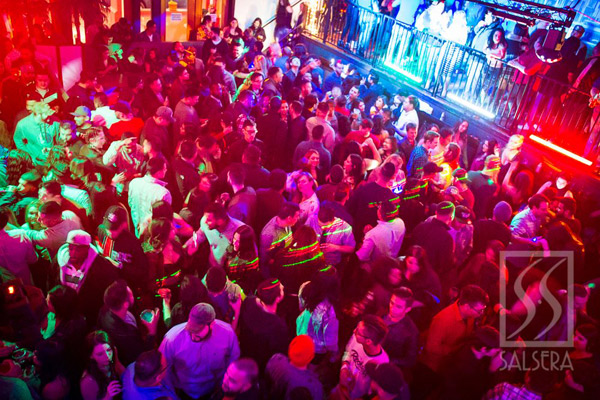 Image courtesy of Café Salsera's Facebook page.

Sandaga 813
Sandaga 813 is the place "where music is love."  This is one of Dallas' most venerated music venues.  They bring to their halls artists of just about every genre, including Latin musicians.  Every Tuesday night Sandaga hosts a terrific jazz jam.  On Sundays, the stage is turned over to RC and The Gritz. 

One more thing…
Besides great live music, you can also enjoy marvelous barbecue and exotic hookahs.
HOUSTON

Club Tropicana
Founded in 1999, Club Tropicana is one of the top dance clubs in H-town.  They gladly welcome coryphées of all ages.  Their diverse and sexy crowd dances to salsa, bachata, and merengue—just to name a few of the musical genres played at the Tropicana.  There's free salsa lessons on Tuesdays and Fridays.

One more thing…
Club Tropicana serves delightful cocktails and offers bottle service.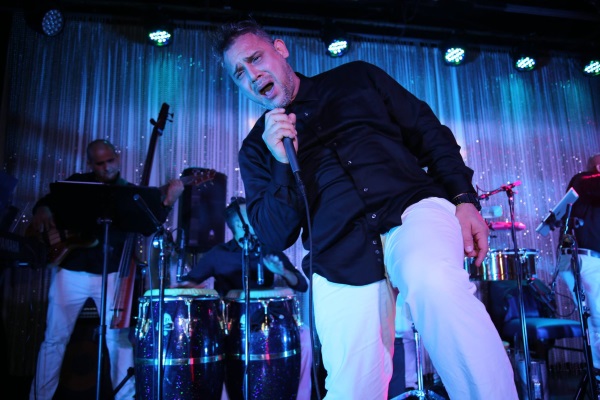 A Latin music band performing at Club Tropicana.  Image courtesy of club's Facebook page.
KATY

Babaloo Nights
Babaloo Nights has a BYOB bar.  That means they are "proudly serving whatever you bring" to drink.  Babaloo Nights is situated in the center of Cinco Ranch.  Their restaurant delivers international fare in a causal setting.  At Babaloo, you'll hear merengue, bachata, salsa, and cumbia sounds. Find them at 25757 Westheimer Parkway, Katy, Texas.

One more thing…
Babaloo Nights recently moved.  They are still on the same street but a mile further west.
SAN ANTONIO

Azuca Nuevo Latino
Azuca Nuevo Latino hosts the 11-piece salsa and merengue band, Tropicante, every Friday night at 9:30pm.  Every Saturday at the same time, the eight-piece La Libertad Orchestra pleases audiences.  Azuca's salsa classes are every Saturday afternoon.  Azuca is the first nuevo Latino restaurant in San Antonio.

One more thing…
Try their Caribbean Nachos.
CALIFORNIA – LOS ANGELES

Club Bahia
Found in Echo Park on Sunset Boulevard, Club Bahia is your destination for great live Latin music, a full bar, and yummy Mexican chow.  Its stage is quite large and there's plenty of room to get your dance on.  Bahia has a convivial atmosphere and its staff is friendly and courtesy.

One more thing…
If possible, attend one of Club Bahia's Boiler Room parties.

The Conga Room
The intimate Conga Room is a happening downtown spot for live music.  Over the years, this late-night mainstay has hosted acts like Alejandra Guzman, Los Amigos Invisibles, Espinoza Paz, and Tucanes de Tijuana.  After working up an appetite pirouetting, visit their Boca Restaurant for fine Pan-Latin gastronomy. 

One more thing…
Before heading out to The Conga Room make sure you sign up for their bottle service and guest list.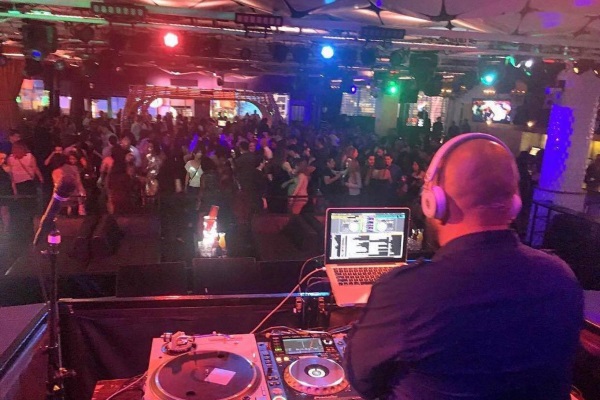 DJ playing music at The Conga Room.  Image courtesy of club's Facebook page.

El Floridita Restaurant
El Floridita Restaurant is a Cuban restaurant in the heart of Hollywood.  According to those fortunate enough to have such memories, their food tastes like it's from grandma's kitchen in Cuba.  El Floridita programs salsa bands on Friday, Saturday, and Monday nights.  The restaurant opened in 1987.

One more thing…
When you visit El Floridita make sure you order one of their famous daiquiris.

The Mexican Village
The family behind The Mexican Village, Abel Olivares Jr. and his sisters, Diana and Blanca, have created an establishment with a captivating Spanish atmosphere.  They serve amazing Mexican cuisine and they have a full bar.  Karaoke is held every Wednesday and Thursday.  Every Friday and Saturday night is devoted to dancing.

One more thing…
The Mexican Village serves 42 different types of Tequilas.

Panamerican Night Club
The Panamerican Night Club opened in 1970 and is considered one of the best in La La Land.  Its reputation is built on the fact that it's more than a prestigious night spot, but a place for friends to come together, dance, and a share a great time.  Panamerican hosts DJs as well as international musicians.

One more thing…
Monday is beer night.
MOUNTAIN VIEW

Alberto's Night Club
Alberto's Night Club is illustrious salsa and bachata club.  Show up on Tuesdays and Fridays for salsa dancing, Wednesdays for bachata dancing, and Sunday for the tango.  On Saturday, Alberto's welcomes a variety of "rock en Español" acts.  Click on their website for a schedule of both beginner and immediate classes.

One more thing…
Alberto's has a full-service bar.
SAN JOSE

Azúcar Latin Bistro Restaurant & Lounge
Azúcar Latin Bistro Restaurant & Lounge is the ideal venue for live musicians and DJs.  They offer free Salsa lessons on Mondays.  On Wednesdays, visit them for Spanish and English karaoke.  Their kitchen whips up bold dishes from Cuba, the Caribbean, Mexico, Puerto Rico, and Central and South America.

One more thing…
Try their world-famous mojitos.  For dinner, think about their arroz con pollo or their spicy fresh filet jalapena.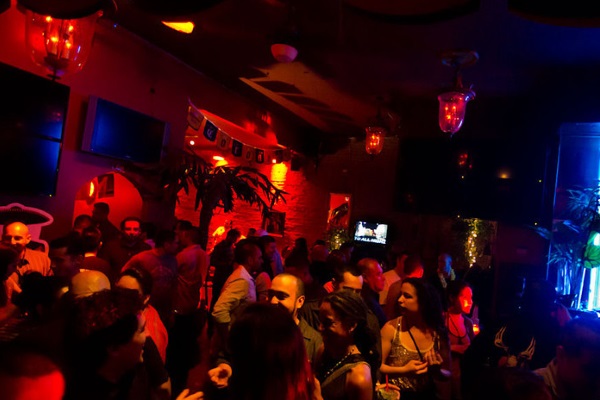 Image courtesy of club's Facebook page.
MEMPHIS

Club Rumba Memphis
Fridays at Club Rumba Memphis you can take free bachata lessons.  On Saturdays, you can take free salsa lessons.  When you're not learning to dance, enjoy live salsa bands, dance competitions, and stage shows.  Club Rumba is the first salsa nightclub in Memphis.  They serve Latin food and tropical mixed drinks.

One more thing…
Club Rumba makes the best mojitos in Memphis. 
FLORIDA – MIAMI

Ball and Chain
Ball and Chain dates back to 1935.  It's arguably one of the most well-known live music venues in Little Havana.  They book Latin musicians, as well as other acts, to their iconic stage.  Their comestibles and cocktails are to die for.  Whether you're a resident or tourist, you must experience Ball and Chain.


One more thing…
Try their house-made pork rinds.

El Patio Wynwood
Even if you don't drink, dance, or like to have fun you should still visit El Patio Wynwood.  It's probably the most beautiful venue on our list.  Hopefully you like drink, dance, and fun because they have all three.  They sell handcrafted artisan cocktails and showcase both live and recorded Latin music.

One more thing…
This is the place to watch Columbia soccer.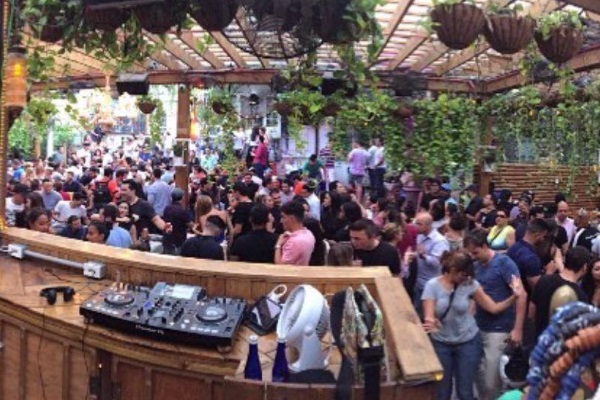 Image courtesy of club's Facebook page.

El Tucán Miami
Looking for dinner and a show with the feel of mid-century Havana, Cuba?  Look no further than El Tucán Miami.  They are a modern-day cabaret that not only entertains but provide patrons "luxe libations" and Latin American inspired cookery.  There are two sets of shows on Fridays and Saturdays.

One more thing…
El Tucán's house orchestra is curated by two-time Grammy Award-winner Marlow Rosado.

Hoy Como Ayer Club
Hoy Como Ayer Club is found on Calle Ocho in Little Havana.  If we can only use one word to describe this establishment it would be "authentic."  This is the alpha and omega of Latin nightclubs.  Drop in on HCAC for live Latin bands and robust cocktails.  They have plenty of room for salsa dancing.

One more thing…
Hoy Como Ayer Club has a dish called "Hoy Como Ayer."  You should try it.
HOLLYWOOD, FL

Spice Resto-Lounge
Spice Resto-Lounge is one of the sexiest and hottest nightclubs in Southern Florida.  They bring great DJs to their booths like DJ Yazz Burrell, DJ Murilo, DJ Hec Nice, and DJ Mostrico.  Spice also serves flavorsome victuals and refreshing cocktails. 

One more thing…
Monday is for the ladies.  They drink for free until 10pm.  Also on Mondays, DJs spin Latin music all night.
MIAMI BEACH

Salsa Mia
You've probably heard of Salsa Mia.  They've been featured on NBC, CNN, and Food Network—just to name a few.  Salsa Mia offers a very special Miami nightlife experience.  They offer salsa classes seven nights a week.  Then, you can use what you've learned to boogie all night long at their Mojito room.  

One more thing…
They are upstairs from Mango's, a popular nightclub.  If space is available, you can attend their dinner show after your salsa class.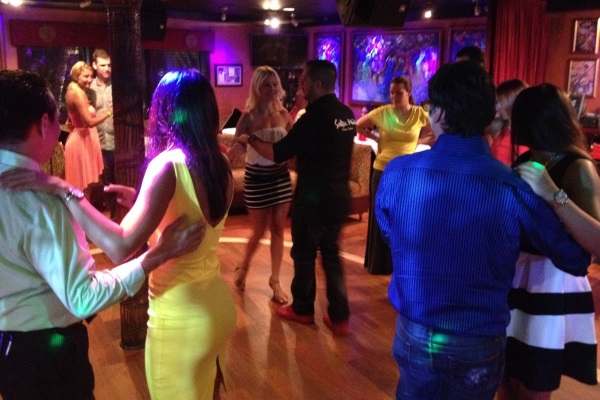 Image courtesy of club's Facebook page.
SWEETWATER, FL

La Covacha
So, you and your friends have just closed a bar.  Now what do you do?  You go to La Covacha.  This awesome night spot has a reputation similar to Las Vegas' reputation: "What happens at La Covacha stays at La Covacha."  The club is a mecca for Latin performers and salseros.

One more thing…
Big names that have played La Covacha include Tito el Bambino, Oscar D'Leon, and Chino y Nacho.
NEW ORLEANS

EIFFEL SOCIETY
The EIFFEL SOCIETY is pretty cool.  It's was built from over 11,000 pieces that were once part of a restaurant on top of the Eiffel Tower.  The building has a Parisian look and it hosts many public events.  One of the events it hosts is Society Salsa.  It's held every Wednesday.  Once a month they book a band.

One more thing…
Society Salsa is in collaboration with Liquid Rhythm Inc.
NEW YORK CITY

Bembe
One of Brooklyn's most beloved bars is Bembe.  They are the city's go to for global music: Latin, salsa, cumbia, merengue, reggaetón, and many more.  You'll find Bembe at 81 South 6th street on the corner of Berry Street.  They are open until 3:30am every night except Friday and Saturday when they are open until 4am.

One more thing…
Bembe has a full-service bar, a great vibe, and terrific clientele.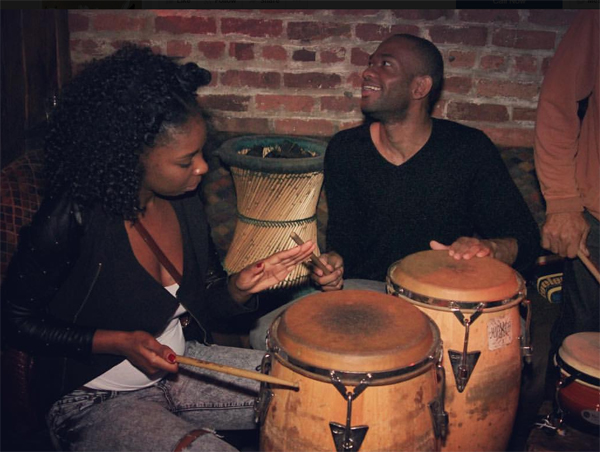 Image courtesy of club's Facebook page.

The Copacabana Times Square
You can't have a list of Latin music venues and not include The Copacabana Times Square.  As the name suggests it's located in Times Square and encompasses four floors.  Copacabana has a dress code.  Men need a collared shirt, women need something "chic and sexy."  No one can wear sneakers.

One more thing…
Every Tuesday is salsa night.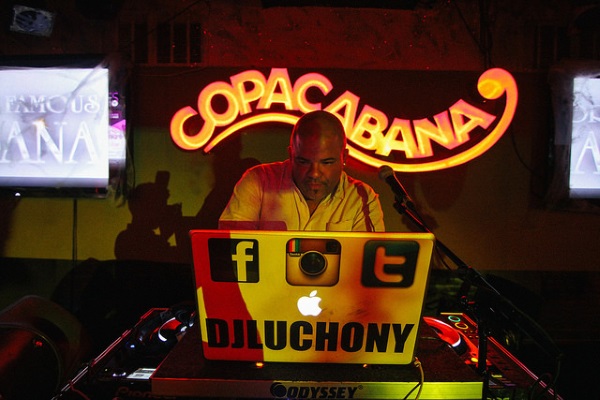 DJ Lucho performing at The Copacabana Times Square.  Image courtesy of copacabananyc.

El Taller
Founded in 1979, El Taller is a community-based non-profit arts and education institution.  Here, you can do two things.  One, you can learn how to salsa dance.  Their classes have an excellent reputation in the Big Apple.  Two, you can catch Latin music concerts at one of their performance spaces.

One more thing…
El Taller also has Spanish and English language classes, arts programming, and film screenings.

Session 73
On Mondays, Session 73 asks visitors to participate in their free salsa dancing class.  Instruction begins at 7:30pm.  After the class, it's nothing but salsa music.  Session 73 is located on the Upper East Side.  Stop by and you'll be treated to superior live music, casual dining, and succulent cocktails.

One more thing…
During "Salsa Mondays," Session 73 serves up $2 tacos, $6 margaritas, and $6 sangrias.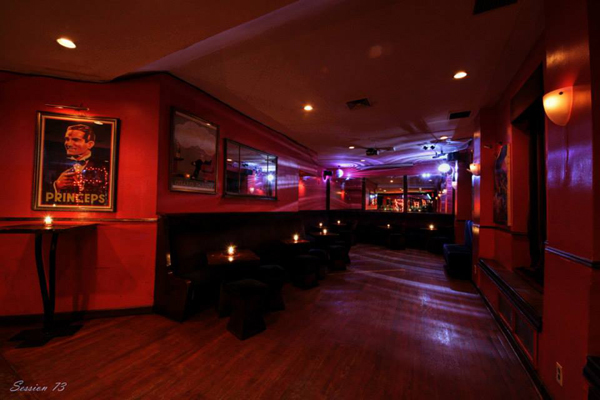 Back Lounge at Session 73. Image courtesy of club's Facebook page.

Subrosa
Situated in the Meatpacking District, Subrosa is an eclectic and intimate venue for quality Latin and World musicians.  Peruse their website for a full schedule of shows.  While you're enjoying the live music, feast on delectable dishes and specialty cocktails.  By the way, Subrosa means "under the rose."

One more thing…
The world renowned Pedrito Martinez Group performs at Subrosa several nights every month.
NEW JERSEY

46 Lounge
46 Lounge calls Totowa, New Jersey home.  Totowa is about a 40-minute drive northwest of New York City.  They bill their Saturday nights as "Latin Impulse."  They offer free salsa lessons from 8pm to 9pm.  The following day is "Azucar Sundays," otherwise known as an evening of Latin dancing.

One more thing…
46 Lounge also boasts a Brazilian cherry dance floor, a tropical outdoor patio, and three designer martini and wine bars.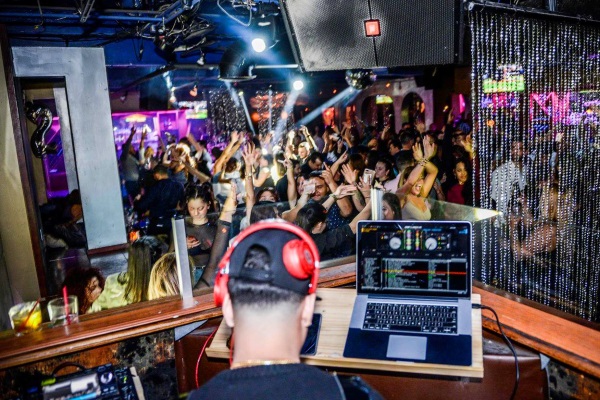 DJ performing at 46 Lounge.  Image, by Aly Kuler Photography, courtesy of club's Facebook page.
PHOENIX

Karamba Phoenix
If you want to have fun, you must schedule an outing to Karamba Phoenix.  This super fun nightclub is heavily Latin-influenced.  Known as one of Phoenix's best gay dance clubs, Karamba presents revelers with drag shows, the best DJs in the business, sexy dancers, and drink specials.

One more thing…
Karamba has a melt-your-ears sound system, two large indoor areas, a patio, and a diverse crowd.
PORTLAND

Aztec Willie's Taqueria
One of the big events at Aztec Willie's Taqueria is "Salsa Saturdays."  DJ Armando spins top salsa, cha cha cha, bachata, and mambo songs.  Salsa and bachata lessons commence at 9:45pm.  A plethora of Latin music can be enjoyed every Friday night.  DJ Tumbao stops by mid-week for "Bachateame Wednesdays." 

One more thing…
Aztec Willie's Taqueria has six HDTVs for the big game, a kids play room, and wonderful south-of-the-border sustenance.

Trio Club
Every Sunday at the Trio Club is "Latin Night."  Stop by for salsa dancing, four DJs, and international karaoke.  In fact, the Trio Club has the best karaoke in the city.  Why is it called Trio Club?  The nightclub is comprised of three different rooms, each one can support DJs, karaoke, dancing, and your party.

One more thing…
Trio Club delivers patrons a Las Vegas-style nightclub experience.  They also serve Chinese food.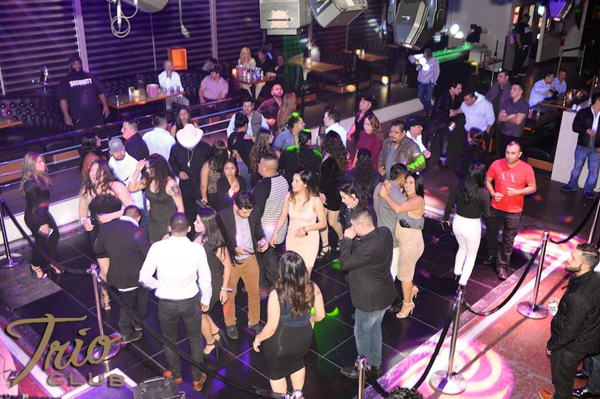 Image courtesy of club's Facebook page.
SANTA FE

El Farol
El Farol says come for the food, stay for the entertainment.  Their entertainment is so good, you can reverse that statement.  On Saturdays, El Farol produces a flamenco show and dinner.  The rest of the week, the venue hosts a variety of important live acts.  El Farol means "warmth" and "light."

One more thing…
El Farol is a celebrated Spanish restaurant known for its tapas and its welcoming atmosphere.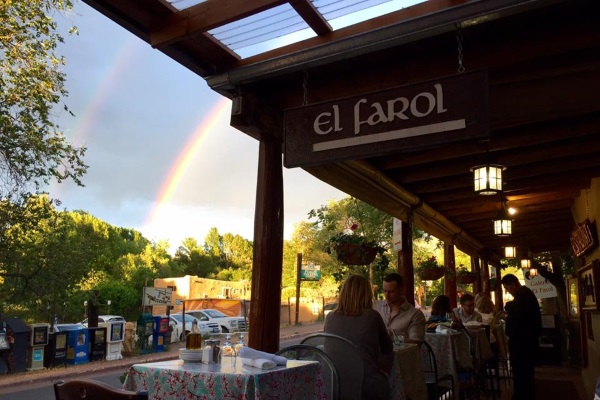 Image courtesy of club's Facebook page.