Rob Gronkowski: A Story Of Dominance and Injuries
Rob Gronkowski was raised in Williamsville, New York, one of 5 brothers in a very athletic family.
His had a brother Gordy who played professional baseball and his 3 other brothers, Chris, Dan and Glenn made it to the NFL.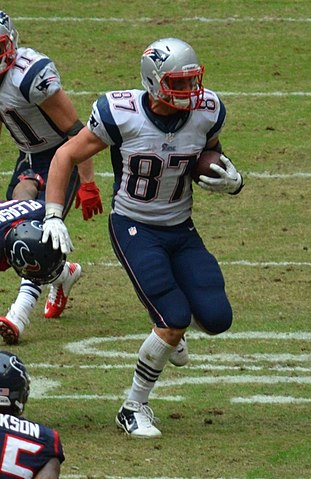 Gronkowski starred in basketball and football at Williamsville North High School.
He transferred to Woodland Hills High School in suburban Pittsburgh and was named to various All-American teams.
His busy recruitment process ended with him choosing to attend the University of Arizona.
Gronk didn't take long to become a star at Arizona. During his true Freshman season, he caught 28 balls for 525 yards and scored 6 TDs.
He continued to dominate in his third-team All-American sophomore season by going for 672 yards and 10 TDs.
The top NFL target had a severe setback in his junior season when a back surgery kept him out for the entire year.
Though the injury had hurt his draft prospects, Gronkowski declared for the 2010 NFL Draft where he was selected 42nd overall by the New England Patriots.
Immediate Impact
Gronkowski quickly proved that the Patriots were smart to select him despite the injury risk. He dominated in the 2010 preseason, scoring a league high 4 touchdowns in limited playing time.
With Randy Moss moving on, Gronkowski gave Tom Brady a new red zone target.
Gronkowski's rookie season was a big success. He scored 10 touchdowns while catching 42 passes for 546 yards. He had a 3-touchdown game in week 10 against the Steelers and made various All-Rookie teams.
The 2011 season found Gronkowski in record setting form. His 17 touchdowns set a new NFL record for tight ends.
He also had 1,327 receiving yards which was also a record high for tight ends. He made both the Pro Bowl as well as the Associated Press All-Pro first team.
He also played in his first Super Bowl, a loss to the New York Giants.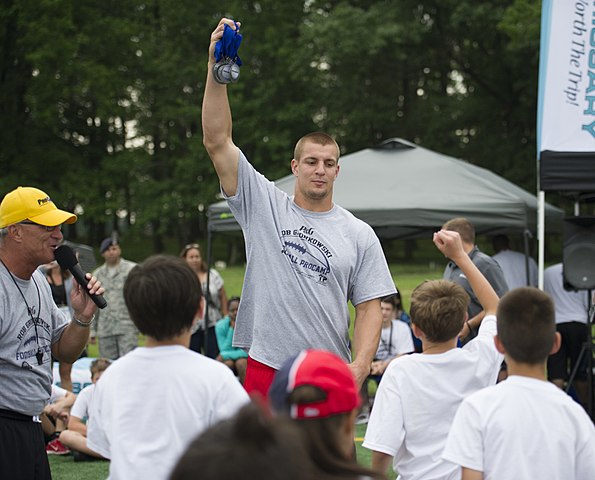 Rob Gronkowski, New England Patriots tight end, hands out medals at the end of a football camp held on Joint Base Andrews, Md., July 1-2, 2015. By Tech. Sgt. Robert Cloys [Public domain], via Wikimedia

Injury Troubles and Super Bowl Champ
The dominant play continued in 2012. Through the first 11 games of the season, Gronkowski accounted for 790 receiving yards and 11 touchdowns. However, he broke his forearm in week 11, returning in week 17.
He reaggravated the injury in the playoffs and was out for the remainder of the season.
2013 saw a plethora of injuries. Gronkowski developed an infection in his forearm that caused him to miss time and later suffered a torn ACL that took his out for the rest of the season.
In just 7 games, he was able to compile 592 yards receiving and 4 touchdowns.
Gronkowski was back with a vengeance during the 2014 season, catching 82 balls for 1,124 yards and 12 touchdowns.
He was named the NFL Comeback Player of the Year. He also played in his second Super Bowl, a win against the Seattle Seahawks.
A Return To Form
2015 was another banner year for Gronkowski. Though he dealt with nagging injuries he was able to make 15 starts and caught 72 passes for 1,176 yards and 11 TDs. He again made the AP All-Pro first team for the fourth time in his career.
The injury problems resurfaced in 2016 as Gronkowski was only able to make 6 starts. The injuries included a hamstring injury and a herniated disc in his back.
Though the Patriots defeated the Atlanta Falcons in the Super Bowl, Gronkowski was on injured reserve and did not play in the game.
Though he started 2017 on the injured list, Gronkowski was able to make a return to form. He started in 14 games and again made the All-Pro first team. For the year Gronk caught 69 balls for 1,084 yards and 8 TDs.
He had a dominant Super Bowl performance in the loss to the Eagles, catching two touchdown passes.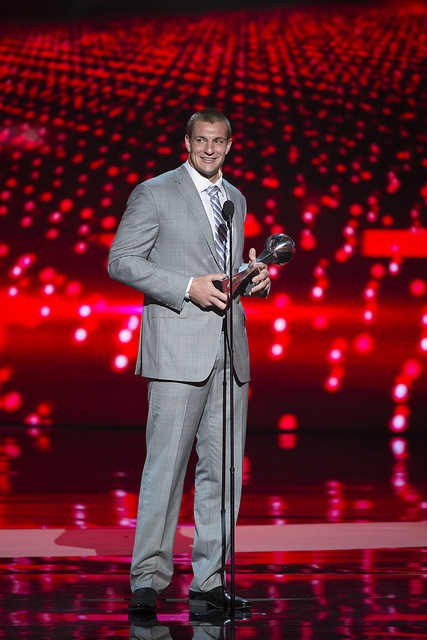 Rob Gronkowski at the 2015 ESPY's
A Legacy of Greatness
After 8 seasons of dominant play, it has become clear that the only thing that can hold Gronkowski back are injuries.
The back problem that bothered him at Arizona has always been an issue along with several other maladies. When healthy, Gronkowski is a near unstoppable force.
Due to all the injury issues, it is sometimes rumored that Gronkowski is considering retirement.
He has announced that he will be returning for the 2018 season and is ready to go. With 2 Super Bowl rings and 5 first team All-Pros, it won't take too many more healthy years for Gronk to be considered the greatest tight end to ever play the game.
Gronk's NFL Records
Youngest player with 3 touchdown receptions in a game: 21 years, 214 days (2010, vs. Pittsburgh Steelers)
Youngest player with 3 touchdown receptions in a game, playoffs: 22 years, 275 days (2011 playoffs, vs. Denver Broncos)
Most touchdown receptions by a tight end, season: 17 (2011)
Most touchdowns by a tight end, season: 18 (2011)
First tight end to lead the league in receiving touchdowns (2011)
Most receiving yards by a tight end, season: 1,327 (2011)
Most offensive touchdowns in first two seasons: 28 (Tied with Randy Moss)
Seasons with 10+ touchdowns by a tight end: 5 (2010–12, 2014–15)
Consecutive seasons with 10+ touchdowns by a tight end: 3 (2010–12)
First tight end to have 3 seasons with 10+ touchdowns and 1,000+ receiving yards (2011, 2014–15)
Most career postseason receiving touchdowns by a tight end: 12
Most career postseason receiving yards by a tight end: 972
Most seasons of 1,000+ yards receiving by a tight end: 4 (tied with Tony Gonzalez and Jason Witten)
Patriots franchise records
Most games with 100+ receiving yards by a tight end: 25
Highest receiving yards per game average for a tight end (season): 82.9 (2011)
Youngest Patriot with 3 touchdown receptions in a game: 21 years, 214 days (2010, vs. Pittsburgh Steelers)
Youngest Patriot with 3 touchdown receptions in a playoff game: 22 years, 275 days (2011 playoffs, vs. Denver Broncos)
Most games with multiple touchdowns: 16
(all NFL records data from Wikipedia)
Gronkowski Videos Worth Watching