The Times They Are a-Changin' by Bob Dylan
Bob Dylan is revered for the timelessness of his music. For about half a century, Dylan has often held the zeitgeist, rendered it in swaths of fantastic imagery and then watched it stand the test of time.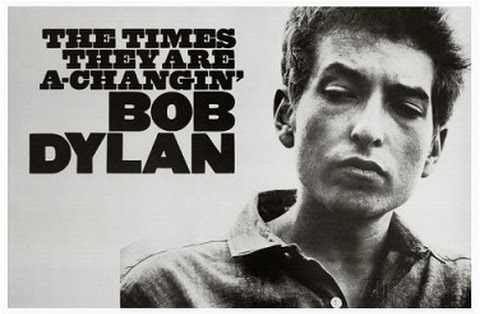 This is the primary objective of every musician; capture the spirit of your audience and make your music transcend generations.
Dylan happens to do this better than everyone else. The Times They Are a-Changing is among Dylan's songs that have touched the hearts of millions of fans for decades.
The song is written by Bob Dylan and released as the title track of his famed 1964 album of the same title.
e wrote as a deliberate move to create an "anthem' for the ever-changing times.
For decades, the song has influenced different people's views on society and critics have noted the song's universal lyrics as a contributing factor to the song's undying message.
The Message in the Song
Dylan wrote this song in 1963 and released it in 1964. It was a song with a purpose and was primarily influenced by the Irish and Scottish ballads, "Come All Ye Tender Hearted Maidens' "Come Ye All Bold Highway Men.'
His aim was to successfully ride upon the less voiced sentiment of the masses and give it anthem as an outlet. Dylan succeeded though some critics argue that the language of the song is imprecisely and generally directed.
The Times They Are A-Changin' is more of a song about frustrations that youths (across generations) face.
It portrays people who stick their noses down and don't take you seriously but expect you to take them seriously.
From a millennial's perspective, it incorporates everyone, from teachers and parents to politicians and those who program TV channels.
It's also an excellent composition about the ineluctability of change; the song isn't protesting about a specific issue, rather announcing, "It's time to wake up, the world is changing."
Accolades
In 1984, Steve Jobs recited the Times They Are A-Changin's second verse in his opening of the Apple shareholders meeting during the launch of the Macintosh computer.
In 1994, Dylan's Times They Are A-Changin was licensed for use in American TV promotions for an accountancy firm and was performed by Richie Havens.
In later years (the 1990s and 2000s), this song was used in a series of advertisements.
In 2004, Times They Are A-Changin' ranked number 59 on the Rolling Stone list of the 500 greatest hits of all times.
Performances and Covers
The Times They Are A-Changin' is one of two songs created by Dylan that the Byrds included in their album Turn! Turn! Turn! 
Over the decades, numerous artists have released over 40 covers for this song.
The first cover was a live concert by Peter Paul and Mary in 1964. Other famous artists who have covered Times They Are A-Changin' include The Seekers, Joan Baez, Bruce Springsteen, Beach Boys, and Phil Collins.
Times They Are A-Changin is one of the high watermarks of outstanding political songwriting.
It's a beautifully-crafted masterpiece with a political edge and toughness that captures the times.
Watch Dylan Sing The Times They Are a-Changin' Then and Now