Steven Wright
Bergen Performing Arts Center, Englewood, NJ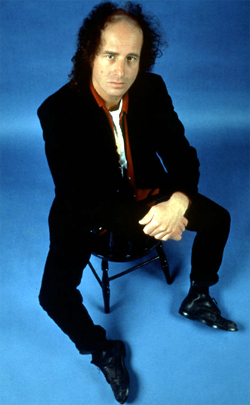 "I just started at an open mic night in the 1970s and I'm still going, still doing now what I started to do then.  I know other people might look up to me.  But really, I'm just me after a bit of time has gone by."
Steven Wright
There you have it.  The biography of Steven Wright. 
Those three sentences pretty much sum up the career of one of the most popular stand-up comedians of all-time.
We could stop there, but we'll keep going.  There is a bit more to know about the mysterious Steven Wright, but more importantly, the publishers of this website demanded a much longer article.
How important is Steven Wright to the craft of joke telling? 
Well, in 2017, Rolling Stone magazine ranked him as the 15th best stand-up of all-time.  He was sandwiched between Billy Connolly and Andy Kaufman.
The laidback Wright is famous for his deadpan delivery. 
His humor is philosophical in nature, and he adroitly uses irony, non sequiturs, and paraprosdokians (when the latter part of a statement makes the listener reinterpret the former part of that statement).  
His style fits perfectly with his crazy hair and phlegmatic demeanor.  He looks like a patient in an asylum but with an aura of a 1970s rock star.
Furthermore, Wright works almost exclusively in one-liners:
"There's a fine line between fishing and standing on the shore like an idiot."
"Whenever I think about the past it just brings back so many memories."
"I can levitate birds, but nobody cares."
His humor is clever, thought-provoking, and extremely interesting.  He doesn't work the crowd or worry about transitions.  His set is nothing but jokes.
There's an unusual phenomenon that occurs when Wright performs.  The phenomenon is a pause between when his punchline lands and when the audience guffaws. 
This brief silence is produce by the crowd processing what they just heard and realizing it's hilarious.
Buy Steven Wright Tickets
We're more than just a ticket site because when you purchase your Steven Wright tickets here, we can donate $5 to charity if you'd like too.
At GoodDeedSeats, we can donate five dollars from the profits of your ticket sale to a cause of your choice - so be sure to choose one for checkout!
Purchase affordable tickets to Steven Wright live in concert and do a good deed too by giving to a cause that means something to you.
You can rest assured your Steven Wright tour order will be processed quickly and safely on our secure servers and that all concert tickets sold here are backed by our 100% Buyer Guarantee.
Steven Wright Ticket Prices and Tour Information
How much are Steven Wright tickets?
Regardless of your budget, GoodDeedSeats has ticket prices that are right for you. Choose the venue and show date above by clicking its corresponding blue 'Tickets' button. It will bring you to a page with that venue's latest Steven Wright seating choices and pricing.
Early Life
Wright was born on Dec. 6, 1955 in Cambridge, Massachusetts. 
He has three siblings.
His father, Alexander K. Wright, worked for NASA during the Apollo program.  Later, he drove truck.
Wright received an associate's degree from a community college in Bedford, Massachusetts. 
He earned his bachelor's degree from Emerson College.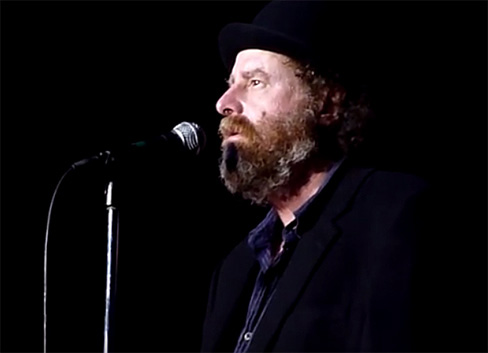 Early Career
Wright began stand-up in 1979. 
In 1982, while performing at a comedy club in Cambridge, he was discovered by a Tonight Show producer. 
The comedian was eventually booked to perform on the late-night program.
His set went so well, and was so liked by host Johnny Carson, that he returned less than a week later. 
Carson once introduced Wright with the following: "Just let your mind go at ease here [and] follow Steven Wright. 
He's unique and you have to listen to what he says."
Successes
Wright released his first comedy album, I Have a Pony, in 1985.  His second, I Still Have a Pony, came out in 2007.  Both were nominated for Grammy Awards.
In the late 1980s and 1990s, Wright earned a devout following on college campuses.  His demeanor and cerebral material played well to students. 
His 1985 HBO special, A Steven Wright Special, was insanely successful.  It was one of the network's most requested programs.
His 1990 comedy special, Wicker Chairs and Gravity, would be his last for 16 years.
  In 2006, Wright returned to the small screen with "When the Leaves Blow Away."
Despite his lengthy hiatus from television, Wright continued to perform on the comedy stage.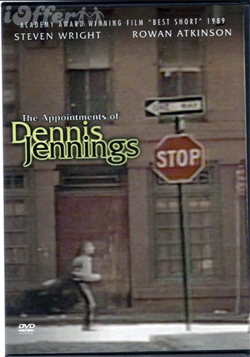 Academy Award
Wright has an Academy Award on his mantle. 
He won the statue in 1989 for Best Short Live-Action Film for The Appointments of Dennis Jennings.
Wright starred in the film as the titular character and co-wrote the script with Michael Armstrong. 
The film was directed by Dean Parisot.
Movies and Television
While editing Reservoir Dogs, Sally Menke (Dean Parisot's wife) realized a voice was needed for a pivotal scene. 
She suggested to director Quentin Tarantino that they tap Steven Wright. 
Tarantino agreed.
Wright voiced the deejay heard in the famous torture scene.
Other movies in his filmography include Desperately Seeking Susan, So I Married an Axe Murderer, Natural Born Killers, and The Aristocrats.
Way back in 1979, Wright appeared on WKRP in Cincinnati.  He played a security guard in the episode called "Fish Story."
Wright has appeared in Mad About You, The Larry Sanders Show, Louie (he also produced that show), and several other television shows.
The comedian lent his voice to projects like Dr. Katz, Professional Therapist; The Simpsons; and Aqua Teen Hunger Force. See full filmography below
Material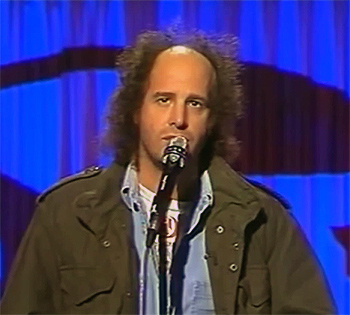 Wright has crafted some uproarious one-liners.  Fans should be cautious when looking for his material on the internet.
It's common for inferior one-liners to be attributed to him.  You can be confident, however, that the following one-liners are 100% Steven Wright:
"Curiosity killed the cat, but for a while I was a suspect."
"I bought some powdered water, but I don't know what to add."
"I hate when my foot falls asleep during the day because that means it's going to be up all night."
"I have a map of the United States.  It's actual size."
"What's another word for thesaurus?"
Discography
- I Have a Pony, Warner Bros. Records CD (1985)
- A Steven Wright Special, HBO DVD (1985)
- The Appointments of Dennis Jennings, DVD (1989)
- One Soldier, DVD (1999)
- When the Leaves Blow Away, DVD (2006)
- I Still Have a Pony, Comedy Central Records CD (2007)
Filmography
Film Year
Film Name
The Role Steven Played
1979
The Last Word
Man in Crowd
1985
Desperately Seeking Susan
Larry Stillman D.D.S.
1986
Coffee and Cigarettes
Steven
1988
The Appointments of Dennis Jennings
Dennis Jennings
Stars and Bars
Pruitt
1990
Men of Respect
Sterling
1992
Reservoir Dogs
K-Billy DJ (voice)
1993
So I Married an Axe Murderer
Pilot
1994
The Swan Princess
Speed (voice)
Natural Born Killers
Dr. Emil Reingold
Speechless
Eddie
Mixed Nuts
Man at Pay Phone
1995
For Better or Worse
Cabbie
Canadian Bacon
Niagara Mountie
1998
Half Baked
The Guy on the Couch
Babe: Pig in the City
Bob (voice)
1999
Goatman
1999
One Soldier
Soldier
The Muse
Stan Spielberg
2000
Loser
Panty Hose Customer
2003
Coffee and Cigarettes
Steven
2005
Son of the Mask
Daniel Moss
The Aristocrats
Himself
When Stand Up Stood Out
Himself
2017
The Emoji Movie
Mel (voice)
Watch Selected Steven Wright Videos
Copyright 2018 All Rights Reserved | Home