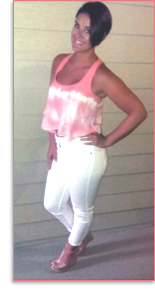 Sarah Byrd says entertainment has played a key role in her recovery and outlook on life post-cancer.
"After I was about a year out from my stem cell transplant, a client gave me front row tickets to a concert. It was the first time I had really been out [of the house] since feeling better and also the first time I had front row seats to a concert," gushed Sarah.
"I now have a greater appreciation for all things since my cancer diagnosis. Every opportunity to get out and be social – especially while enjoying music and the arts – is special to me."
When staff at the National Foundation for Cancer Research (NFCR) told Sarah they are partnering with GoodDeedSeats to raise awareness and funds for cancer research, she said that it's an exciting partnership.
She has been in touch with NFCR staff both during and after her cancer treatments because of how innovative research funded by the organization impacted her.
Sarah Says Cancer Research Saved Her Life
Sarah Byrd says she owes her life to Dr. Curt Civin, a pediatric oncologist specializing in leukemia research at the University of Maryland.
Sarah is now five years in remission from non-Hodgkin's Lymphoma.
She survived because of a bone marrow stem cell transplant. That transplant was made possible by Dr. Civin's work decades before.
Dr. Civin discovered CD34, the best marker of blood-forming stem cells. He also isolated CD34+ stem cells, which allowed for entirely new approaches to leukemia treatment.
Since the discovery of CD34, five-year survival rates have increased for all types of leukemia. Dr. Civin's breakthrough led directly to cures for patients like Sarah.
Sarah is now 35 years old and lives in Atlanta, Georgia working as a store manager at Bottega Veneta. She endured difficult procedures, including the stem cell transplant that followed rounds of radiation and targeted therapy
Sarah's life moves forward; she enjoys concerts and times out with friends. She's grateful, but aware there's more work to do to help others battling cancer. "I want there to be a cure," she says. "Research is everything."
Partnering for Good
NFCR is proud to partner with GoodDeedSeats to raise money for cancer research. When you purchase seats to your favorite sporting event, concert or broadway show, you can use code DONATECANCER to support cancer research today! To learn more about NFCR's work, programs and ways to give, visit www.nfcr.org.