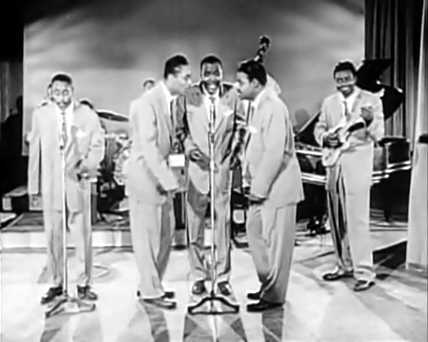 An image of The Clovers captured as a single frame
from the Public Domain show "Rock 'n' Roll Revue"
1955 at the Internet Archive
Rock and roll didn't just happen. 
It didn't come into existence at the snap of someone's fingers.  An artist didn't enter the studio and, presto, the genre was suddenly born.
Rock and roll evolved.  To borrow a line from the music's most famous practitioners, it was a "long and winding road" to get to rock and roll.
Nonetheless, rock and roll, sometimes written as "rock n' roll" or "rock & roll," became a distinct musical genre in the decade of the 1950s. 
The term, although it didn't describe music but the motion of a boat on the ocean, was used as early as the 17th century.
The word "rock" and its variations have been appearing in song lyrics since the turn of the 20th century.  While it described a steady beat, "rock" was also used as a euphuism for partying and sex.
In 1951, Cleveland deejay Alan Freed played rhythm & blues and country music on his radio show. 
To differentiate this new dynamic brand of tunes from the old, Freed used the term "rock and roll."
In the 1960s, the "and roll" was dropped from the phrase and the genre was referred to as "rock music" or just "rock." 
Nowadays, "rock and roll" refers to the rock music created between 1955 and 1964.  Even so, "rock," "rock music," and "rock and roll" can be used interchangeably.
Rock Around the Clock
There is no "first" rock and roll song. 
Yet, in the late 1940s there were several songs that we'd today describe as rock and roll-esque: "The Fat Man" by Fats Domino, "Strange Things Happening Everyday" by Sister Rosetta Tharpe, and "Rock the Joint" by Jimmy Preston.
"Rock Around the Clock" by Bill Haley & His Comets is widely considered the first big rock and roll single. 
Released in April of 1954, but really took off in 1955, "Rock Around the Clock" put the genre on the map and turned it into a commercial, cultural, and artistic force.
Bill Haley & His Comets, as well as Elvis Presley, Chuck Berry, Little Richard, Gene Vincent, Jerry Lee Lewis and Buddy Holly, laid the foundation for rock and roll.  They are widely viewed as the genre's main progenitors.
Major Rock and Roll Artists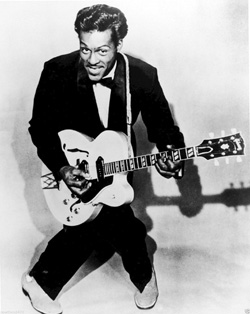 Chuck Berry in 1958
Chuck Berry was responsible for such hits as "Maybellene" (1955), "Roll Over Beethoven" (1956), and "Johnny B. Goode" (1958).  He was arguably rock's first guitar god and a huge influence on Keith Richards.
Little Richard gave us "Tutti Frutti" (1955) and "Long Tall Sally" (1956).  Vincent released "Be-Bop-A-Lula" in 1956. 
The following year, Lewis issued "Great Balls of Fire."
Perhaps the greatest creative force of the era was Buddy Holly.  He was one of the few artists that wrote, produced, and recorded his own music.
Holly's discography includes classics like "That'll Be the Day," "Words of Love," "Peggy Sue," and "It's So Easy."
These artists and their music continued to wield great influence until 1964 and the arrival of the Beatles in America.
Sound & Origins
Stylistically, rock and roll music has a strong backbeat and highlights the electric guitar.  A rock band usually consists of one or two electric guitarists, a lead singer, a drummer, and an electric bassist. 
In the early and mid-fifties, the bassist played a double bass. 
Buddy Holly in 1958
Traditionally, rock and roll music has featured lyrics about love, dancing, romantic relationships, partying, and/or sex. 
Since it's steeped in youth culture, much of rock and roll is de-constructive, rebellious, and subversive. 
Origins
Rock and roll borrowed elements from numerous genres including rhythm and blues, jump blues, blues, country, swing, gospel, and boogie-woogie.  More importantly, the genre took cues from both white and black cultures. 
Some pundits claim early rock and roll was black music played with white instruments. 
At the very least, rock and roll was one of the first music genres simultaneously created and enjoyed by both white and black cultures.
Besides the changing winds of social change, rock and roll owns a debt of gratitude to economic and technologically advancements. 
Economics & Technology
For the first time in the history of the United States, teenagers had disposable income. 
One of things the affluent adolescents of the 1950s bought was music—in particular, they bought rock and roll music.
The long play vinyl album, or LP, was introduced in 1948. 
Although rock bands of the 1960s would perfect the LP album, by 1958 the medium accounted for more than half of recorded music's dollar sales.
Advancements in technology also made electric guitars, microphones, and recording equipment relatively affordable. 
This allowed independent record labels, like Sun Records, to become relevant.
Elvis Presley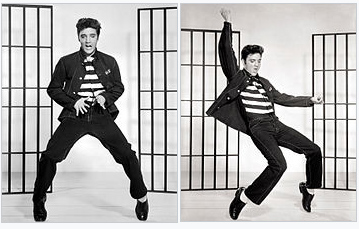 Elvis Presley Jailhouse Rock Publicity Photos
One of the artists Sun Records introduced to the world was Elvis Presley. 
He went on to earn the honorific of "King of Rock and Roll."
Presley released his first single, "That's All Right," in 1954, but his seminal year was 1956. 
During '56, Presley released:
"Heartbreak Hotel"
"I Want You, I Need You, I Love You"
"Don't Be Cruel"
"Hound Dog"
"Love Me Tender"
—all went to number one. 
He released two studio albums, made memorable appearances on the popular television program The Ed Sullivan Show and starred in the successful movie Love Me Tender.
With four number one singles, two number one albums, and a pair of feature films, his 1957 wasn't bad either.
Presley didn't invent rock.  He did, however, reinforce the electric guitar as the genre's primary instrument and became its first transcendent star. 
In just two short years, Presley became the most recognizable celebrity on the planet.
Decline of Rock and Roll
In 1958, Elvis was drafted into military service.  His departure, along with the departure of other key rockers—Richard quit rock and roll in 1957 to become an evangelist, in 1958 it was revealed that Lewis married his 13-year-old cousin, Holly died in 1959, and Berry was sentenced to prison in 1962 for transporting a 14-year-old girl across state lines—put the genre into a tailspin. 
Rescue came a few years later in the form of The Beatles, the Rolling Stones and the rest of the British Invasion.
The mid to late 1950s will forever be associated with the advent of rock and roll. 
The genre changed the world and its music is still a font of inspiration for millions.  
Selected Videos of the History of Rock and Roll